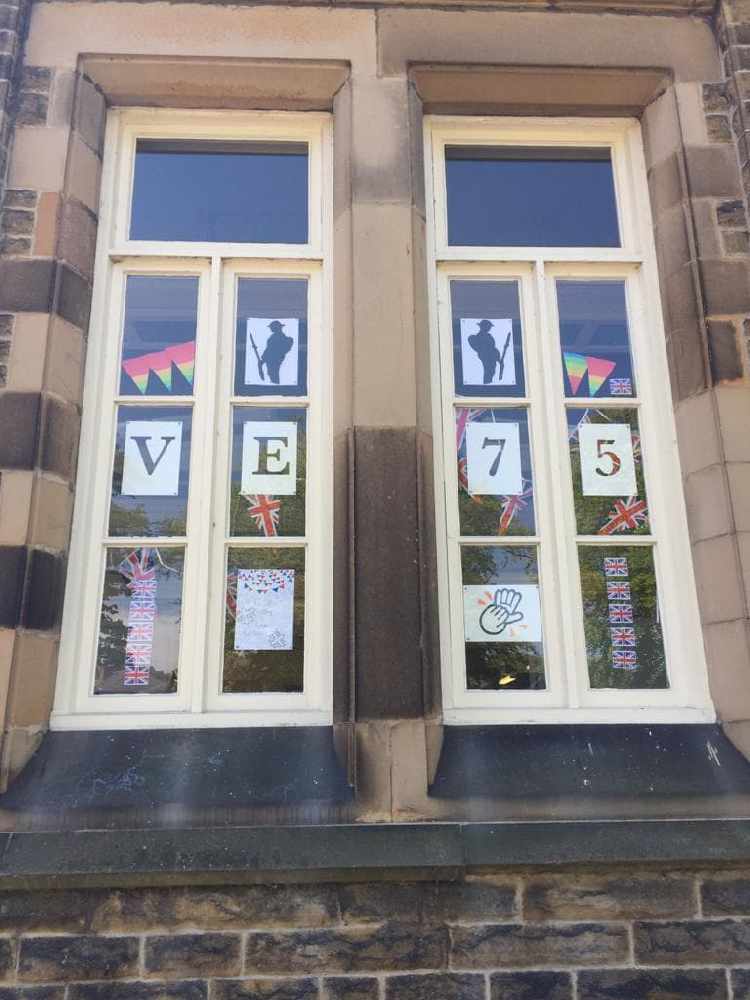 Glossop Arts Project have had to get creative in delivering their sessions, with the group still ensuring their wellbeing activities are going ahead at home amid lockdown – resulting in some beautiful VE Day art last week.
GAP normally runs 'Arts for Wellbeing' group sessions for people 16 years old upwards with long term mental and physical health conditions – but have had to adapt to the current situation and have designed an 'Arts from Home' programme.
Around 40 people, who attend their groups in Hadfield and Glossop, are receiving 'Art' packs delivered to their doors, with themes such as colour – making a rainbow, drawing or photographing scenes from people's windows and making pictures to decorate Victoria Halls windows for VE day.
Clare Isherwood, Art Teacher, asked the regular participants on their Whats App groups and on their Facebook page if people would help her decorate the windows of the Hall, where Glossop Arts Project have their base.
Glossop Arts Project has been running for five years now and many of the people who attend say that it is a lifeline and a great support to them to attend the groups. But following the Lockdown rules Project Manager Sonja Quirk, asked Clare if she could tailor the sessions to a home situation.
GAP have requested funding from various sources to continue this on an ongoing basis. Sonja Quirk said " we don't know how long we are going to be in lockdown and we can't just abandon the participants, some we have known for five years and are part of our GAP family. Many of our group are suffering with anxiety and low mood from being even more socially isolated than they already were."
GAP are going to start a regular Facebook Live session with tutorials and interactive sessions, they want to keep in touch with their participants as much as possible and stay connected until they are able to meet in groups again.
Sonja Quirk says "We are obviously unsure of when we can resume our groups, we hope at least we can stay in touch. We have set up chat groups and people are talking to each a lot – it's really nice. Our Art Therapist Lucy is staying in touch with her clients over the phone and I am offering support over the phone as well. I am not a counsellor but I am a registered Social Worker with many years' experience in Mental Health, which is coming in handy through these tough times"
GAP say they have applied for funding to continue over the next few months to support people in their homes, they are giving out activities to keep people inspired and busy and will be putting the art work into a 'Coming Together' Exhibition in Victoria Hall later this year.
Clare is sending out envelopes this week with letters from the verse of hope by Captain Tom Moore – they will make a display of the verse for the windows in Victoria Hall next month.
'The Sun will shine on you again and the clouds will go away'
Sonja Quirk said she would like to thank local High Peak and Derbyshire Councillors Wharmby, Kelly, Greenhalgh, Oakley and Hardy for their donations so far – but they need to secure further funding to continue and to reach more people – they said they would like to be able to offer this free service to people self-isolating, or living with or recovering from any illness or condition at home.
GAP are always grateful of any donations of art supplies or goodies for the packs and are in particular need of balls of wool at the moment.
They can be reached by emailing: Info@GlossopArtsProject.Org, by calling Sonja on 07855320179 or going onto their Facebook page www.Facebook.com/GlossopArtsProject.
WE ARE A COMMUNITY!
With the majority of people now staying safe indoors, it's important we use this time to stay safe, but to also stay positive and come together! We're going to share nothing but positive and uplifting stories from the people and businesses in our community in a dedicated 'We Are A Community!' section of our website here: https://www.questmedianetwork.co.uk/news/we-are-a-community/.
To tell us all about your feel-good stories, head to https://www.questmedianetwork.co.uk/we-are-a-community/ and we'll be in touch!