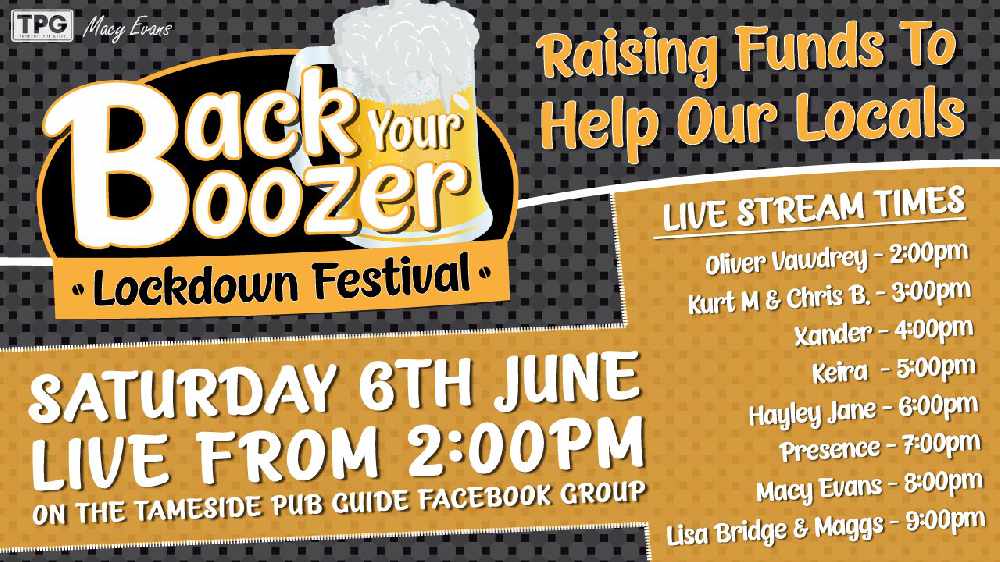 A virtual lockdown music festival featuring well-known local singers has been organised in a bid to help save the pub trade throughout Tameside. 
It's been well documented that the coronavirus pandemic has hit the hospitality industry hard - with pubs, clubs and bars at risk of permanent closure due to a lack of income during the lockdown.
So, in a bid to raise funds to support our local boozers, local singer Macy Evans has teamed up with Mark Staines, who runs the Tameside Pub Guide Facebook group, to organise a 'Back Your Boozer Lockdown Festival'.
It will be eight hours of entertainment featuring eight different acts from in and around the borough. Taking place from 2pm on Saturday 6 June, it will be streamed live on the Tameside Pub Guide Facebook group at www.facebook.com/groups/TamesidePubGuide.
This is the line-up: 2pm Oliver Vawdrey, 3pm Kurt McPartland and Chris Brooks, 4pm Xander, 5pm Keira Nesbitt, 6pm Hayley Jane Morris, 7pm Presence, 8pm Macy Evans and 9pm Maggsy & Lisa Bridge.
Macy, 18, who usually has a music show on Tameside Radio called 'Spotlight Tameside' to promote the work of local musicians, said: "I came up with the idea of putting a fundraiser together for the local pubs to try and help businesses to be able to open again as so many jobs are related to this - such as bar staff, bouncers, pub owners and entertainers.
"If a lot of the pubs were to close down after the pandemic, not only would it affect many people's lives because of their jobs but it would affect those who used to go to that particular pub. All of the memories that people have had in certain places would be washed away.
"I've done a charity live stream for the NHS and what everyone is doing for the NHS is great, but these local businesses such as pubs are struggling just as much too as it's a worrying time for us all.
"So I thought as I had already made some money for the NHS I'll do the same for something that is important to me - the pubs in Tameside. It's important to me as these pubs have given me the opportunity to let my confidence grow with my singing and every pub I've been to has always been full of friendly people who have positive things to say about my performance.
"As entertainers of Tameside, we want to do this as it helps us all together and shows we can all come together as a community and help those who need it at the moment."
Mark has also launched a poll on the Tameside Pub Guide Facebook group for people to make sure their favourite pub gets a share of the proceeds.
He explained: "We've created a poll in the Tameside Pub Guide Facebook group for you to vote for your favourite local pubs. At the end of the festival, the top 10 pubs in the poll will be added to a random winner spinner and the first three landed on will get an even share of all donations collected.
"We will only be donating to pubs in the Tameside Pub Guide area. The poll has been pre-filled with some of The Tameside Pub Guide's regular advertisers but please feel free to add your local if it's not in the list."
A Just Giving page has been set up for people to help support the local pub trade and has so far raised £200 of the initial £1,500 target set. If you would like to donate, visit https://www.justgiving.com/crowdfunding/macy-evans-backyourboozer.
WE ARE A COMMUNITY!
With the majority of people now staying safe indoors, it's important we use this time to stay safe, but to also stay positive and come together! We're going to share nothing but positive and uplifting stories from the people and businesses in our community in a dedicated 'We Are A Community!' section of our website here: https://www.questmedianetwork.co.uk/news/we-are-a-community/.
To tell us all about your feel-good stories, head to https://www.questmedianetwork.co.uk/we-are-a-community/ and we'll be in touch!