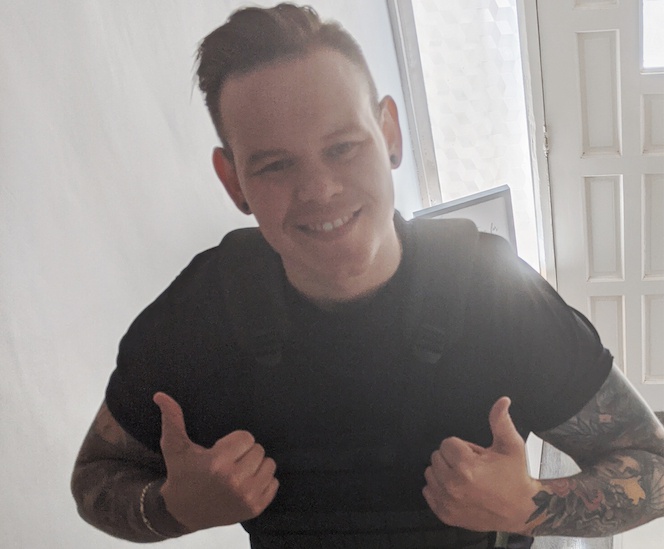 A strength and conditioning coach has 'climbed' Mount Everest during the lockdown to raise awareness and funds for a mental health charity.
Adam Heywood, who is from Droylsden and a senior fitness coach at Life Leisure in Stockport, came up with the 'Everest for the Boys' challenge to raise money for the Campaign Against Living Miserably (CALM), which runs a helpline supporting anyone suffering from anxiety, loneliness or isolation, particularly aimed at young men.
Adam, 32, who has suffered from depression, walked up and down his stairs almost 5,000 times while wearing a 10kg vest – so far raising £600 for the charity. He averaged around 9000 steps a day for seven days, covering the equivalent of 11 miles.
He said: "Suicide is the single biggest killer of men under 45 in the UK and the cause of 18 deaths every day. CALM is a charity which is aimed directly at young men, speaks to them in a language they understand and raises awareness that it's ok to talk about their feelings.
"With what's happening in the world right now everyone is feeling more pressure – whether that's financial, health, family, isolation, or something else. Organisations like CALM are vital to supporting mental wellbeing – but are especially important in times like these.
"I've always suffered with my mental health. It wasn't until speaking about my feelings that things started getting better. Organisations like CALM talk to people at their lowest moments - I can't think of a better time to show my support."
Adam, of Masefield Crescent, lives with his fiancé Emily and their four-year-old daughter Gracie.
He completed the challenge while on furlough from Life Leisure. The sports and leisure provider has been temporarily closed to the public as a result of the pandemic, but has been encouraging staff and members to stay active at home.
The former Little Moss High School pupil, said: "I've always wanted to do a walking challenge, but I've never had the time to do it. Now I have the time but can't go out – so I thought I'd do it at home, and what better challenge to choose then the world's highest mountain?"
He added: "I don't usually do much cardio – I'm much more into doing weights and short fast sprints, so this challenge was especially difficult!"
Ruth Lynch, head of health, fitness and communities at Life Leisure, said Adam is an inspiration to his colleagues and gym members.
She said: "We've been doing what we can to help motivate and support people by developing home workouts and putting out advice, but it's stories like Adam's that are truly inspiring. It's fantastic that he's has been able to make use of his time in such an admirable way.
"I know Adam found switching to cardio quite a challenge, but it's really important that we get a mix of cardio, strength and balance into our daily and weekly movement target. Adults should be moving for 30 minutes a day, and children need to be doing 60 minutes daily."
To sponsor Adam go to www.justgiving.com/fundraising/achperformance, or to find more information about CALM go to https://www.thecalmzone.net/.
To find out more ways of staying active at home go to www.lifeleisure.net or visit their Facebook, Twitter and Instagram pages for home workout videos.