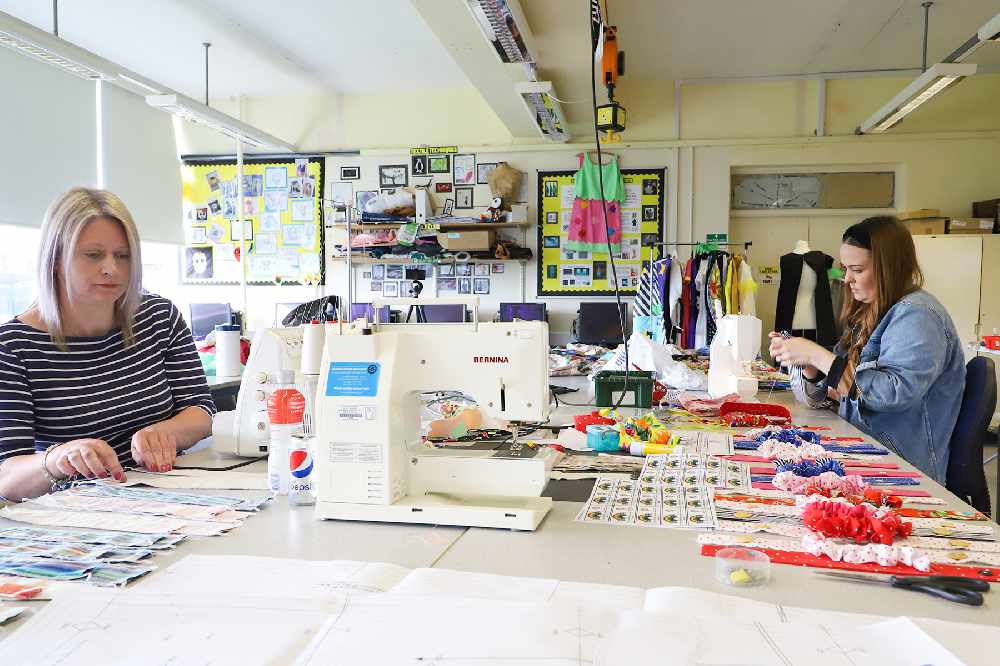 Staff at St Thomas More RC College in Denton have been doing their bit in the fight against coronavirus by making vital PPE equipment at school.
Led by textiles teacher Amy Palmer, the equipment has been distributed to hospitals, children's homes and care homes.
Using materials from the school's stock, staff have mainly been producing head mask extenders, but have also contributed scrub bags. Some staff members have even been joining in the effort from home.
Amy said: "I started with the process about three weeks ago after I came across a group on Facebook called 'For the love of scrubs', who were making various different textile items for the NHS all around the country.
"I contacted our head teacher and went into school to make a few prototypes to see if this was something I could do to help our local community."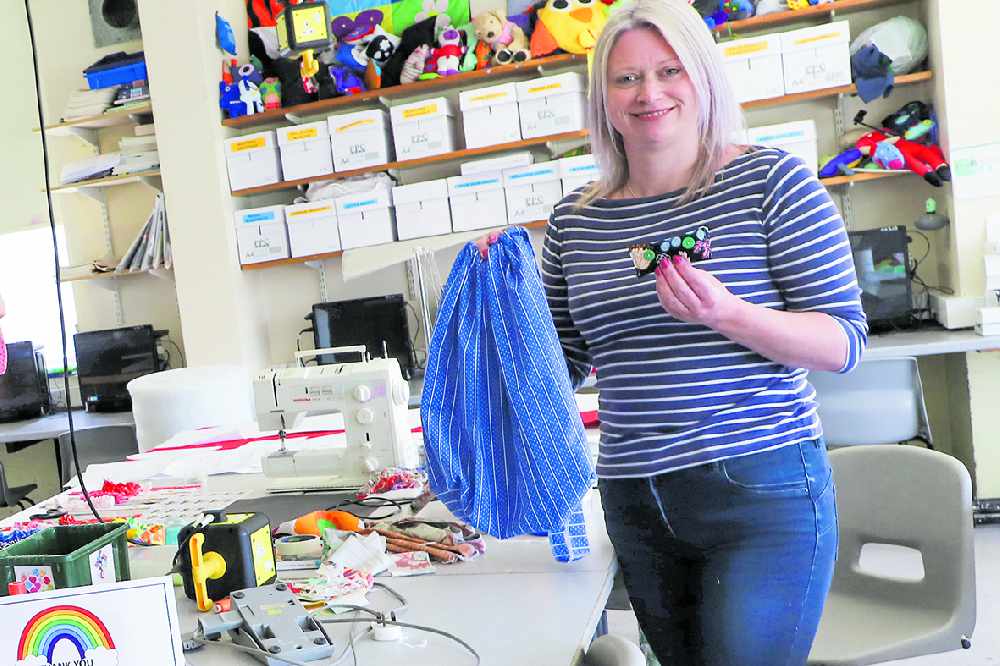 Amy was soon joined by finance manager Shelley Devine and Caroline Piddington, another member of the finance team.
Neither had even used a sewing machine before, but before long they were up and running in no time.
"Since then, the three of us have been working to produce a range of PPE items such as scrub bags, for staff to wash their scrubs in and avoid contamination, and face mask extenders.
"These are small cushioned pads with two buttons on that rest on the back of the head when wearing face shields.
"The face mask can wrap around the buttons instead of their ears. We've also been making headbands which have buttons on for the face mask straps to wrap around.
"My sister-in-law is a children's nurse and told me how sore their ears were getting from constantly wearing a face mask, so I showed her one of the headbands and she immediately asked me to make some for her team."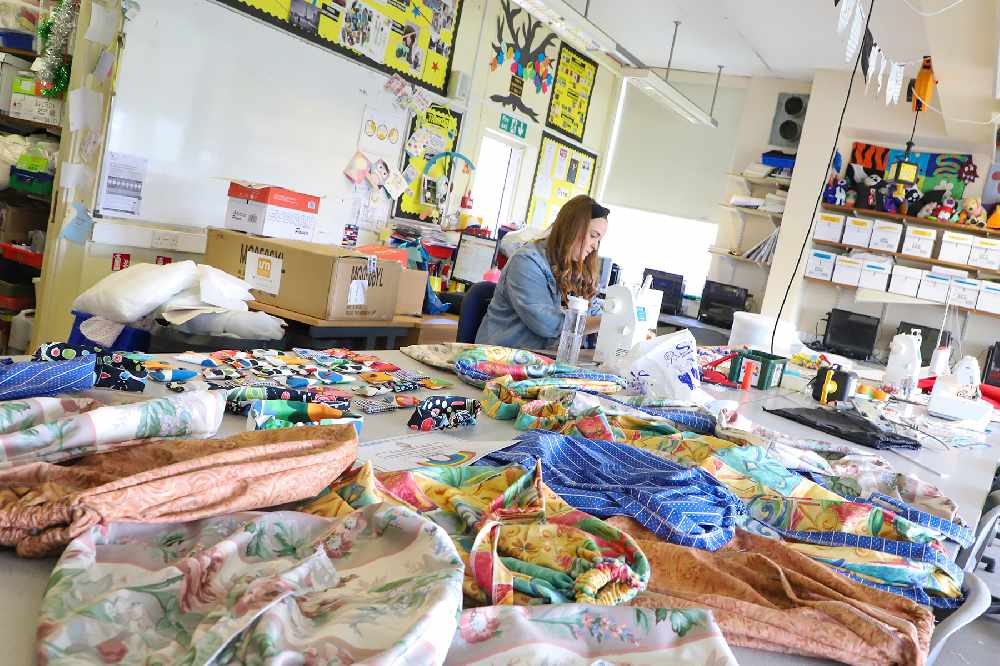 So far, the team at St Thomas More has made:
• Fifteen scrub bags and 32 face mask extenders for Salford Royal Hospital
• Thirty headband mask extenders for Oldham's children's home ventilation and complex needs team
• Thirty headband mask extenders to Oldham's community nursing team
• Four headband mask extenders to two local care homes
• Thirty out of 170 requested headband mask extenders to Tameside Hospital, which will hopefully be completed in full over the next few weeks.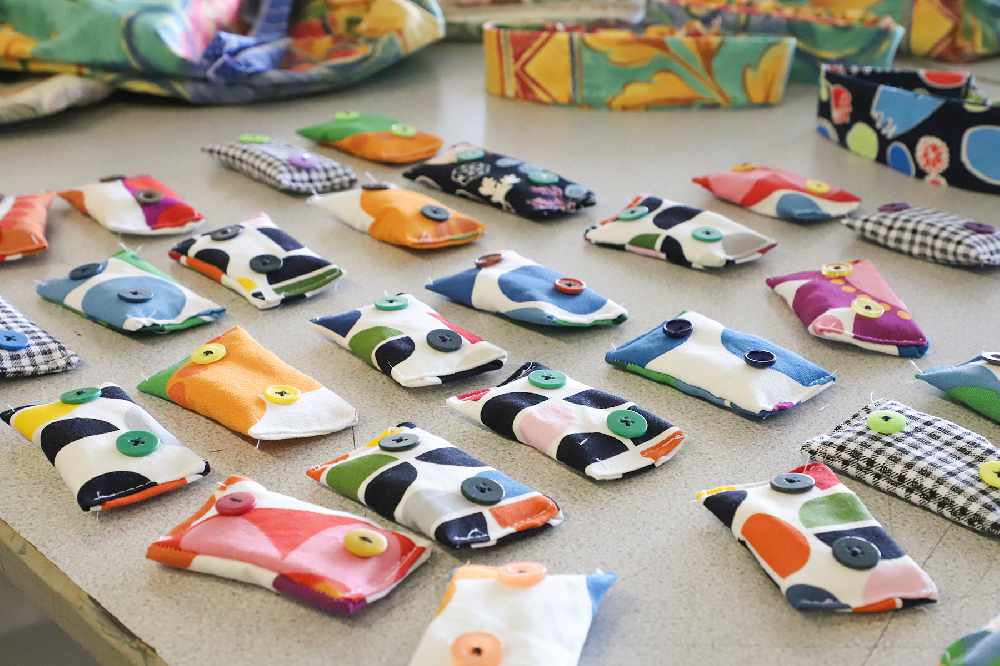 The team will then aim to continue contacting local care homes, GP surgeries and other carers to see who they can help.
When the team was running low on buttons, they contacted St Thomas More's uniform supplier, Sallies Schoolwear, who kindly donated a huge bag of buttons and £100 towards other materials. Other school staff members have also been donating bedding.
The team has also had help from their colleagues working from home.
"Helen Motteshead, a member of the office staff, has been making scrub bags for her neighbour who's a nurse, while Alice Silver, the technology technician, has been making little hearts for care packages for carers."
Amy added: "I now also have my mum working on making the headbands for my hometown hospital and care homes back in Barrow-in-Furness, where a few of my friends work.
"It's been amazing to hear how appreciated each of the items have been and to see it is helping our nurses and carers in some way."
Denton & Reddish MP Andrew Gwynne also dropped in one day to lend a helping hand. He described Amy and the team as an "inspiring example of people mucking in to help out."