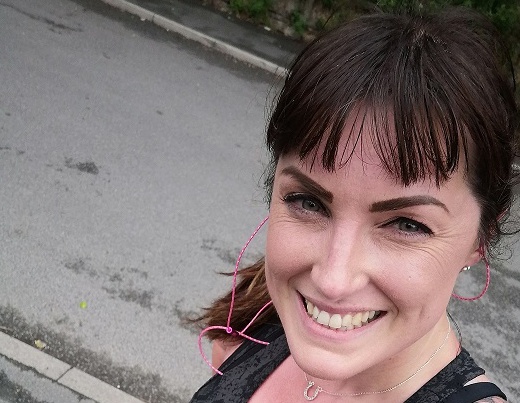 A runner from Stalybridge has overcome coronavirus and taken part in a local running challenge to raise money for Tameside Hospital.
Hayley McCaffer, 37, from Carrbook Village, successfully completed the 32 mile virtual Tour of Tameside.
Since being unwell, Hayley has struggled with her health and fitness but still managed to replicate all four stages of the race, which she found tough.
She ran the first three stages, amounting 27 miles, on consecutive days and found it a challenge, especially doing the Hell on the Fell in freezing rain and hailstone.
Hayley, who works for Tameside Council as a Partnership Officer in the Community Safety and Homelessness Team, said: "I first started with coronavirus symptoms on Saturday, March 14, with a sore throat and by Monday, my throat was really painful and I started to lose my voice. That evening, I realised I was really short of breath and struggling to breathe.
"The following day I developed a high fever, headache, loss of appetite and muscle and joint pain throughout my body. I developed laryngitis, completely losing my voice. I then lost my sense of smell and taste. By the Wednesday I had a terrible cough and painful chest when breathing. I was really short of breath throughout the first few days and this was quite scary, as I live by myself and had nobody in the house to look after me or call an ambulance if I needed it."
A relative contacted her GP who diagnosed Covid-19 after speaking to Hayley over the phone. The GP advised her to stay in bed and take paracetamol, and to call an ambulance if her symptoms got any worse. She was really unwell for two weeks and spent seven days in bed, relying on neighbours and friends to help with food and medication deliveries.
Hayley added: "After two weeks of being ill I returned to work and due to lockdown was redeployed to help renovate the new A Bed Every Night homeless shelter at St Ann's in Ashton. I soon realised that I was still very short of breath and really struggling with the physical nature of the work. I contacted my doctor and was diagnosed with a secondary chest infection and prescribed antibiotics and ordered to stay off work for another week."
Due to the adverse effects of Covid-19, the Running Bee Foundation had to regrettably postpone the 2020 Tour of Tameside but it will return from 10-13 June 2021. In its place, they invited runners to take part in its virtual alternative.
Hayley said: "My lungs were really affected by the virus. I was short of breath for several weeks and I didn't have the energy to exercise. I am a member of Mossley AFC Running Club, so it was hard not being able to go out running. I only managed a couple of very slow, gentle runs just before attempting the Tour, so I really didn't have the opportunity to train!"
Completing the virtual Tour of Tameside's four race stages was the first time Hayley had attempted running at her normal pace since being unwell and she really struggled as everything hurt, especially her lungs, which were really finding it tough to breathe properly. Her friend Joanne ran the final three stages with her for companym, which Hayley says really helped.
Executive Member for Adult Social Care and Population Health, Councillor Eleanor Wills, said: "I can totally relate to Hayley as I believe I have had coronavirus too and understand how it makes you feel during and after recovery. I'm really pleased to hear that she's recovered and I'm extremely impressed and delighted with her amazing effort for completing the virtual Tour of Tameside and in raising money for the hospital."
Hayley's ambition is raise as much money as possible for Tameside Hospital. Anyone wishing to make a donation can go to the Just Giving web page here: https://www.justgiving.com/fundraising/teamtamesideandglossop.