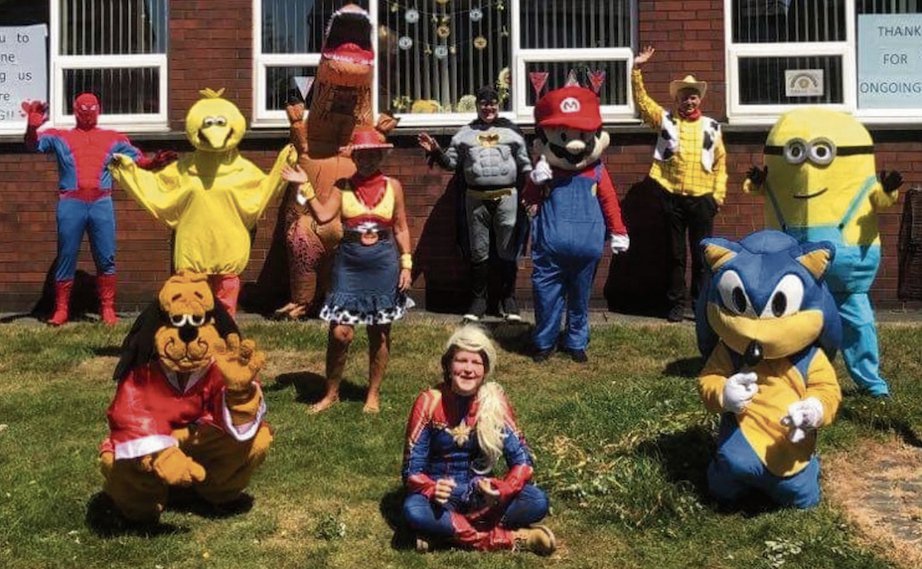 It's not often you see Sonic the Hedgehog, Captain Jack Sparrow and Batman roaming the streets of Denton together!
But throughout lockdown, residents in Dane Bank have been treated to all that and more.
Now, a group of kind-hearted Denton residents have been recognised after volunteering their time to cheer up their local community.
The Dane Bank Characters have become famous on their estate, wandering the streets to put smiles on faces, sing Happy Birthday message and even have a real impact on some people's lives.
The group formed back in April when, by pure coincidence, different residents decided to go on their daily exercise dressed in a costume.
When they realised, they got in touch and put a post on the local Facebook group, asking if anyone else with a costume wanted to join. Things soon escalated and soon, the 14-strong group were out every day.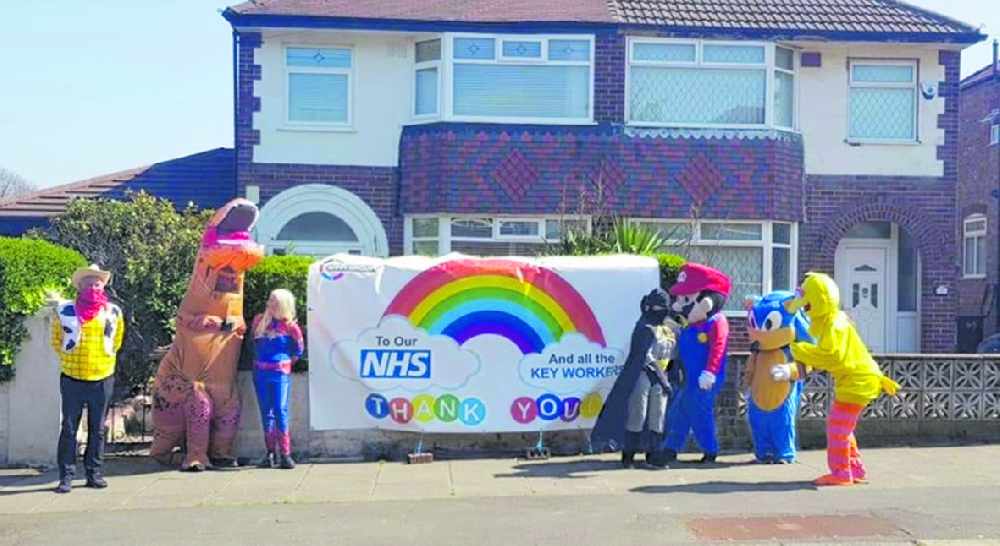 Group member Dale Clarke, who wears his dinosaur costume, explained: "A lady on the estate donated a Jack Sparrow costume and the Minion costume was also donated. Then we found someone to wear a Spiderman costume we already had.
"All the residents have absolutely loved it and everyone has their favourite character in the group.
"We started off just picking a street to walk down each day. Eventually we planned the routes and ended up covering the whole of Dane Bank.
"Then, we started taking birthday requests, where we'd turn up and sing 'Happy Birthday'. Sometimes we can do two or three a day. We've done everyone from a one-year-old to a 90-year-old.
"On VE Day we went to Wilton Court, just off Manchester Road, and had a sing-a-long with all the residents."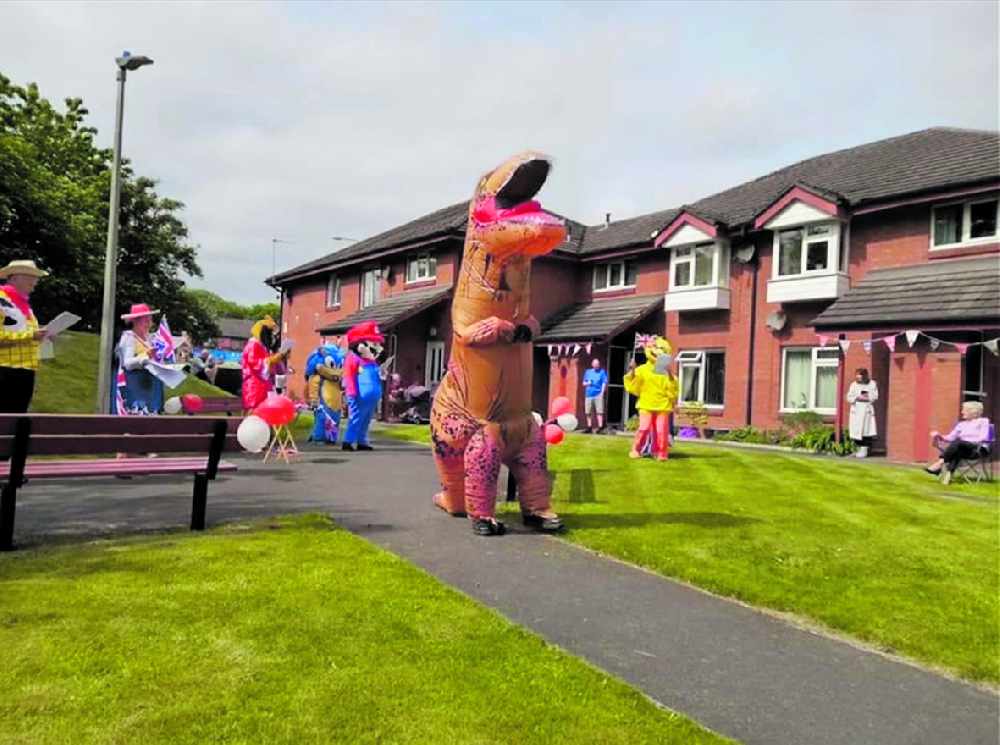 Some local youngsters will never forget the Dane Bank characters.
Dale added: "After getting a birthday request for a special needs girl who doesn't live in Dane Bank, the group sent her a video of the characters singing Happy Birthday, and her mum said she was blown away by it.
"Another child spotted us and had a real connection with the Spiderman character," Dale added.
"It turned out they had emotional problems so we bought them a Spiderman beanie. It's had such an impact on the child that it will be used in future support they'll receive from professionals."
In recognition of their efforts, the characters were presented with a Dane Bank Citizen's Award by Denton and Reddish MP Andrew Gwynne.
The MP established the Citizen's Awards to recognise those who have gone above and beyond for others across his constituency. The winners are nominated by members of the public.
Denton West councillors Brenda Warrington and Mike Smith joined Andrew in presenting the award to the group.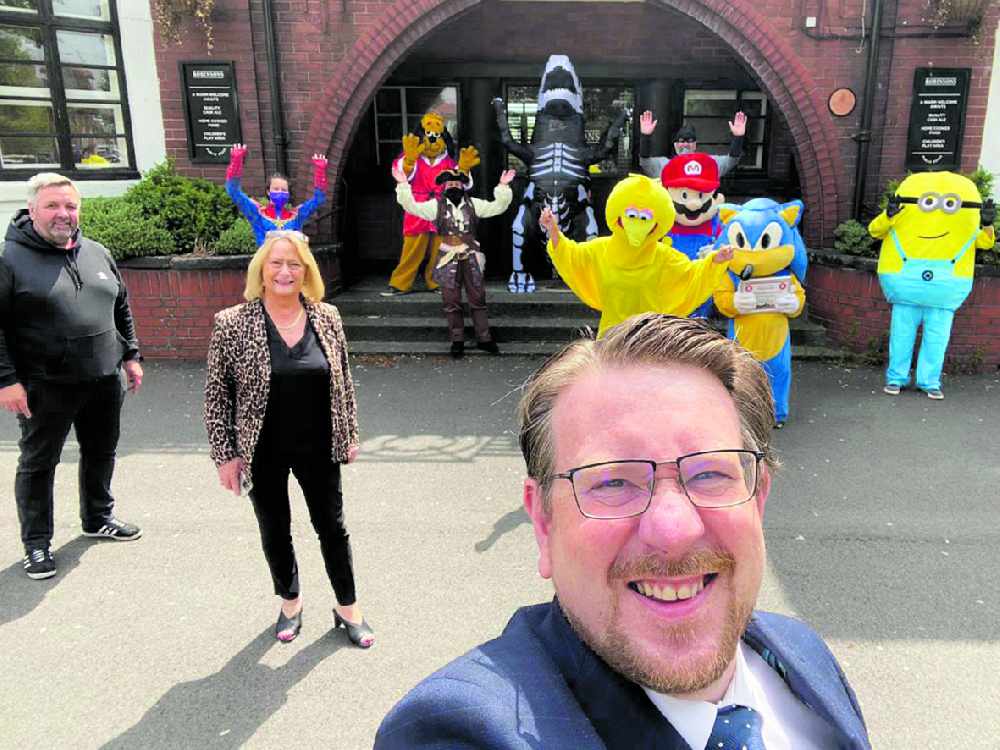 Andrew Gwynne said: "I was very pleased to catch up with the brilliant Dane Bank characters and present them with a Citizen's Award for the fantastic work that they've done.
"Not only have they raised money for the Denton West End Community Library, but they spread joy in the local community. As a child of the 1970s, I was particularly delighted to meet Hong Kong Phooey."
Despite people beginning to go back to work as lockdown restrictions ease, the characters are still receiving birthday requests.
They will also be making appearances at future community events when social distancing measures are eased.
The Dane Bank characters are:
Shay Connelly - Sonic
Barbara Mansley- Mario
Dawn Griffin - Big Bird
Caroline Wood - Jessie/Captain Jack
Nige Wood - Woody
Steve Williams - Batman
Darren Wright - Minion
Jack Findlow - Hong Kong Phooey
Dave Collinson - Spiderman
Dale Clarke - Dinosaur
Nimue Clarke - Captain Marvel