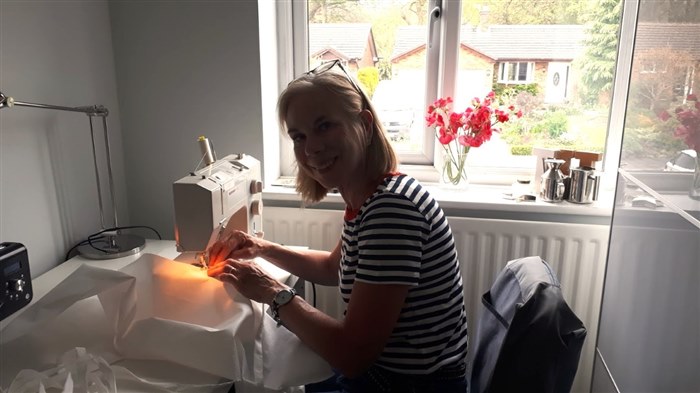 A teacher at Clarendon Sixth Form College in Ashton has been producing hospital gowns for frontline NHS staff to wear during the coronavirus pandemic.
Fashion and textiles teacher Louise Hawson has been busy making the gowns, with the help of other dedicated volunteers.
Many of the scrubs she has made have been sent off to Huddersfield Royal Infirmary, with some care homes also recently placing orders.
Mcnair shirts, based in Slaithwaite, usually make high quality outdoor walking shirts, but decided to step in and help emergency workers during these difficult times.
Volunteers have stepped in to also help.
Louise (pictured) started a production line at home, so she can continue to produce a number of hospital gowns each day.
As a team, they have produced over 1,200 gowns so far!
Louise explained: "I started my first bundle of gowns a few weeks ago and now I am on my second lot. Even though my contribution is quite small, it has felt great to get back into sewing and help produce gowns for the NHS."
WE ARE A COMMUNITY!
With the majority of people now staying safe indoors, it's important we use this time to stay safe, but to also stay positive and come together! We're going to share nothing but positive and uplifting stories from the people and businesses in our community in a dedicated 'We Are A Community!' section of our website here: https://www.questmedianetwork.co.uk/news/we-are-a-community/.
To tell us all about your feel-good stories, head to https://www.questmedianetwork.co.uk/we-are-a-community/ and we'll be in touch!