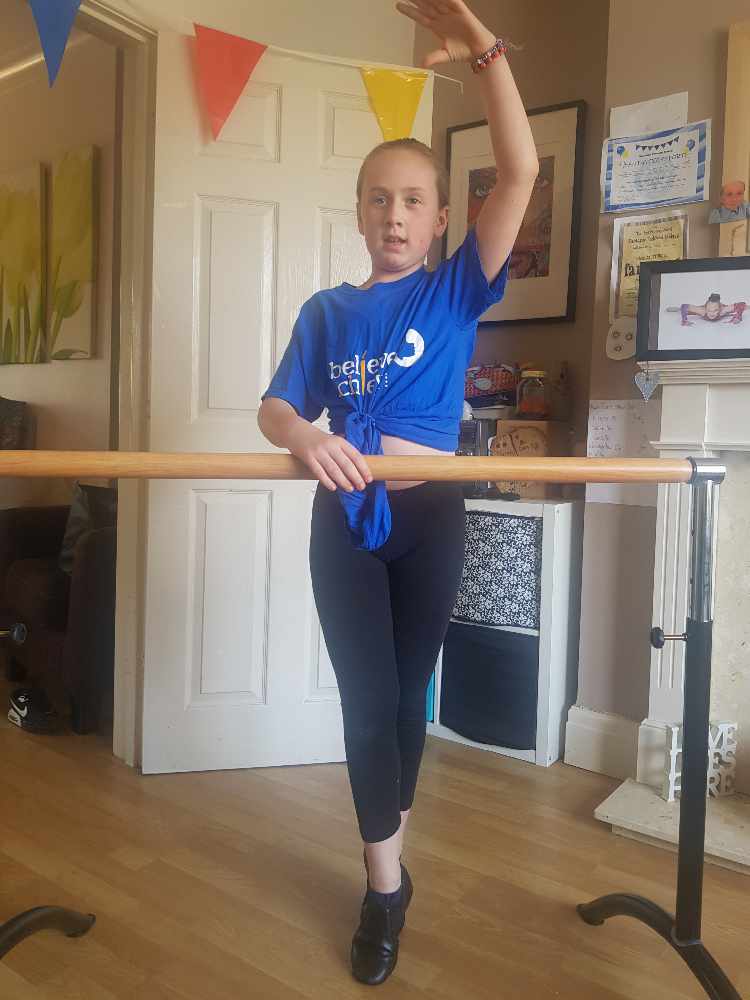 An award-winning young ambassador from Ashton is taking on the popular 2.6 challenge to raise money for a Tameside charity she supports and to increase awareness of meningitis. 
Grace Merriman is the children's ambassador for The Believe and Achieve Trust, which helps young people facing obstacles to achieve in sport through the provision of financial assistance.
Whilst smaller charities are struggling at the moment amid the coronavirus lockdown, the 11-year-old decided to raise funds by coming up with her own variation of the viral challenge relating to the numbers 2.6 or 26 - the number of miles in a marathon and the date the London Marathon was due to take place in April.
Grace, who is a student of the Sarah England School of Dance in Stalybridge, has been busy practising 26 ballet moves for 26 minutes every day for 26 days.

Grace practising a ballet move as part of her 2.6 challenge.
She's also working tirelessly to raise awareness of the signs and symptoms of meningitis - a rare infection involving inflammation of the lining around your brain and spinal cord. It can affect anyone and develop into a very serious condition if not treated quickly.
Grace, a Year 6 pupil at The Heys Primary School, wants the whole of Tameside to know the signs so nobody dies or is disabled from this terrible disease.
The money she raises will go to The Believe and Achieve Trust, which was founded in 2014 by CEO Alison Williams after her son Alex passed away with meningitis, so they can support one young girl to buy equipment to help her engage in sporting activities with her family.
Grace won a special award at last year's Pride of Tameside Sport & Physical Activity Awards for her fundraising activities and organising fundraising events for meningitis, and she counts the current Mayor of Tameside, Cllr Leigh Drennan, as her friend.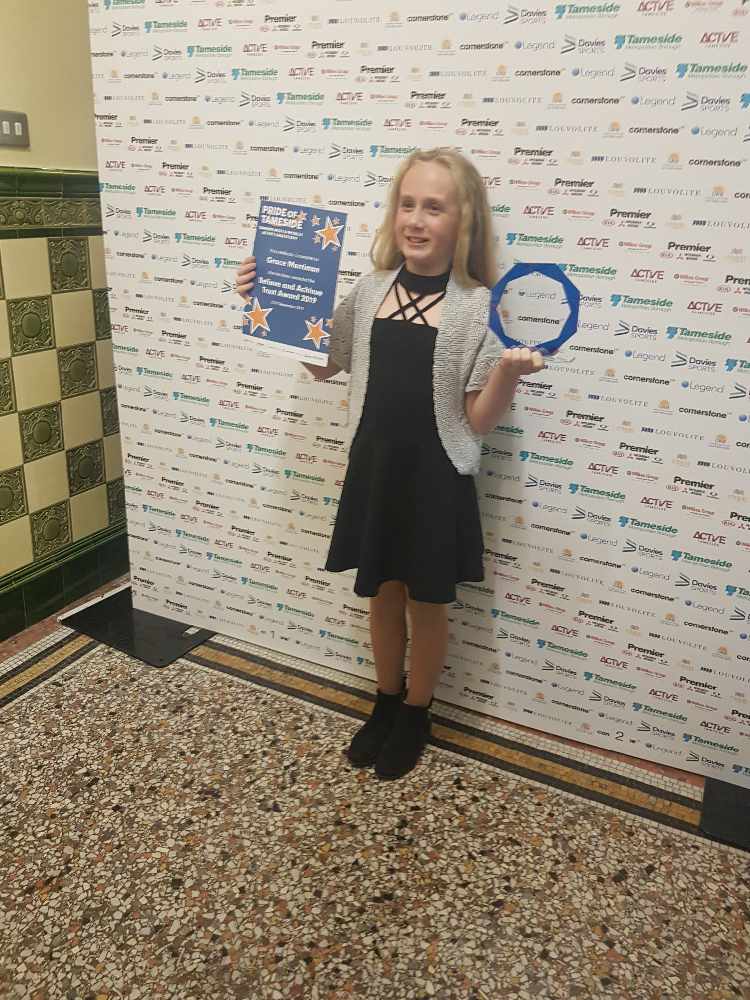 Grace receiving her award at the ceremony at Dukinfield Town Hall last September.
Her mum Kathryn Barton says she's so proud of Grace's true determination and perseverance in supporting The Believe and Achieve Trust.
She told the Reporter: "I am very proud of Grace, she always sees the positives in every situation. She is strong, determined and passionate about what she believes in. She is determined to make a difference in this world and never gives up.
"In August 2018, she did a 118-mile bike ride and in September 2019, she did a one-mile swim in Salford Quays to raise over £1,000 for the charity.
"Grace started her 2.6 challenge on April 20 and is due to finish on Friday, May 15.
"She has been dancing with the Sarah England School of Dance since she was three years old, so for eight years. She dances for 10 hours a week, including ballet, pointe, contemporary, street, acro, tap, modern and jazz.
"She recently took part in a global flashmob for lockdown and was due to dance in Disneyland Paris in May but it's now been postponed to next year.
"Dancing is Grace's absolute passion and so it seemed a good challenge to do during lockdown. You need a lot of core strength, balance and skill to be doing the range of moves she is doing. She has many hobbies though as well as dancing, including swimming, trampolining, kick boxing, pantomime and Guides."
Grace has already raised over £100 through her 2.6 challenge. If you're able to donate, head to her Just Giving page at https://www.justgiving.com/fundraising/kathryn-barton2.
Meanwhile, the Believe and Achieve Trust is still appealing to kind-hearted people for any kind of support by taking part in a simple challenge. Read more here.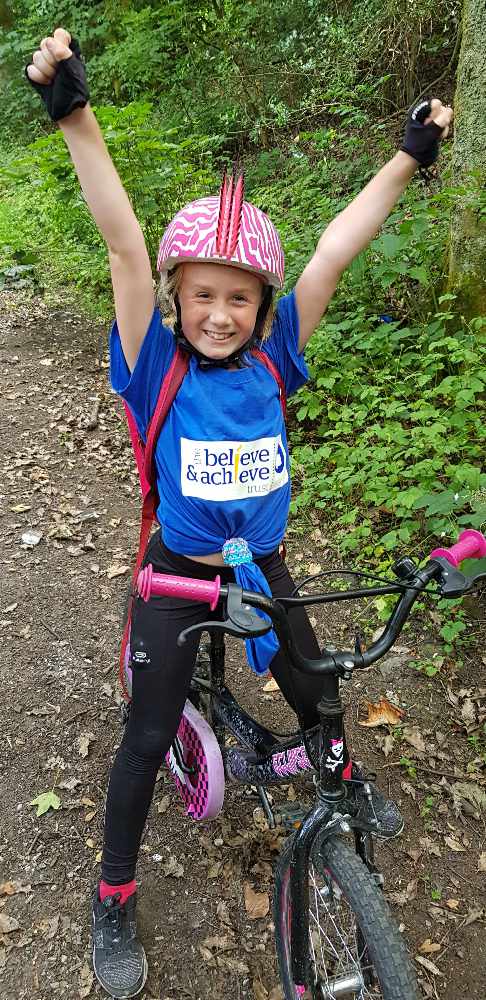 Grace embarking on a bike ride for The Believe and Achieve Trust in 2018.
WE ARE A COMMUNITY!
With the majority of people now staying safe indoors, it's important we use this time to stay safe, but to also stay positive and come together! We're going to share nothing but positive and uplifting stories from the people and businesses in our community in a dedicated 'We Are A Community!' section of our website here: https://www.questmedianetwork.co.uk/news/we-are-a-community/.
To tell us all about your feel-good stories, head to https://www.questmedianetwork.co.uk/we-are-a-community/ and we'll be in touch!