After the coronavirus lockdown put pay to their initial plans, the bottom Astley Arms in Dukinfield have put together a short video to show locals how they would have celebrated VE Day this weekend.
Of course, on May 8, 1945, Victory in Europe Day came about when the then Prime Minister Winston Churchill announced over the radio at 3pm that the Second World War in Europe had ended.
In February, the pub on Astley Street, which is currently closed as per Covid-19 restrictions, had planned a fantastic celebration to mark this historic occasion, in association with the Astley Social Society (A.S.S).
A 1945 themed weekend-long party was on the agenda, along with family fun days featuring bouncy castles, BBQs and dressing up - all whilst supporting the pub's chosen charity of the year for 2020 - The Brain Tumour Charity.
However, once it became clear this wasn't going to happen, the pub's staff still wanted to give the Tameside public a glimpse of what their celebrations would have looked like.
The video - filmed by Lee Hinchcliffe and edited by Dave Rose - features one famous lady visiting her 'favourite local' and also gave the staff at bottom Astley the chance to wish everyone all the best for VE Day and the bank holiday weekend.
You can watch the video at the top of the page.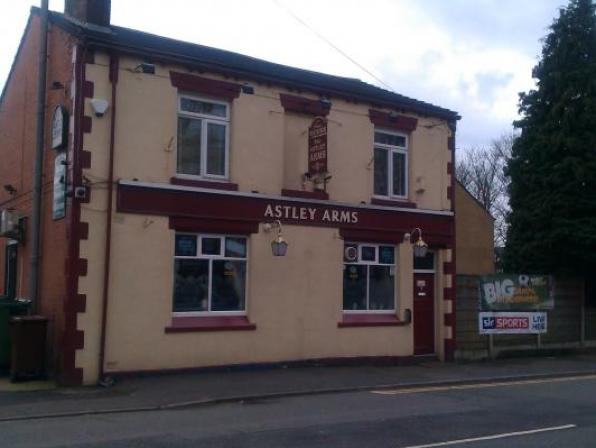 The bottom Astley Arms in Dukinfield.
Fly the flag with us this VE Day
Quest Media Network Ltd has teamed up with TASC - the Tameside Armed Forces Community - to deliver a unique programme of events across our online and on air platforms to mark this year's 75th anniversary of VE Day.
You will find much more on our dedicated website www.questmedianetwork.co.uk/news/ve-day/ including stories, historic tales, videos, audio interviews and more.