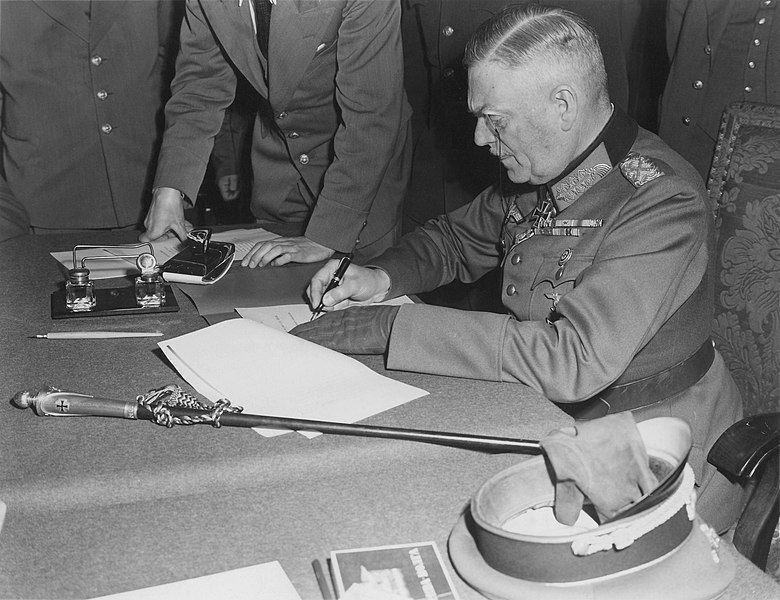 Field Marshall Keitel signs the terms of German surrender in Berlin on Ma 8, 1945.
Graham Braithwaite explains why VE Day is celebrated on May 8 across much of Europe - but on May 9 in Russia.
Rumours of a German surrender started in April, forces all across Northern Europe holding their breath and trying to stay alive; they knew it couldn't come too soon.
With the Russian's victorious in the Battle of Berlin, and on April 30 news of Nazi leader Adolf Hitler's suicide, talk of surrender accelerated.
When it actually happened the documents would be signed on May 7, 1945, at Gen. Dwight D. Eisenhower's headquarters in Reims, France, although not by Eisenhower himself.
In The Great War of 1914 – 1918, Germany had agreed to an Armistice (an agreement to stop fighting) and then The Treaty of Versailles in 1919. This time there was no armistice, but the unconditional surrender of all German Armed Forces.
In 1945 it was signed by General Alfred Jodl, Chief of Staff of the German Army, on behalf of the Oberkommando der Wehrmacht ("German High Command"). General Walter Bedell Smith, Eisenhower's Chief of Staff signed on behalf of the Supreme Commander of the Allied Expeditionary Force and General Ivan Susloparov on behalf of the Soviet High Command.
As this happened, at the same time three other surrender documents, one each for Great Britain, Russia, and France were signed, however, Joseph Stalin the soviet leader refused to accept the surrender signed in Reims - suspicious of the motives of the Western Allies.
Instead, he insisted the treaty be ratified in Berlin the following day. So Russia, along with a number of other countries, celebrate VE Day one day later than the rest of Europe, on May 9.
• In the Northern city of Hamburg, along with 2091 other men, is the grave of 6920790 William Newitt, aged just 22, of The 1st Battalion The Manchester Regiment. He died on May 9, 1945, just one day after the surrender came into force. His mum and dad John and Annie Newlitt would have heard the tragic news through a telegram just a few days later.
• The terms VE (Victory in Europe") and VJ (Victory in Japan) days in World War II were first used in September 1944, by James F. Byrne, U.S. director of War Mobilization.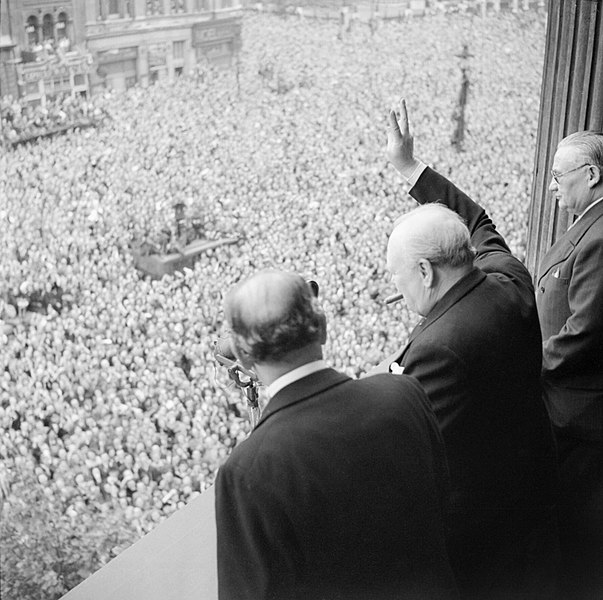 VICTORY: Winston Churchill salutes the masses in Whitehall with his famous Victory salute.
Fly the flag with us this VE Day
Quest Media Network Ltd has teamed up with TASC - the Tameside Armed Forces Community - to deliver a unique programme of events across our online and on air platforms to mark this year's 75th anniversary of VE Day.
You will find much more on our dedicated website www.questmedianetwork.co.uk/news/ve-day/ including stories, historic tales, videos, audio interviews and more.