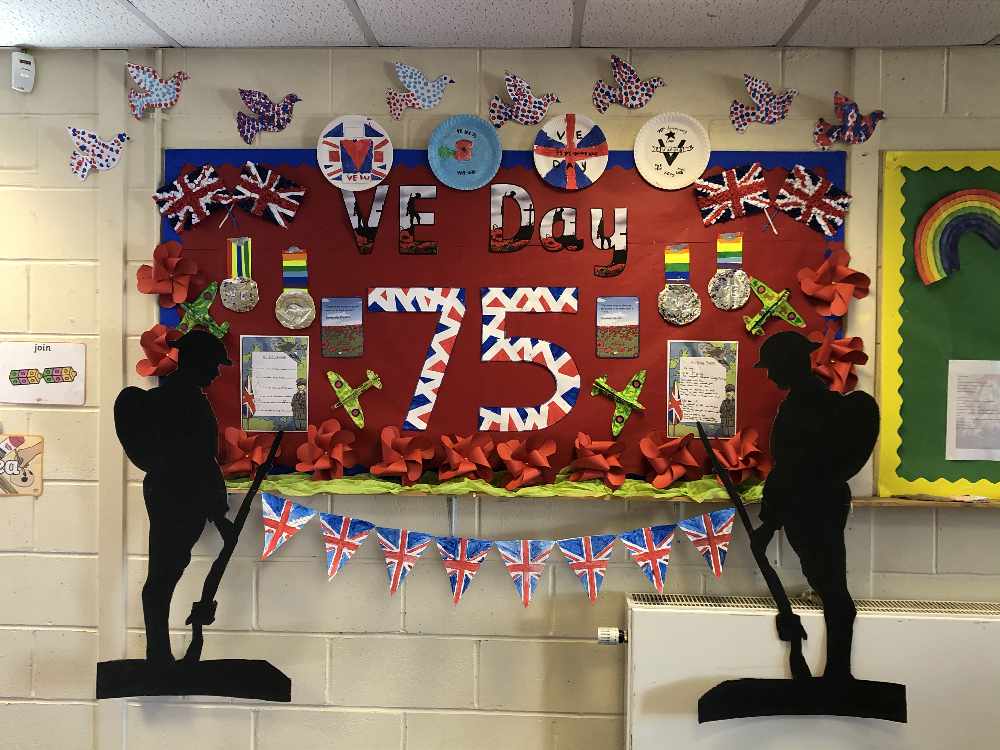 IMPRESSIVE DISPLAY: The VE 75 display at St George's Primary.
Week of activities culminates in school street party as veterans give grateful thanks for children's cards for VE Day
Pupils at St George's Primary CE School in Mossley have been busy finding out all about VE Day and its importance all this week.
All of the children - whether at school or learning from home - have been participating and have created a range of fabulous artworks or penned poems and letters to veterans or those in the services.
Pupils started the week finding out about the facts behind VE Day in this anniversary year and just why it is celebrated. They then created flags and bunting to display around the school playground and soldier silhouettes for a school display. They then focused on bravery medals and why they were awarded before making some of their own.
On Tuesday the children created more decorations plus poppies for remembrance before going on to learn about Morse Code and interpreting messages using what they had learnt. In the afternoon they made commemorate plates and created doves to symbolise peace.
Wednesday was cookery class and the children took part in wartime baking where they made eggless chocolate cakes.
More artwork followed and they made spitfires to add to their display in the school. Then in the afternoon they wrote telegrams and poems which have been sent on to someone who is serving or who has served to remember, honour and celebrate VE Day.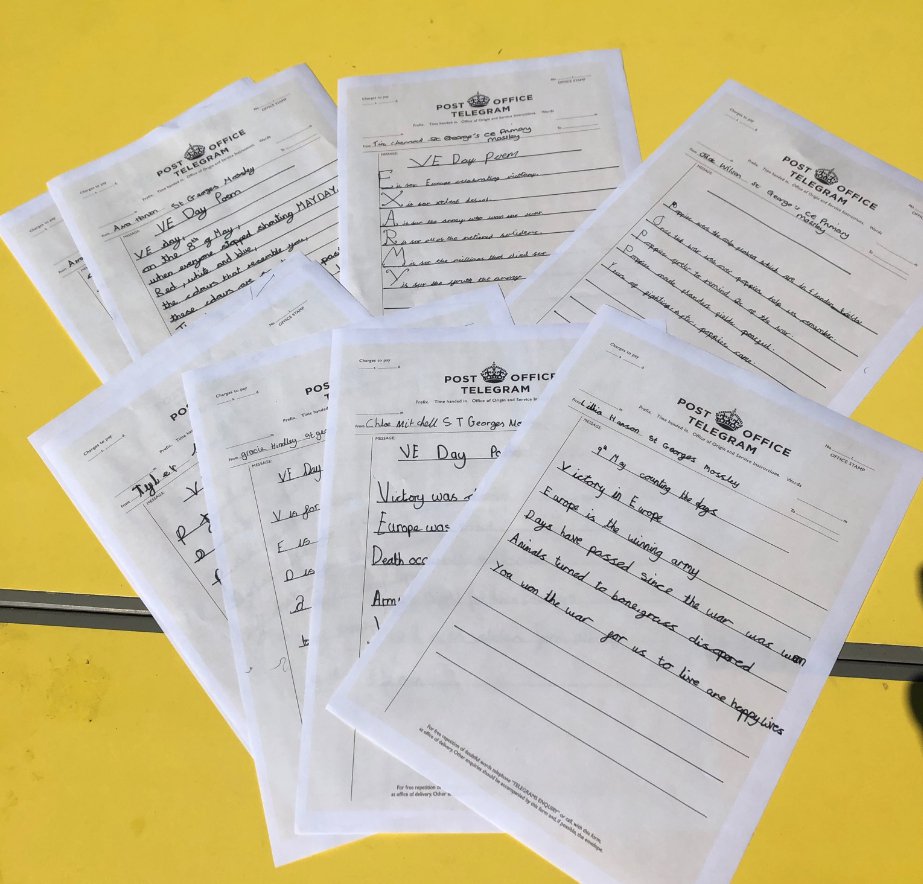 TELEGRAMS: Some of the messages and poems by the youngsters.
Yesterday the children made cards to send to the local war veterans of Mossley, plus more decorations for their window display which can be viewed from the main road. There was baking of bread and apple pudding (WW2 style) whilst others made war time lemonade. Already those in receipt of the cards have sent their own messages of gratitude to the school for the children's kind thoughts.
In the afternoon the children were able to enjoy the fruits of their labour, holding a street party and enjoying dancing to war time classics.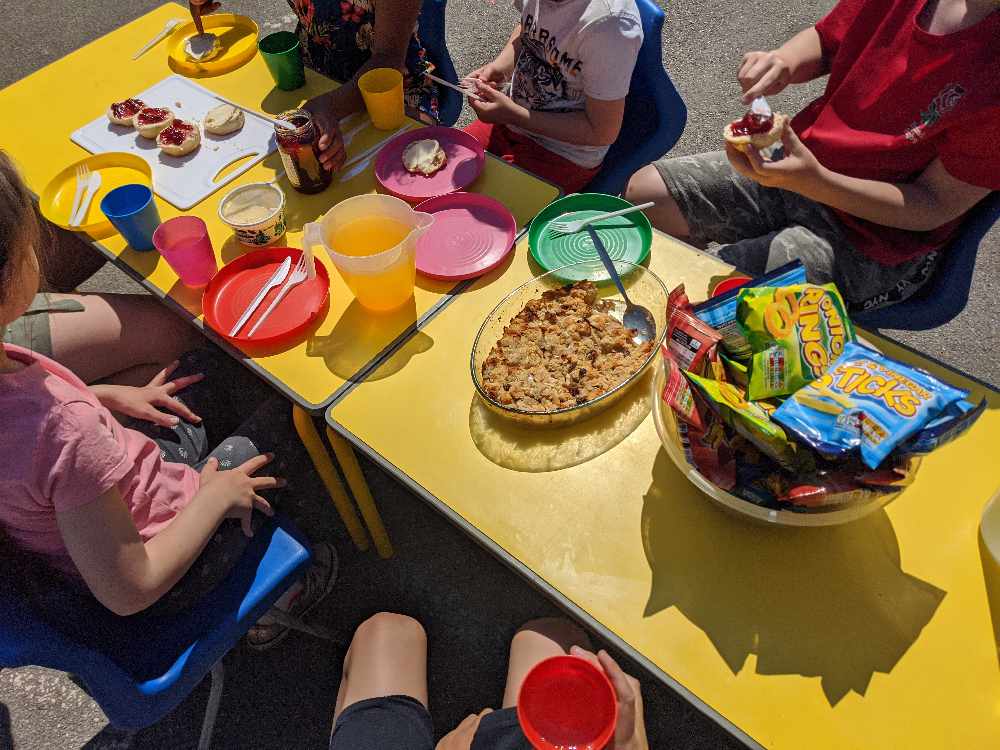 STREET PARTY TIME: Complete with World War Two food (and a few treats!)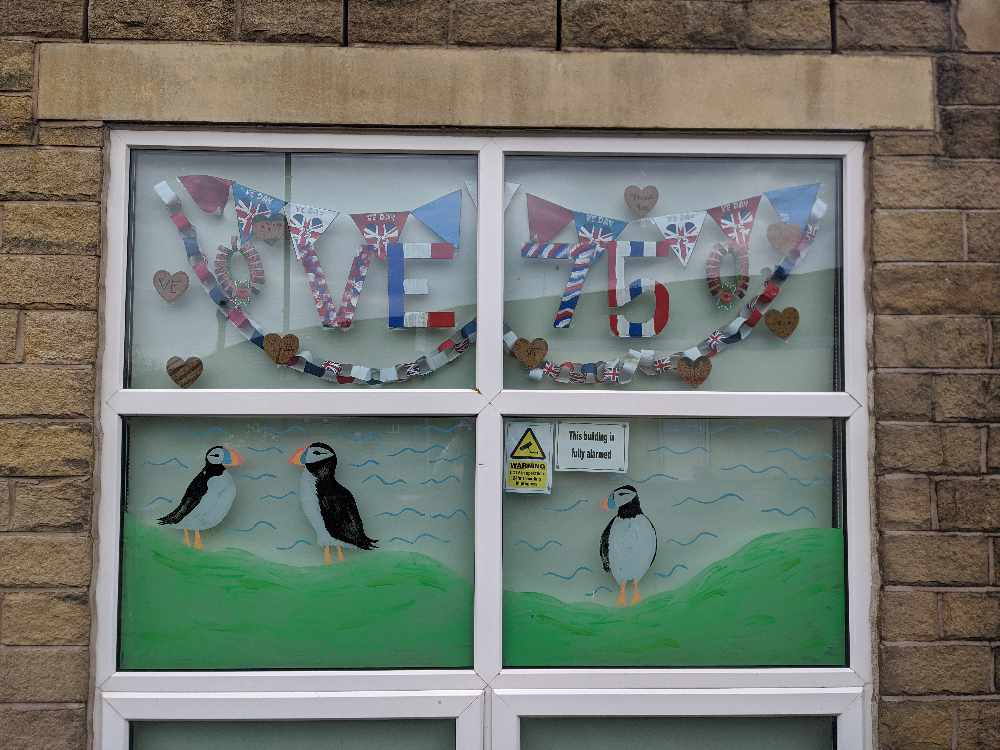 WINDOW DISPLAY: Some of the artwork produced by the children for one of the school windows.
Fly the flag with us this VE Day
Quest Media Network Ltd has teamed up with TASC - the Tameside Armed Forces Community - to deliver a unique programme of events across our online and on air platforms to mark this year's 75th anniversary of VE Day.
You will find much more on our dedicated website www.questmedianetwork.co.uk/news/ve-day/ including stories, historic tales, videos, audio interviews and more.