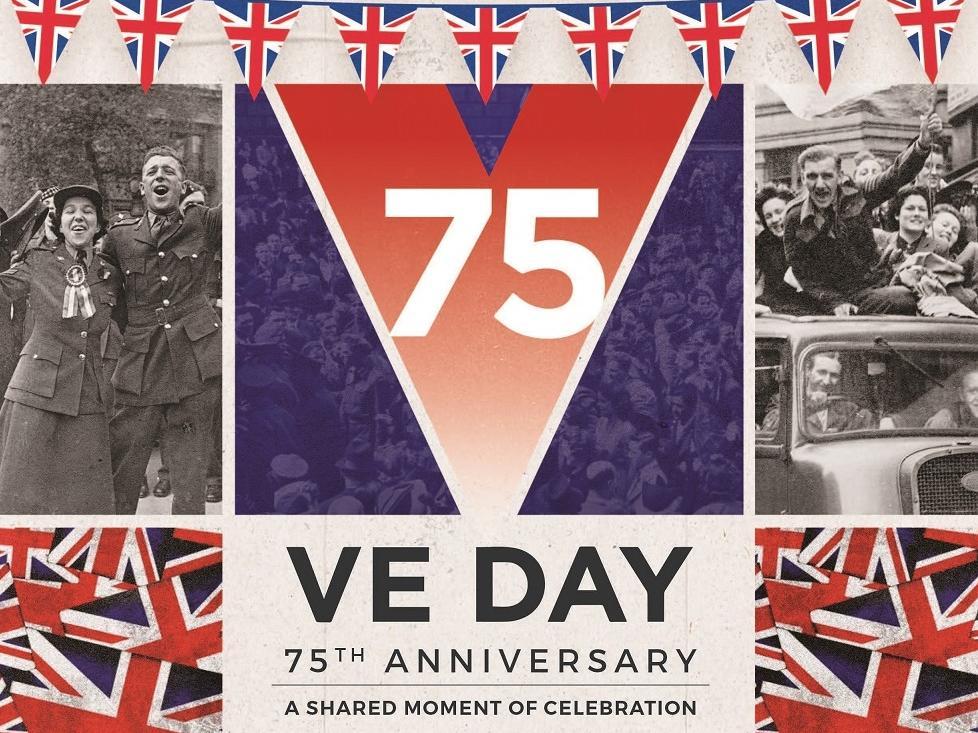 Dozens of public events may have been cancelled due to the coronavirus outbreak, but there's still plenty of ways that High Peak residents can commemorate the 75th anniversary of VE Day on Friday from home.
People are being urged to get creative and mark the key anniversary of the end of the Second World War by holding events in their own homes or gardens.
There will also be events throughout the week leading up to the historic Victory in Europe day where you can find out more about the significance of the occasion.
On Friday, which is also a bank holiday, there will be a national two-minute silence at 11am.
A bugler will play the Last Post at that time on Market Street in New Mills, which you will no doubt be able to hear from across town.
Between 4pm and 6pm, households are being encouraged to hold a community-based socially-distanced 'Stay at Home' celebration street party.
You can place a table and chair(s) outside your house on the pavement or front garden. Make your own 'picnic' food and have a few drinks, whilst keeping two metres apart from others.
If you're feeling in the mood, you can also play some music (whilst respecting neighbours), decorate the front of your house in red, white and blue, and even dress up in 1940s clothes.
The Chapel-en-le-Frith branch of The Royal British Legion is asking anyone who decorates their property or is having a tea party to send them photos via their Facebook page.
The branch will be looking for the three best photos and a goodie bag will be given to the winners, as chosen by the committee.
Meanwhile, Derbyshire County Council has confirmed that it will be flying the Union Flag at its County Hall headquarters in Matlock on Friday.
The authority has also collated a wide range of information which you can find at www.derbyshire.gov.uk/VE75.
The Government also has dedicated VE Day pages packed with info, educational resources and videos. Go to https://ve-vjday75.gov.uk/ to find out more.
Of course, lots of planned street parties and other events have had to be cancelled due to the ongoing pandemic, but you can still safely show your support for VE Day while following Government guidelines on social distancing.
As well as historical facts about the Second World War, there are ideas for holding celebrations at home, 1940s recipes, ideas for music to play, templates for people to make bunting to hang up at home and posters to colour in and put up in windows.
Organisations ranging from the Royal British Legion, SSAFA, the BBC, the Imperial War Museum and English Heritage all have information about VE Day 75, with all encouraging people to mark the occasion by staying at home.
Derbyshire County Council Leader, Cllr Barry Lewis, said: "Events to mark the 75th anniversary of VE Day have been planned for a long time and, while it is extremely sad that these public events cannot go ahead at the moment, this historic, important and poignant occasion must still be marked and we can all do that from our own homes.
"We're facing some of the most challenging times since the Second World War, and it feels even more important that we come together to remember and commemorate this day, and reflect on the sacrifices of millions of people who died or were affected.
"Although we'll now be marking the day from our doorsteps, gardens or sofas, I am sure the occasion will unite the nation, and our local communities will be no exception, displaying the strong Derbyshire Spirit that has shone through in recent weeks."
The High Sheriff of Derbyshire Tony Walker CBE, commented: "On VE Day 75 we remember both the suffering and sacrifice of those who lived through the Second World War and their overwhelming joy when the fight was over.
"Let's use this opportunity to strengthen our resolve to continue our fight against the coronavirus until the battle is won and then we too can have the joy of returning to normal life."
High Peak MP Robert Largan said: "This is an important day to remember, when Nazi totalitarianism was defeated in Europe. That victory was won by a broad coalition of nations, who all played key roles.
"But we should never forget that victory would never have been possible without Britain. In 1940, Britain stood alone against an axis of tyranny. Winston Churchill's famous speech often gets quoted but I think the words of a Jewish refugee in London, Albert Cohen, are worth a revisit.
"He said: 'With a fixed smile, England hopefully begins the hopeless struggle. France is beaten. We'll win. We can't use bases in Ireland. We'll win. We're beaten in Greece, in Libya, in Crete. We'll win. Ships bringing food and arms are sunk. We'll win. So childishly confident in the future that they make you shed tears of pity, admiration and faith'."
Other plans for the day include:
BBC VE Day 75 programmes including extracts from Sir Winston Churchill's victory speech recreating the moment peace in Europe was announced 75 years ago, with the Prime Minister speaking about the importance of VE Day.

A national toast, encouraging all those taking part to undertake the 'Nation's Toast to the Heroes of WW2' at 3pm, from their homes and doorsteps. The toast will involve standing up and raising a glass of refreshment and saying the following - 'To those who gave so much, we thank you'

Prince Charles reading an extract from his grandfather King George VI's diary from 8 May 1945

The Archbishop of Canterbury marking the occasion with a recorded special reflection and moment of prayer

The Queen addressing the nation at 9pm, to be followed by a national singalong of Dame Vera Lynn's 'We'll Meet Again'. People are being encouraged to open their doors and join in with this national moment of celebration.

NHS Volunteer Responders, who have been deployed to give a number of Second World War veterans a call and provide an opportunity to share their stories.

Historian and broadcaster Dan Snow hosting history lessons for children from Monday 4 May. At 4pm on Monday, Wednesday and Friday, Dan will host a History Hit live on YouTube's Timeline channel that will focus on a different aspect of the Second World War and aim to teach people about the importance of VE Day.

The public being encouraged to discover their own connection to the Second World War, an initiative by the Government and Ancestry. As part of this, all UK historical records available on ancestry.co.uk will be free to the public from Monday 4 May until Sunday 10 May, giving people the opportunity to uncover personal stories of the Second World War and the roles their families played.
Fly the flag with us this VE Day
Quest Media Network Ltd has teamed up with TASC - the Tameside Armed Forces Community - to deliver a unique programme of events across our online and on air platforms to mark this year's 75th anniversary of VE Day.
You will find much more on our dedicated website www.questmedianetwork.co.uk/news/ve-day/ including stories, historic tales, videos, audio interviews and more.