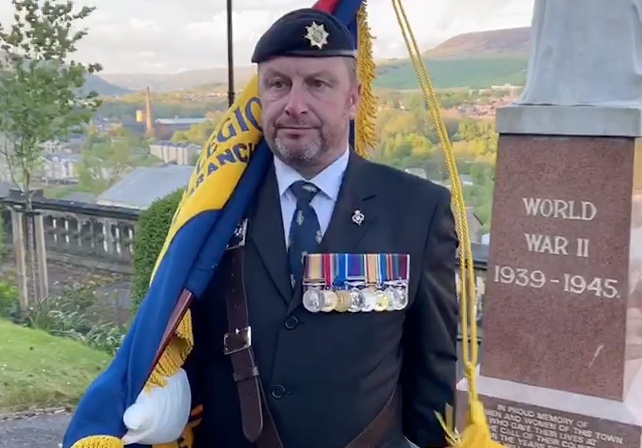 SENSE OF DUTY: RBL Ashton Branch Chairman Scott Pringle
Chairman of Royal British Legion Ashton Branch Scott Pringle thanks the people of Ashton for their continued support.
Scott Pringle is the Chairman of the Royal British Legion in Ashton and also Branch Standard Bearer.
He served in the Army with the Royal Corp of Signals, joining in 1988 and completing 22 years' service.
He served in Germany (mainly) and completed various operational tours, including the First Gulf War, Bosnia with the United Nations and later again with NATO, serving in Northern Ireland for two years and completing a tour of Iraq during the second conflict there.
He is now giving something back (to our community of military veterans), joining the RBL Branch in Ashton. He became vice chairman and has been chairman for nearly three years now.
The branch work to support any military veteran and their families in time of need.
Scott says: "We as a Branch also support the Poppy Appeal where we have lots of volunteers from the branch and others such as young people from schools and the local college who give their time during the Poppy Appeal to raise funds for the RBL.
"I will always be grateful to the people of Ashton for what they give during the Poppy Appeal and at other events we attend as a Branch throughout the year."
VE Day commemorations he says are important to remember, to pay tribute especially to those who paid the ultimate sacrifice and those that were left debilitated. But he says it is also a chance to remember those family's wives, sons, daughters and loved ones who had loved ones go away and who were in turn left themselves to work on the farms, in factories and places where they were helping with the war effort during World War Two.
Scott adds: "Many young children were sent to different families for their safety in the countryside, how daunting must that have been for most?
"VE day ended many years of war and huge celebrations began, but our country had to rebuild and that took many years to reshape into what we have today. Another thing not to forget are all the nations from the British Empire that helped during World War Two and gave everything they could, in the way of military and in the same way that our families helped back home in the war effort, their families did too."
Scott will be remembering this VE Day, observing the silence and also lowering the RBL standard at the end of the day in his own personal tribute on behalf of the RBL this year.
He spoke with Scott Bruton on his show earlier this week about his service and how important VE Day is for him and you can listen below.
Fly the flag with us this VE Day
Quest Media Network Ltd has teamed up with TASC - the Tameside Armed Forces Community - to deliver a unique programme of events across our online and on air platforms to mark this year's 75th anniversary of VE Day.
You will find much more on our dedicated website www.questmedianetwork.co.uk/news/ve-day/ including stories, historic tales, videos, audio interviews and more.