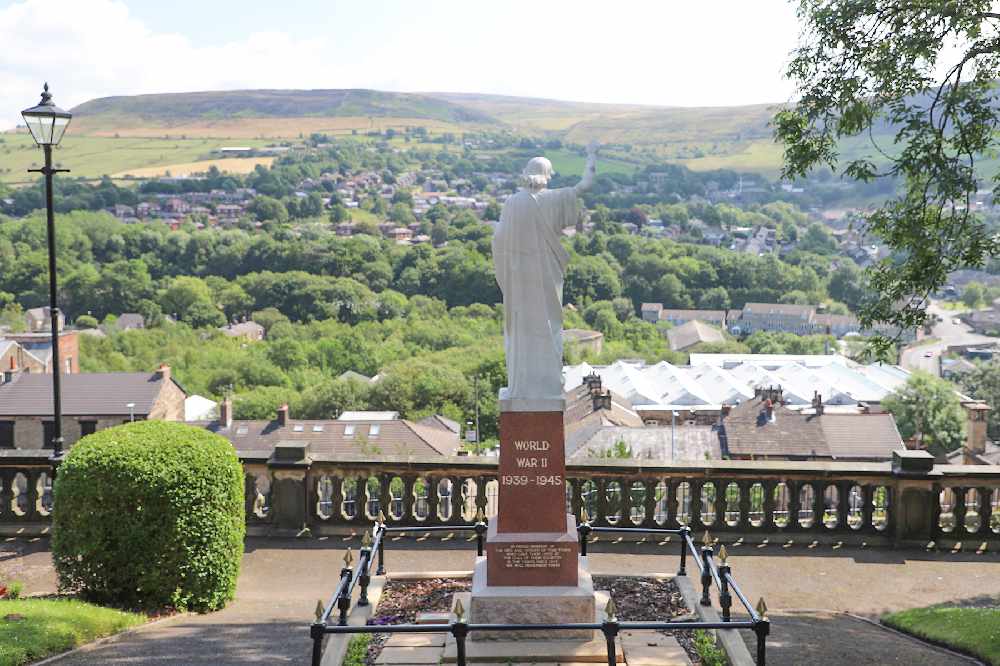 Betty White was a 15-year-old girl when the war in Europe ended in 1945. Now, aged 90, having lived in Mossley since she was born, Betty recalls life during WW2 and the first VE Day celebrations.
We did things during the war, we were always doing things to make money. We used to put pennies along the pavement at either end of the street, then as people went past they would fill it up, so we'd end up with a yard of pennies or something like that. There wasn't that much money about but nobody worried about the pennies and nobody would have taken them.
It feels like the wrong word, but it was fun.
As children, quite a lot of us were in a dancing class. We used to do a lot of concerts when all the mums and grandmas would come along to watch. We always seemed to do the same routine! Whereas before we'd just done it for our families, now we started doing them to raise money for the war effort.
Dancing was becoming very popular with that age group at that time. Even if we weren't doing our concerts, we were dancing in the evening. There were quite a lot of places to go dancing and they were respectable places. We always came home at a good time, not like midnight! Some of the older ones went home later when it was the Mayor's Ball or other special occasions. They'd go on until around 2am. I remember going to my first Mayor's Ball and when I left at 2am, my dad was waiting for me!
We had a young couple who lived over the road and the young lady was terrified when her husband had to go to war, to the point where in the end, my parents asked her to come and stay at our house. That's about as near to the war as we got. I wasn't close to anybody who was affected by the war.
My parents lived through both wars. The Great War was probably a lot worse. My mother had eight sisters and two brothers; she didn't lose her brothers but she did lose something in that war.
My dad had been a prisoner of war and he used to tell me stories about it. Even as a child, it never seemed so bad. I asked him one day, "Were you hungry?" He said: "Well we were, but even the Germans were hungry." As a child, I thought 'Well at least it was fair!' He didn't like the war but he liked to talk about it and tell stories.
He told me that when he was released as a prisoner, they were held up when they arrived back in England. They wanted to take names and numbers as they were entitled to some money. All the men said, "No, we're going home." If they didn't give their details, they wouldn't get their money, but none of them stayed. They just wanted to get home.
We had some Italian prisoners of war held in a mill in Lees. They used to walk them around Mossley and in the end, they didn't need any supervision. They just used to come on their own, following the same route! People who lived in Lees would invite them in into their for Christmas and other occasions. It was a different war, although it was still a war.
I started at grammar school during that time. I can remember going there on my first day. I had a new navy blue coat on, my hat on and all my new books. I can remember that because I just felt weighted down. We had to go down to St John's and wait for the school bus. I was a bit apprehensive. It felt like, "What am I doing here?" I wanted to turn around and go back.
My mother did have to go to work when I turned 11 in 1941. She went to the mill in Saddleworth, said what she could do and was put in the weaving area. Within the first week, a lady said to her, "I remember you, you're a mender." That was one of the top jobs to have.
I always said it was the best thing that ever happened to my mother. She was working with younger people. They used to come to our house and my mum would make a potato pie. Sometimes, when I'd gone to bed at night, I could hear them all laughing downstairs.
Also, for the first time since I was born, my mother had a wage. She always used to take me into Manchester to buy me shoes for Whit Friday. That was the only time we ever went to Manchester. I remember going after she started work and there were two pairs I wanted. I couldn't make my mind up, but she said I could have them both!
My father worked permanent nights all his life. He worked in a factory over Stalybridge way. When my mother had to go to work, he wouldn't go to bed until he'd seen me to school. When I came home at tea time, he'd be up, ready to go to work.
I was 15 when the war ended. It was a very close-knit community and I remember there was dancing in the park.
It's important to hold remembrance events although If we didn't, we still wouldn't forget. I usually go to the cenotaph. Sometimes, when I'm standing there in the rain, I've thought, 'What am I doing here?' but then I remember, I'm doing it for my dad.