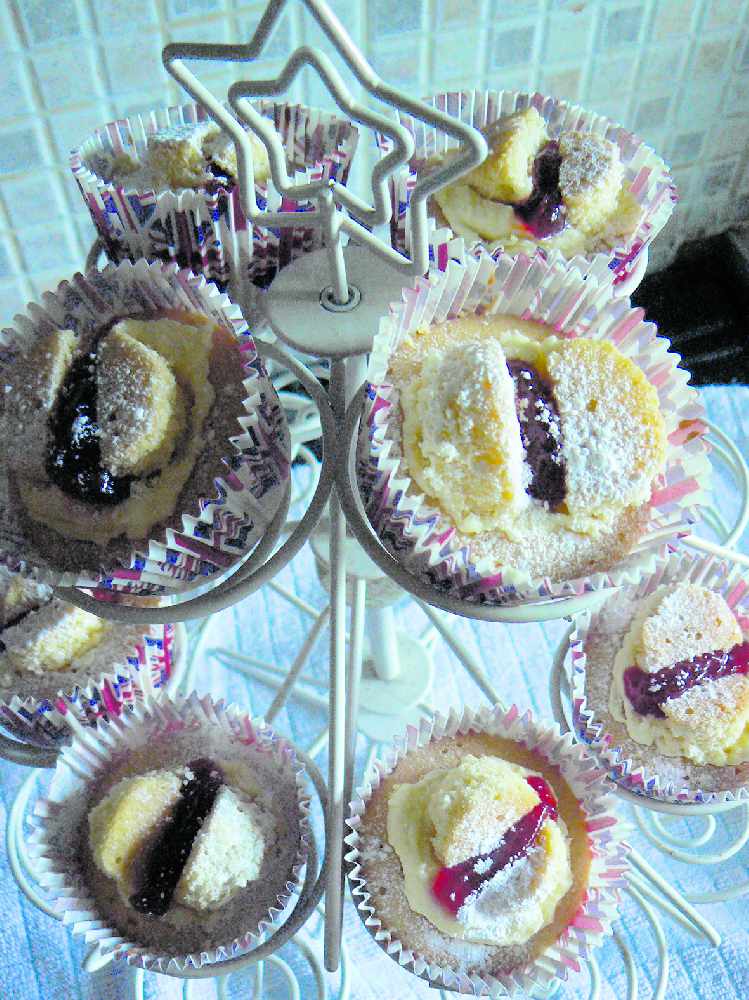 To mark the significant anniversary, our resident baker Lisa's daughter Charlotte has taken over the kitchen to make a traditional party treat that you can emulate from home - butterfly buns!
WHAT IS BAKING WITH BURNS?
In the Reporter and Chronicle, our very own Lisa Burns has her own 'Baking with Burns' column dedicated to baking, bringing you a different recipe every week - a mixture of seasonal sweet and savoury dishes - to satisfy everyone's tastebuds.
As part of a series designed to keep your spirits up in these tough and uncertain times, we're digging through our archives to bring you a few of Lisa's recipes on our website every week - so you can try your hand at some baking. Good luck and enjoy!
BUTTERFLY BUNS
Lisa writes...
Tomorrow (Friday) is the 75th anniversary of VE Day.
Plans for street parties and community celebrations are not able to go ahead due to the present situation, but that does not mean we can't all have our own celebrations in our homes and gardens.
During the war years, and afterwards, food was limited due to rationing, but people still managed to eat healthily and happily.
Street parties around the country still put on generous spreads for the community to enjoy.
This week I handed over my kitchen to my teenage daughter Charlotte for her to make simple traditional butterfly cakes, which have been a mainstay of traditional parties for many years.
These simple buns would not have looked out of place on those happy gatherings in 1945 and hopefully, some of you will be able to make them for your own celebrations tomorrow.
So don't forget to get out the Union Jacks, and red, white and blue decorations to commemorate the end of the Second World War on May 8, 1945. Enjoy the day and stay safe.
INGREDIENTS
50g (2oz) self-raising flour
Quarter of a tsp of baking powder
One medium egg
50g (2oz) caster sugar
50 (2oz) soft margarine
For decorating
40g (one and a half oz) unsalted butter, softened
Two-three drops of vanilla essence
75g (3oz) icing sugar
Four tsps of seedless raspberry jam
Extra icing sugar for dusting
METHOD
1. Heat the oven to 190C/375F/gas mark 5.
2. Sift the flour and baking powder into a large bowl. Add the egg.
3. Add the sugar and margarine. Stir everything together with a wooden spoon until the mixture is smooth and creamy.
4. Put eight paper cases into a 12-hole baking tray. Fill the cases halfway with the mixture.
5. Bake the cakes for around 15-18 minutes until golden. Put them on a wire rack to cool.
6. Meanwhile make the icing by putting the butter and vanilla into a large bowl. Stir well until the mixture is creamy.
7. Sift the icing sugar into another bowl. Add some of the sugar to the butter mixture, stir. Repeat until all the sugar has been used.
8. Carefully cut a circle out of the top of each cake. Then cut the circle in half.
9. Spread some of the icing in the hole, then spoon half a teaspoon of jam in a line across the icing.
10. Gently push the half circles into the icing on each cake so they look like butterfly wings. Sift a small amount of icing sugar on top.
11. Enjoy them on VE Day!
WANT MORE BAKING WITH BURNS?
Find other recipes in our series here:
How to make chocolate sponge pudding
How to make chocolate chip muffins
Fly the flag with us this VE Day
Quest Media Network Ltd has teamed up with TASC - the Tameside Armed Forces Community - to deliver a unique programme of events across our online and on air platforms to mark this year's 75th anniversary of VE Day.
You will find much more on our dedicated website www.questmedianetwork.co.uk/news/ve-day/ including stories, historic tales, videos, audio interviews and more.