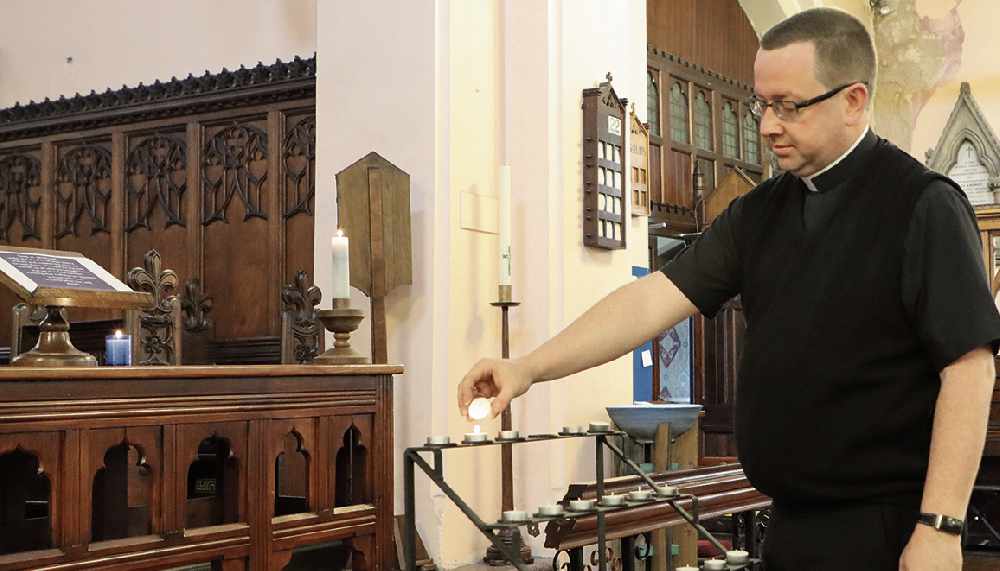 A message from The Rev David Warner of St George's, Mossley.
This week we mark the 75th anniversary of VE day on 8th May - we had planned lots of celebrations and an exhibition, but as that's not to be: through our Facebook page (@mossley parish) we'll be publishing videos and photos which we hope help our commemorations - we're grateful to St John's (Mossley) Band for recordings of the Last Post and Reveille.
Everyone is encouraged to join in the event at home, in whatever way you can, so start planning your 'street party at home' and get the red, white and blue stuff ready!
VE and VJ day (August 15) each year are poignant reminders of the extraordinary relief that was felt when six years of war and daily danger came to an end. There had been long months of struggle, and there would be many more after the war ended to rebuild the country and the wider world.
A generation was called upon to make extraordinary sacrifices and to rebuild the nation - they did so in a way that we can still be extraordinarily proud of.
At 9pm on Friday, precisely 75 years after her father, HM The Queen will address the nation to celebrate this special anniversary - Her Majesty must have poignant and powerful memories of that day, and being on the balcony her parents and Winston Churchill as they waved to a jubilant crowd.
There can be little doubt, because of the way it has affected the whole world, that the Coronavirus event will be talked about for many decades to come - there is even talk of some describing time as BC and AC - before and after Coronavirus.
What will future generations say of what we did, of how we sought to work for the many, to rebuild and support our nation and world? We don't need to worry about the history books for now, as the wartime generation didn't either - they did what needed to be done, as we must now. The threat was different, and the risks were different, but the needs were the same: to work together, to protect the vulnerable, and to rebuild. They did all that for us, and we must do likewise for our children and theirs.
In his speech on VE day 1945 King George VI said: "Let us turn our thoughts to this day of just triumph and proud sorrow, and then take up our work again, resolved as a people to do nothing unworthy of those who died for us, and to make the world such a world as they would have desired for their children and for ours."
On Friday, let us remember and be thankful for those who gave so much for our life and freedom, and then let us take up our own fight once again, to rebuild the lives and freedoms which that generation won for us, so that we may proudly say that we did our part. We are not called to fight, but to ensure that foodbanks are supplied, that neighbours in need are cared for, and to ensure that those who place themselves at risk for us know our gratitude. We shall be called as time goes on to support those left in greatest need by this crisis. Let us all pledge to do what we can.
Please get in touch if there's something you think we can help with or support. Telephone 01457 237667 or email vicarofmossley@gmail.com.
Fly the flag with us this VE Day
Quest Media Network Ltd has teamed up with TASC - the Tameside Armed Forces Community - to deliver a unique programme of events across our online and on air platforms to mark this year's 75th anniversary of VE Day.
You will find much more on our dedicated website www.questmedianetwork.co.uk/news/ve-day/ including stories, historic tales, videos, audio interviews and more.