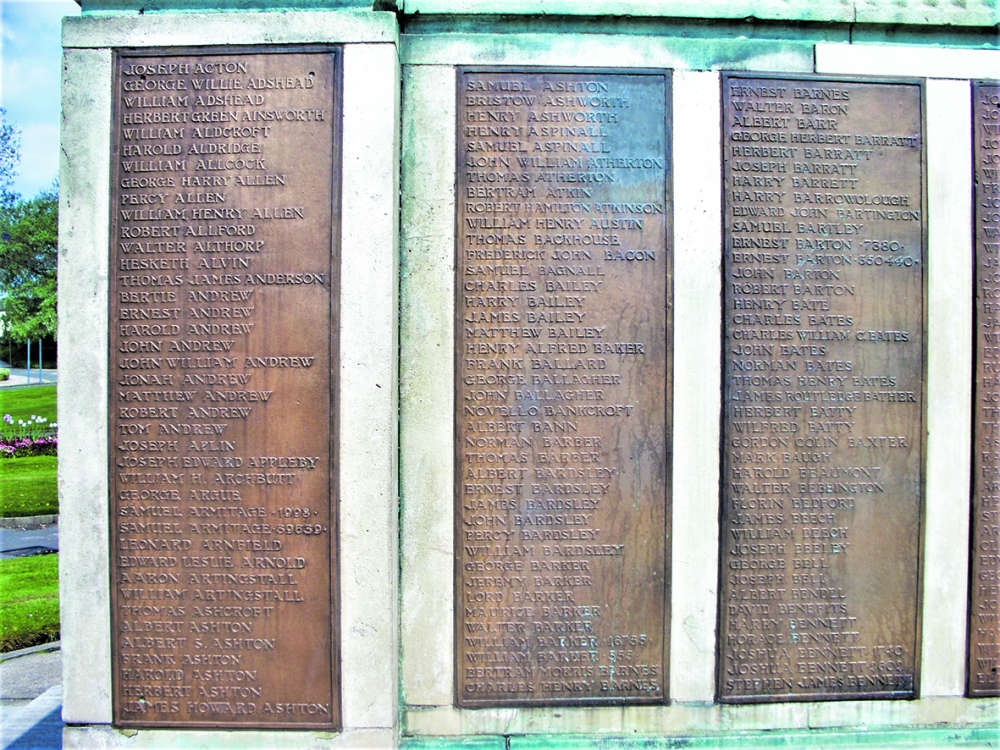 Canadian artist Deb Mack has unlocked a World War One mystery about a young fallen Ashton soldier all the way from her hometown of Hamilton, Ontario.
The talented artist was looking for a suitable prop for her still life paintings when she happened across the tin box pictured below.
She chose it from one of three metal boxes at a store called 'Antique Avenue' on Ottawa Street in Hamilton.
It had no key but once back home Deb tried out one of her collection of skeleton keys and was able to open the box. What she discovered inside came not just as a huge surprise, but was a mystery which has set her on many intriguing months of research.
In her own words: "The fact the box I chose could hold all my skeleton keys besides be something I could use in a painting was a bonus… but what I found inside the box while cleaning it was… priceless!"
As nestling inside for quite possibly a century or more was a hand written note, simply stating: 'If these do not belong to the late No 52760 Pte J H Ashton 1/5th Lanc Fusrs please return them to this office. The no 52758 belongs to another man.'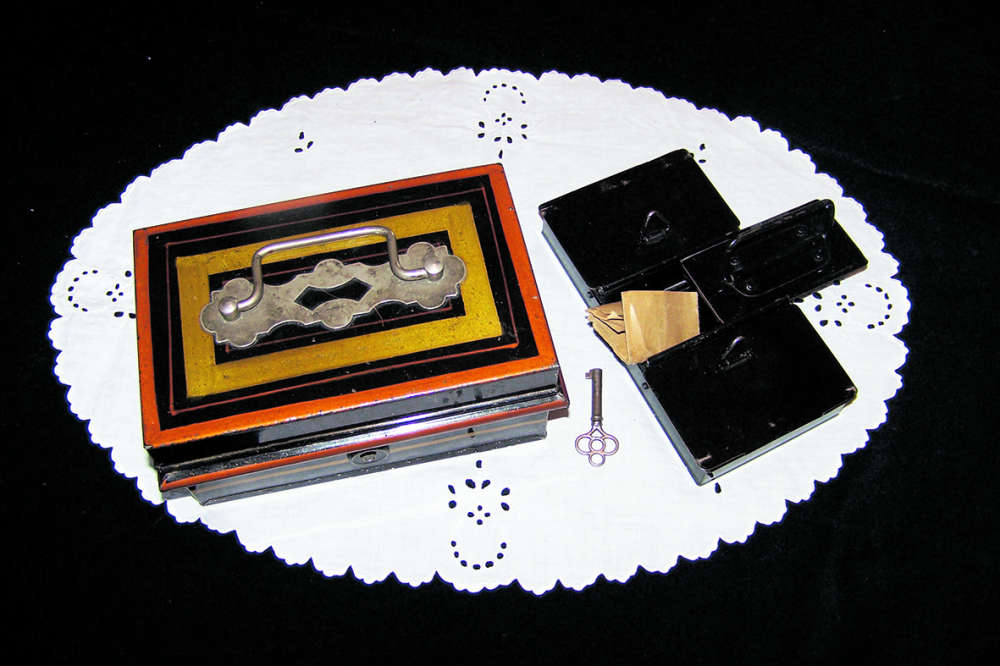 Deb, who contacted the Reporter with her discovery, said: "It's a mystery. The note says the box was probably the late Pvt J H Ashton's - if not return it to the office. That said it must have been the office that was sending it to the family, but what office would that be?
"If it was returned, I would think that paper would have been removed, or did the family find that note or just put the box aside and I'm the first one to see it in over 100 years - this shiny yellow piece of paper that looks like it's written in fountain pen?"
Deb has been busy trying to find out more, researching extensively on the internet, finding out about the Ashton family and Pvt J H Ashton, who fell in the final year of the First World War, and contacting the Commonwealth War Graves Commission.
She also traced the soldier with the no 52758 to discover that there were in fact two soldiers with that number, both of whom fell in 1918.
Deb has been able to research James' parents – Hannah Howard and Daniel Ashton, with the 1901 and 1911 censuses both listing James as a child with his father a grocer shop keeper in 1901, but having passed away himself before the 1911 census, where Hannah is listed as a widow.
She has also been researching the history of the 1st/5th Bn., Lancashire Fusiliers, which was transferred to Marseille in February 1917 for service on the Western Front after extensive action from 1914 onwards in the Middle East and Gallipoli.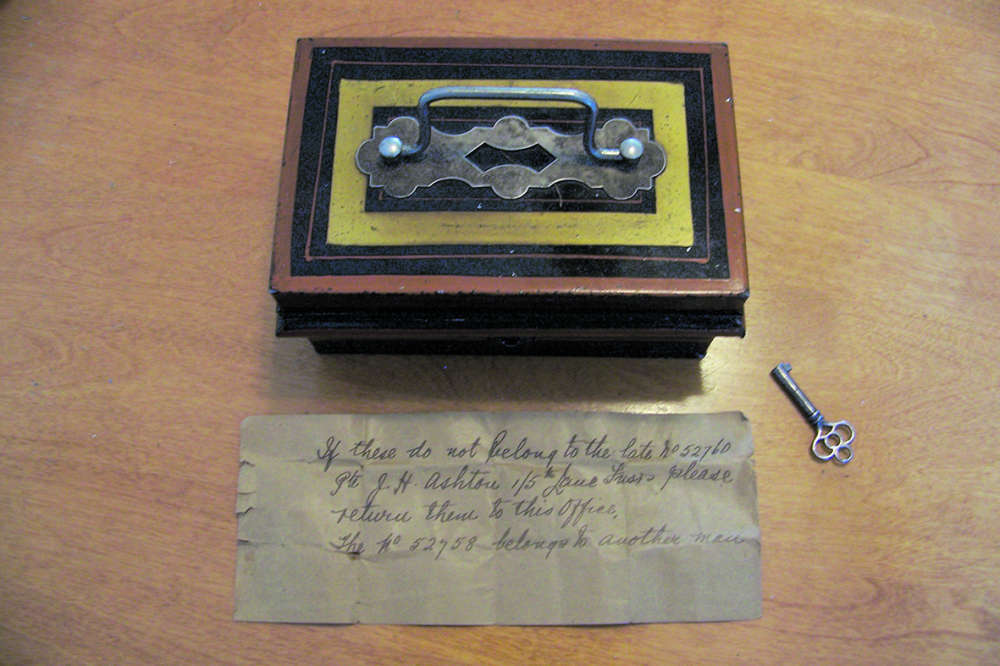 From 1917 on, the battalion was engaged in various actions on the Western Front, including the Third Battle of Ypres and in 1918 The Battles of Bapume, Arras, Ancre, Albert, Canal du Nord and Selle.
According to the Commonwealth War Graves Commission, Private James Howard Ashton, service no. 52760, of the 1st/5th Bn., Lancashire Fusiliers, died on June 20, 1918, aged 18, having been killed in action.
The son of Daniel and Hannah Ashton of Ashton-under-Lyne, his grave can be found at Bertrancourt Military Cemetery.
James' name also appears on the Ashton-under-Lyne War Memorial and he was a recipient of the British War and Victory medals.
But the mystery of just how the box came to be in a small shop containing the note more than 3,500 miles away in Canada remains a mystery.
Deb says: "Did one of the Ashton family come to Canada or did someone from Canada visit England and pick up the box in a thrift shop there?
"I asked the store owner where I bought the box and told him what I had found inside but he couldn't remember where the box had come from and knew nothing of the note.
"It really is a mystery."
Mystery aside, the box and its message now has a special place in Deb's home - and heart.
She states: "I got thinking about this young man Pvt James Howard Ashton and all the experiences he missed out on in life because he died so young and probably had to grow up fast too, becoming man of the house, when his father passed away sometime between the two census (1901 and 1911) when James was age one to 11.
"I wondered what a soldier would have held in his money box besides money, if anything. Would it have contained letters, photos, keepsakes from home? Were the contents emptied out and the note missed, never seen, or put in the hidden compartment because that's where it belongs?
"I will never look at this box like just another bought collectable, an artist's prop, but proudly display it on a piece of slate on a small table in my living room. It has a name now (James Howard Ashton) and a history..."
Poignantly, she adds: "If nothing else James Howard Ashton won't be forgotten because he's been found again – he mattered.
"A tragedy of a terrible war that took the lives of boys as well as men."
Thanks to the diligence of the Tameside Local Studies and Archives Centre team in Ashton, they were able to find a picture of James, published in the Reporter in 1918, documenting his death.
He was reported as the only son of Mrs Ashton of 55 Blandford Street, Ashton, the accompanying report stating he was killed in action at around 3am on June 20, 1918, the first time he had been under fire in the trenches.
He was described as 'brave and a good soldier'.
Read more from the Tameside Reporter
Click here for more of the latest news
Click here to read the latest edition of the paper online
Click here to find out where you can pick up a copy of the paper