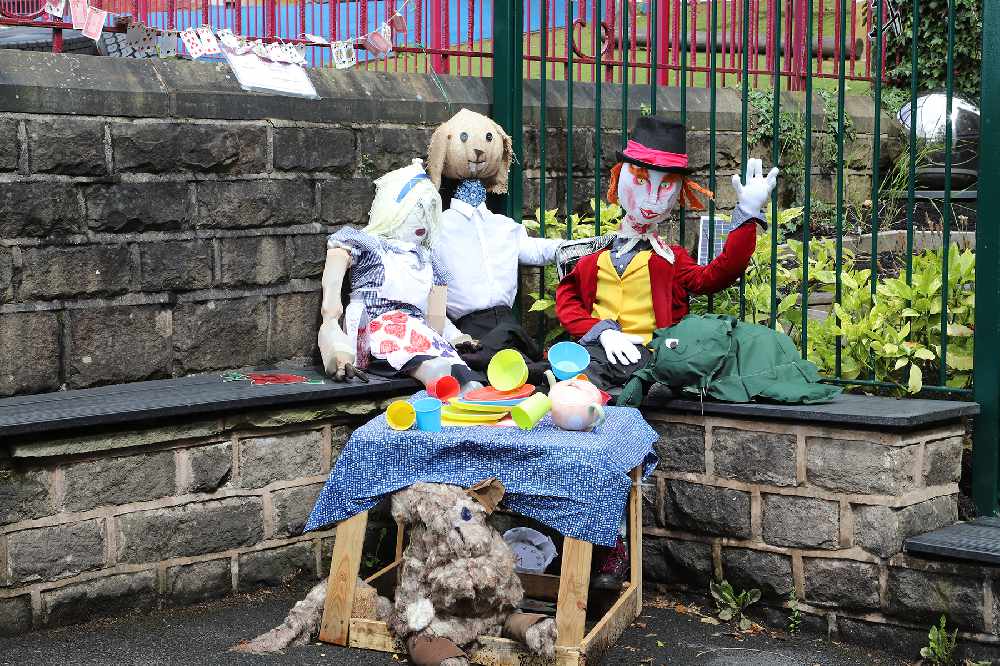 With this year's Broadbottom Scarecrow Fortnight now ending, the wait is finally over to find out which creation proved ex-straw-dinary enough to be crowned the winner.
For category one, 'an Alice in Wonderland tea party', first place was awarded to 57 Lower Market Street, across the road from the post office. This incredible display depicts the Mad Hatter and Alice having a tea party, complete with crocheted guests, playdough cupcakes and even NHS face masks to protect the tea party guests from Covid-19.
Second place in this category goes to the 1st Broadbottom and Mottram Scouts group for their tea party scarecrows outside the Magdalene Centre. 6 Etherow Brow took third place for their tea party scene complete with character scarecrows, card soldiers and card bunting.
Category two, the Queen of Hearts, saw 42 Mottram Road crowned the winners for their scarecrow complete with "off with her head" sound effects and a decapitated head at the Queen's feet. Second place for the Queen of Hearts category went to a scarecrow on the Lymefield Road side of the Broadbottom allotments and third place went to Harewood Farm Cottage.
Category three celebrated other assorted displays such as first-place winners at 19 Well Row for their window card display. Second place was awarded to 89 Mottram Road for their little Alice display and third place went to the white rabbit at 2 Home Farm Avenue.
The final category, the judges' prize, went to 4 Home Farm Avenue for their Tweedledum and Tweedledee display, complete with homemade Lewis Carroll books and card bunting.
Jo Dagustun, secretary of the Broadbottom Community Association which organises the Scarecrow Fortnight, said: "Well done and thank you to everyone who took part."
Browse through the scarecrows which were on display in the village in our photo album...
Images by Nigel Wood