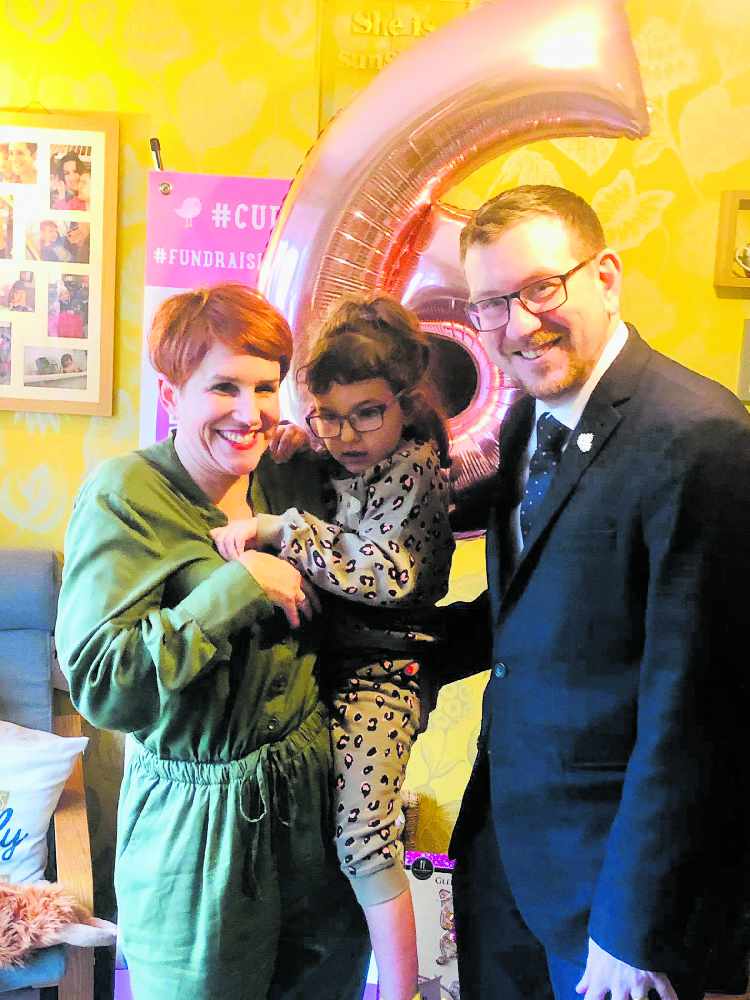 MP Andrew Gwynne will be undertaking a charity parachute jump later this year for a five-year-old Dukinfield girl.
Florence Croce has Late-Infantile Gangliosidosis, or GM1, a genetic disorder that progressively destroys the brain and spinal cord, slowly taking away her ability to walk, talk and swallow.
Since her diagnosis, Florence's family and friends have been tirelessly raising funds so they can ensure Florence gets the best treatment possible and try to get her to America for GM1 clinical trials.
Donations also contribute towards adaptations to Florence's house so that she can stay with her family as long as possible and make memories with her brother Riccardo and their family.
The MP for Denton and Reddish met with Florence's mum, Jenny, in October and recently met Florence too before he prepares for the charity jump on May 16.
Andrew said: "I'd heard so much about Florence from her mum.
"Jenny told me about GM1, the hideous disease that will slowly take away Florence's ability to walk, talk and swallow until, eventually, the worst will happen.
"I am terrified of heights but have decided to take part in a parachute jump to raise funds for Florence and would encourage everyone who can to donate to this cause."
Jenny added: "I'm actually petrified of doing a skydive, but we are going to do it from 15,000ft, the highest we can jump from!
"We are doing it and being brave for Florence to raise as much awareness and funds as possible. She is brave everyday in her fight with GM1, so I'm putting my fear aside for her."
You can read more about Florence and donate at www.justgiving.com/crowdfunding/jenny-croce-fallout.
Meanwhile, Tameside Radio breakfast presenters Scott Bruton and James O'Malley are also set to do a daring challenge for Florence later this year.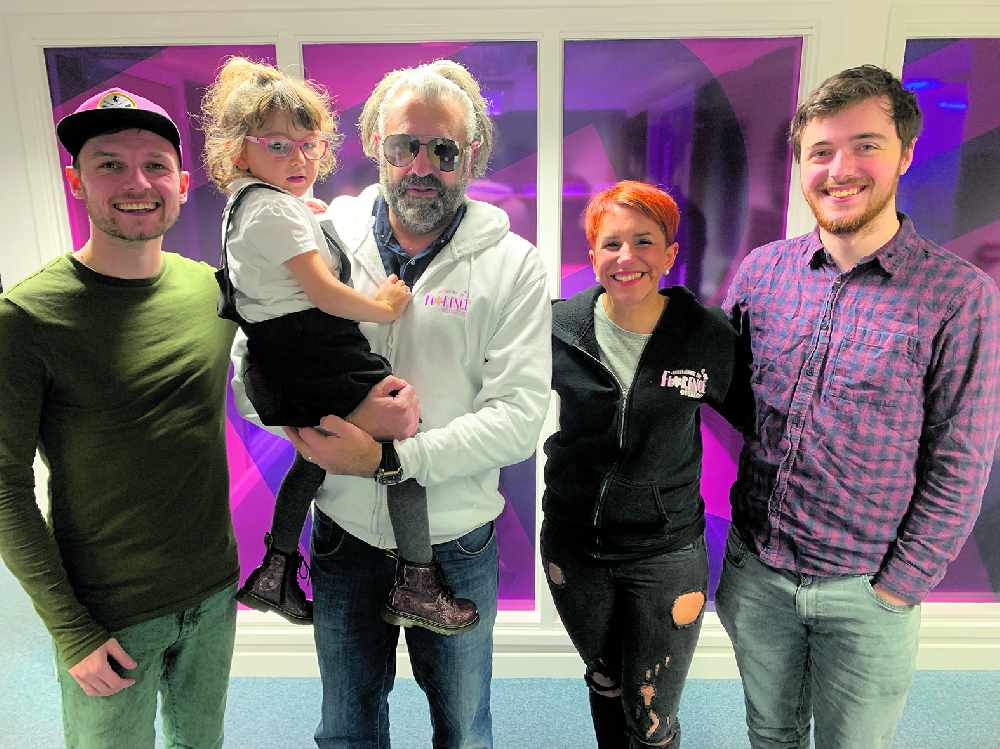 UP FOR IT: Tameside Radio Breakfast presenters Scott and James joined by Florence and her mum Jenny plus fundraiser Massimino Malacrino (AKA the Italian Wolverine).
They will 'Take Flight for Florence' on March 15 when they travel to Penryhn Quarry, Wales, to take on 'Velocity 2', the fastest zipwire in the world and longest in Europe.
Scott and James are aiming to raise £500 for the Cure GM1 Foundation and in the build-up to March 15 will be completing a series of mystery challenges, with the first one to be revealed live on-air next Monday.
Ahead of the reveal, James said: "I don't really know what I've gotten myself into. I thought it would be fun but then the boss got involved and now we know nothing except that one challenge will cause 'tears and tantrums!'
"But it's all for a great cause so I suppose we'll just have to suffer until we get to zipwire day!"
Scott added: "When we first found out about our mystery challenges we felt pretty relaxed - until we realised the boss was organising them! We have been trying to prepare ourselves, but how do you do that when you don't know what to expect?
"We are nervous, cautious and excited to take on whatever comes our way! Hopefully we will smash the target and raise as much money as we can for a wonderful cause and an inspirational little human."
To find out what Scott and James will be up to in their first challenge, tune in to the Breakfast Show this Monday, February 10, from 7am to 10am.
To donate, visit www.justgiving.com/fundraising/jenny-croce.
Main image:
CHALLENGE: MP Andrew Gwynne, right, with Florence and her mum Jenny.