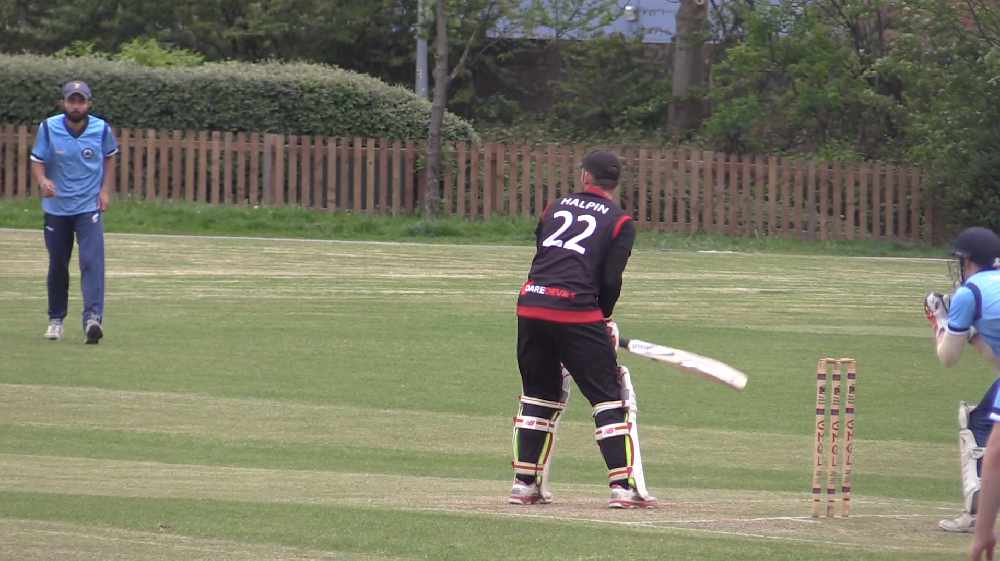 Issues of promotion and relegation have become clearer over the last week, not only with the outcome of Saturday's games but also an announcement from the GMCL on Saturday evening regarding next year's structure and the impact on this years "ups and downs" of the introduction of 5 new clubs.
There have doubtless been some raised eyebrows about this. Reporter Sport looks at the potential placings next year after the review of this week's action.
Premier Division
Denton St Lawrence stand only a single win away from securing the title, (and the cup and league double), after a nervy victory over Woodbank. The visitors to Sycamore Park totalled a challenging 246-4 and the DSL reply got off to the worst possible start as they fell to 29-3 with both Scott Kirwin and pro Neil Hornbuckle dismissed. Their contribution with the bat this season has been a cornerstone of the team's success and there must have been concern at this point. Adam Hawley, (52), and Mark Dilnutt, (51), stepped up to the plate but there was still a task on for the lower order with 50 still required from the last 3 wickets and only 5 overs left. They rose to the challenge and squeezed over the line by 2 wickets as overseas man Nick Bailey eked out an invaluable unbeaten 24. DSL will lift the silverware with a win at Clifton on Saturday. Down at the bottom the inevitable relegation for both Royton and Stand was confirmed and they will now be playing at "Premier 2" level in 2020 after the announcement by the league hierarchy regarding next year's structure on Saturday evening
Royton 148ao Clifton 148-1; Roe Green 173ao Stand 96ao; Prestwich 146-6 Egerton 142ao; Monton 146ao Flixton 205ao; Woodhouses 165ao Greenfield 99ao; Denton SL 248-8 Woodbank 246-4
Division 1A
In the Tameside derby at Windsor Park Denton West overcame Flowery Field to put themselves into 3rdplace level on points with Glodwick, (in 2nd). A good set of results for both Wests and Flowery over the next 3 weeks, plus faltering from both Moorside and Glodwick could see them both moving up to the Premier Division next year. Chasing Wests 180 Flowery fell 30 short as pro Semile Seyibokwe controlled things, taking 7-59. Glossop will more than likely be featuring in Premier 2 after defeat at the hands of strugglers Austerlands left an 8 point gap to the promotion spots. Will Hargreaves picked up 5-48 as Austerlands reached 166-9. This proved to be too many for Glossop, despite 59 from Joe Moss, as they fell for 121. Denton went down for the 6thconsecutive game, as Heywood trounced them by 8 wickets. The new structure will more than likely see either Denton or Dukinfield, (from Div 1B), playing at Division 1 level next year with the club with the better record being in the Championship. At the moment Denton have marginally the better record, but things are tight and there is all to play for.
Denton West 180ao Flowery Field 150ao; Glossop 121ao Austerlands 166-9;Heywood 116-2 Denton 115ao; Swinton Moorside 51-2 Unsworth 50ao; Glodwick 113-7 Uppermill 109ao; Moorside 220-6 Brooksbottom 91ao
Division 1B
Despite playing a season on the understanding that only two clubs would be relegated the new structure, if current placings are maintained things will see Dukinfield effectively drop a level into Division 1. They can probably feel a little upset by this especially as the news emerged only a matter of hours after they had a comprehensive win at Stayley, having bowled the home side out for 167. The target proved no problem as half-centuries form Mike Murphy and Ajmal Ghafoor saw them home by 7 wickets. Droylsden know that a decent run could secure them a Championship place but an eight wicket defeat at Heyside certainly didn't help. They have now only won once since June 1st.
Edgworth 159-8 Bury 158ao; Greenmount 142-7 Astley & Tyldesley 141ao; Walshaw 275-5 Whalley Range 227-9; Westleigh 147-3 Thornham 146ao; Heyside 118-2 Droylsden 117ao; Stayley 167ao Dukinfield 171-3
Division 2A
The new structure now sees no relegation from either Div 2A or 2B this year. Micklehurst have theoretically a chance to secure a place in Division 1 as the 5thplaced team in 2A and 2B with the best record but they currently trail Oldham in this race by 12 points so it is a long shot. They did themselves no favours after totalling 214ao against Prestwich 2ndXI but failed to contain the opposition. Darrio Belle got a magnificent 129* for Micklehurst. The visitors replied in impressive fashion winning by 6 wickets.
Bury 2ndXI 115ao Roe Green 2ndXI 99ao; East Lancs PM 44ao Elton 157ao; Littleborough Lakeside 154ao Elton Vale 145ao; Micklehurst 214ao Prestwich 2ndXI 218-4; Shaw 260-7 Glossop 2ndXI 98ao; Werneth 149ao Winton 146ao
Division 2B
Ashton now know that there will be no relegation, but without that knowledge prior to the game they certainly went to Wythenshawe with some purpose. For the second week in a row they ran through the opposition. After running through SW Manchester for 48 last week they dismissed the hosts for 30, (Danny Hawthorne 4-12) and then romped home by 10 wickets in a game which was over by 2.15.
SW Manchester 137ao Denton West 2ndXI 141-7; Stretford 70ao Friarmere 111ao; Whalley Range 2ndXI 54ao Edenfield 277-7; Wythenshawe 30ao Ashton 32-0; Greenfield 2ndXI 98ao Tottington 181ao; Oldham 121ao Deane & Derby 149ao
Division 3 East
Saddleworth clinched promotion with a 54 run win at Unsworth 2ndXI and will now appear in the Division 2 structure next year. They are more than likely to be joined by Springhead despite their defeat by Werneth 2ndXI in a very low scoring game.
Denton 2ndXI 169ao Oldham 2ndXI 204-7; Dukinfield 2ndXI 126-9 Heywood 2ndXI 142-7; Flowery Field 2ndXI 91ao Glodwick 2ndXI 86ao; Springhead 78ao Werneth 2ndXI 89ao; Stand 2ndXI 157-6 Dentin SL 2ndXI 142ao; Unsworth 2ndXI 71ao Saddleworth 125ao
Division 4 East
Failsworth Macedonia 232ao Royton 2ndXI 58ao; Thornham 2ndXI 154ao Stayley 2ndXI 34ao; Newton Heath 68ao Heyside 2ndXI 51ao; Ashton 2ndXI Moorside 2ndXI ; Friarmere 2ndXI 169-6 Woodhouses 2ndXI 165-6; United Stars 214-6 Ashton Ladysmith 70ao
Placings in the 2020 structure, (based on tables as at 24thAugust and subject to results in the final 3 games)
Premier
Denton SL; Flixton; Roe Green; Greenfield; Prestwich; Woodbank; Egerton; Clifton; Moorside; Glodwick; Walshaw; Astley & Tyldesley
Premier 2
Woodhouses; Monton; Stand; Royton; Denton West; Flowery Field; Heywood; Heyside; Edgworth; Greenmount; Glossop; Bradshaw;
Championship
Whalley Range; Bury; Westleigh; Stayley; Brooksbottom; Uppermill; Swinton Moorside; Denton; Shaw;Elton; Friarmere; Edenfield
Division 1
Dukinfield; Austerlands; Unsworth; Droylsden; Thornham; Winton; Littleborough Lakeside; SW Manchester; Stretford; Oldham;Milnrow; Mottram
Divisions 2A and 2B (allocation between divisions to be determined later)
Micklehurst; Bury 2ndXI; Prestwich 2ndXI; Glossop 2ndXI; Roe Green 2ndXI; Werneth;East Lancs PM; Elton Vale; Deane & Derby; Whalley Range 2ndXI; Wythenshawe; Denton West 2ndXI; Ashton; Tottington; Greenfield 2ndXI; Saddleworth; Springhead; Stand 2ndXI; Clifton 2ndXI; Worsley; Irlam; Hindley St Peters; Daisy Hill; Hadfield
By Martin Frost