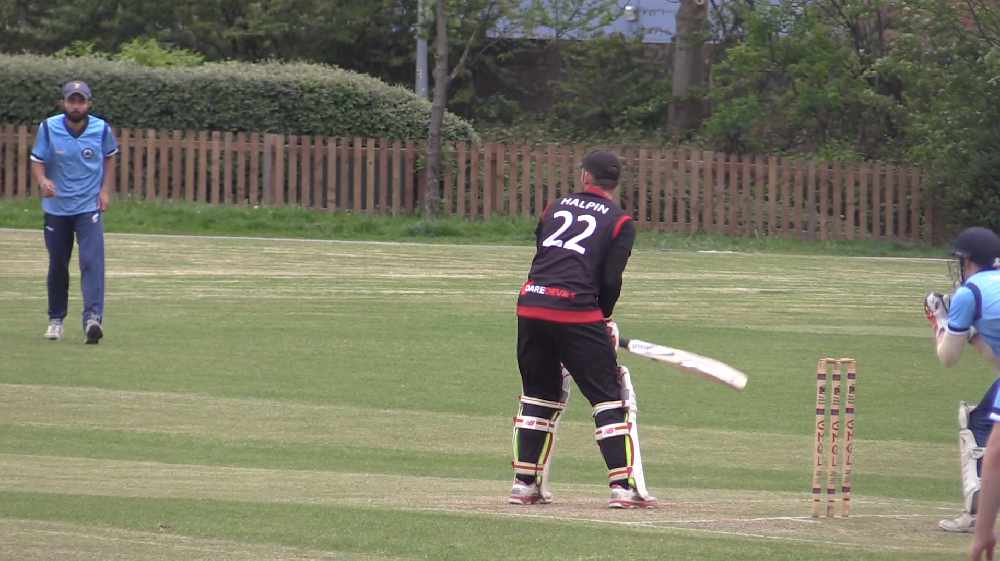 The rain had a massive impact on games across the weekend in the Greater Manchester Cricket League.
Premier Division
Other than 3 balls bowled at Greenfield before weather had the final say the only action was at Woodhouses. In a rain interrupted innings, (with 4 stoppages) the Woodhouses knock totalled 175-7 off 37 overs with skipper Nick Hardman falling agonisingly short of a magnificent century, finishing on 96*. The vagaries of the Duckworth Lewis calculations left visitors Flixton chasing 214 for the win and the game went to the last 10 balls but was deservedly Flixton's as a 2nd wicket partnership of 157 between pro Tariq and Ghafoor was key. The result left Woodhouses in the relegation zone, 2 points adrift of 5th bottom Clifton. Up at the top, with 5 games left, Denton St Lawrence have a 16 point cushion over 2nd placed Flixton and three wins from hereon will land them the title and the double after their Cup win last week.
Woodhouses 175-7 Flixton 218-2; Greenfield dnb Egerton 0-0; Abandoned games (no play) – Prestwich v Clifton; Monton v Stand; Royton v Denton SL; Roe Green v Woodbank
Division 1A
Three games beat the weather and with Denton West and Flowery Field both winning it looks to be a real fight for the title with any of the clubs down to 6th placed Heywood still having a real chance. Only 6 points separate them. At Denton West the Uppemill innings was limited to 31 overs and they posted an impressive 177-4 with ever reliable pro Ayaz Tasawar leading the way with 74*. Wests reply got off to a stuttering start and they fell to 23-2 but recovered through pro Semile Seyibokwe, (44*) and Aaqib Uppal with a fine 55, (after taking 3-67 earlier). Liam Kilburn added 49 as Wests won by 6 wickets with 15 balls to spare. Flowery Field had a convincing 8 wicket win over Denton, who managed only 104, (Declan Feakes starring with the ball for Flowery with 5-17). Mike Finan led the reply and finished with 63* in a season in which he now has nearly 400 runs and 55 wickets. At Glossop rain interrupted the Swinton Moorside knock which was curtailed after 43 overs at 150-5. The Glossop target was adjusted to 162, (under Duckworth Lewis rules) and got off to a bad start as David Wilde fell to the first ball of the innings. They were indebted to Dale Pennington, who came in at 57-4, and proceeded to hit a fine unbeaten 67 in taking Glossop to a 4 wicket win.
Denton West 179-4 (won DL) Uppermill 177-5; Flowery Field 106-2 Denton 104ao; Glossop 162-6 (won DL) Swinton Moorside 150-5; Abandoned games (no play) – Heywood v Austerlands; Glodwick v Brooksbottom; Moorside v Unsworth
Division 1B
Not a ball was bowled in Div 1A leaving Astley with a 7 point cushion over 2nd placed Walshaw. Also in the race for the 2 promotion spots are Edgworth; Greenmount and Heyside. At the bottom it's looking a forlorn hope for Thornham who must now realistically win every game to avoid the drop into the 4th tier next year.
All games abandoned (no play) – Edgworth v Walshaw; Greenmount v Whalley Range; Thornham v Droylsden; Westleigh v Dukinfield; Heyside v Bury; Stayley v Astley & Tyldesley
Division 2A
Up at Richmond Hill Micklehurst reached 150-6 before the elements intervened. Elsewhere there were 4 overs at Bury and nothing in the other 4 games. The title and other promotion spot lies between Shaw; Winton and Elton with 5 games left. The key game looks to be the meeting of Elton and Shaw on 31st August.
Bury 2nd XI 12-0 Prestwich 2nd XI dnb; Micklehurst 150-6 Littleborough Lakeside dnb; All other games abandoned (no play) – East Lancs PM v Glossop 2nd XI; Elton v Roe Green 2nd XI; Shaw v Winton; Werneth v Elton Vale
Division 2B
Four games reached a conclusion with the bottom three all losing. Ashton must have been hopeful after reducing promotion chasing Stretford to 112-7 but a late rally left the hosts on 189-9. The Ashton batting is more than fragile and after a steady but very slow start they tumbled from 31-1 to 63ao. Wythenshawe secured safety after racing to a 7 wicket win over Greenfield 2nd XI who totalled 162-7, (Jack Livesey 64). The win for Stretford and SW Manchester, (over struggling Tottington), have left the pair in a four horse race for the promotion places which also involves Friarmere and Edenfield.
SW Manchester 128-6 Tottington St Johns 125ao; Stretford 189-9 Ashton 63ao; Whalley Range 2nd XI 147-7 Denton West 75ao; Wythenshawe 162-3 Greenfield 2nd XI 160-7; Deane & Derby v Friarmere and Oldham v Edenfield both abandoned without play
Division 3 East
The leaders Saddleworth and Springhead were washed out. It leaves the former with the opportunity of clinching promotion with a win over Denton SL this Saturday. Glodwick 2nd XI beat Denton 2nd XI and Werneth 2nd XI had a 5 wicket win at Denton SL 2nd XI in the only games that reached a conclusion.
Denton 2nd XI 102ao Glodwick 2nd XI 106-4; Denton SL 69ao Werneth 2nd XI 70-5; Dukinfield 2nd XI 19-0 Flowery Field 2nd XI dnb; Springhead dnb Heywood 2nd XI 69-3; Stand 2nd XI v Saddleworth and Unsworth 2nd XI v Oldham 2nd XI – no play
Division 4 East
United Stars closed the gap on Friarmere 2nd XI at the top with a 4 wicket win over Royton 2nd XI and it is only Moorside 2nd XI who can stop them clinching the promotion places.
Ashton Ladysmith 73-5 Moorside 2nd XI 91-3 (won on DL); Failsworth Macedonia 73-6 Woodhouses 2nd XI dnb; United Stars 70-6 Royton 2nd XI 69ao; Newton Heath v Thornham 2nd XI, Ashton 2nd XI v Heyside 2nd XI and Friarmere 2nd XI v Stayley 2nd XI all abandoned (no play)
By Martin Frost