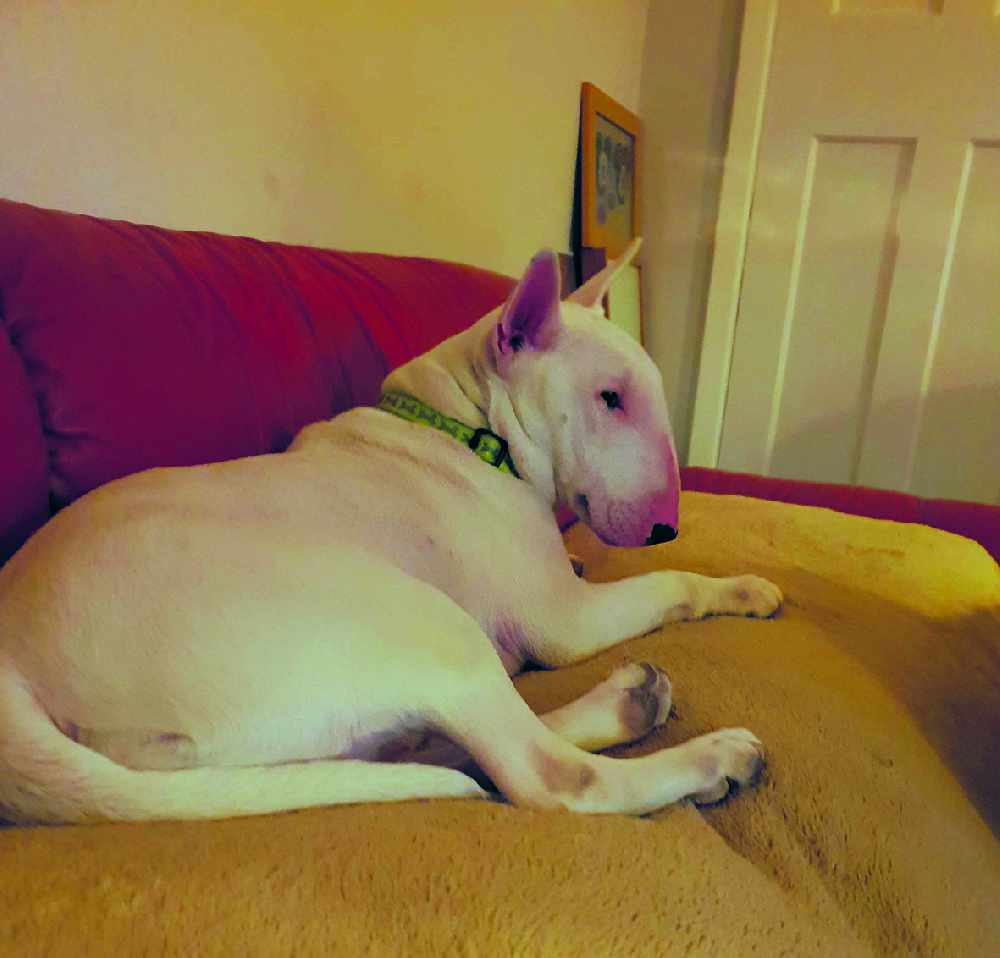 The new year is off to a happy start at Denton-based Dogs Trust Manchester as it celebrates rehoming its first pet of 2021.
One-year-old English Bull Terrier, Lola, had arrived at the rehoming centre in August last year after a change in her owners' circumstances meant they could no longer care for her.
The team was looking for owners who had previous experience of Bull Terriers and were delighted when Ian Holloway and Jacqueline Allso got in touch.
Jacqueline said: "We had adopted an English Bull Terrier previously and had him for ten years, but sadly he died in August.
"A few months on, we felt the time was right to adopt again so when we spotted Lola, we really hoped we could give her what she needed.
"Luckily the team felt we were a great match with her. She is absolutely lovely. She has lots of energy but is a real softie. She loves a fuss and likes to sit on your knee!
"She is settling in really well and we're so pleased we've been able to give her a good start to 2021."
In 2020, the team at Dogs Trust Manchester found forever homes for more than 670 dogs of all shapes, sizes and ages. Meanwhile, 108 dogs continued to enjoy their home comforts thanks to the centre's volunteer foster carers who cared for dogs until the time was right for them to find new families too.
Dogs Trust Manchester manager, Dawn Bishop, said: "Lola is a really beautiful girl and finding her her forever home was a lovely start to 2021.
"Every day our dogs give us a reason to smile and whatever is happening, it's always business as usual for them with walks, playtime, training and treats always being the order of the day.
"Nobody could have predicted the challenges faced in 2020, but thanks to the players of People's Postcode Lottery whose support helps to fund some of our wonderful Canine Carers at the centre, our dogs always have everything they need whilst they are with us.
"As ever, this year we want to change the tale for hundreds more dogs that find themselves in need of a new home and we know that with the support of the dog-loving public, we will be able to do that, just like we did for Lola."
To find out about all the dogs waiting to find their special someone, please go to www.dogstrust.org.uk
If you are struggling to cope with looking after your dog, for whatever reason, contact Dogs Trust on 0300 303 2188. Alternatively, please give what you can to help Dogs Trust change the tale for more dogs like Lola, by visiting www.dogstrust.org.uk/changethetale