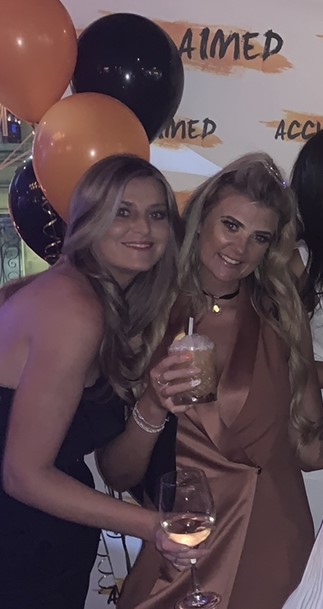 Two sisters from Ashton are making waves in the world of showbiz with a new casting website.
Kate Willis and Brooke Lawton have set up Acclaimed Castings - an all in one platform for singers, dancers, actors, models and influencers.
The pair have plenty of background in the business, with Kate running the successful Ashton-based children's casting agency Strawberry Angels while Brooke has starred in reality tv shows such as MTV's 'Living on the Edge' and Bravo TV's 'Below Deck Mediterranean' and currently works in Dubai.
Together, they say their expertise make them the perfect pair to launch this groundbreaking website.
Kate said: "It's an international subscription website so we've got jobs in the US, in Dubai and in England. It's for singers, dancers, actors, models, influencers - anyone that wants to find fame."
The website was originally launched in 2019, just before the onset of the pandemic where the entire entertainment industry shut down for months, not the best timing for the fledgling business.
Kate explained: "We'd just had a great launch party, with lots of people from The Only Way Is Essex and Hollyoaks, but we hit the pandemic and wasn't able to do anything with it.
"I decided to give my sister a shout and say do you want to be involved in this with me? She jumped at the chance and that's where we are now.
"It's actually been running since 2019, we've just taken it to the next level now by making it international."
The site is designed to help those looking for a career in the entertainment industry get their foot in the door.
Brooke said: "I want it to be the go to place for all performers. Way ahead above the competitors and the one stop shop whether you're in the US, the UK or the UAE.
"We're quite diverse because we extend to influencers so we work with them connecting them to brands which is progressive with the market that we're in.
"I have quite a big online following based on what I did and I saw there was this massive gap for brands reaching out to influencers just getting free stuff and not being paid for anything. We actually use our platform so that micro influencers and influencers can see exactly what they're going to get paid or what they're going to get and its laid out before they have to contact the brands themselves. We're taking out the legwork really."
There are already 700 opportunities on the site, with more coming in day by day. They range from opportunities for a baby for a new Netflix drama, a real family needed for a TV advert, a body double needed for a 60-year-old man and a micro influencer for an emerging fashion brand.
The website can be found at www.acclaimedcastings.com.