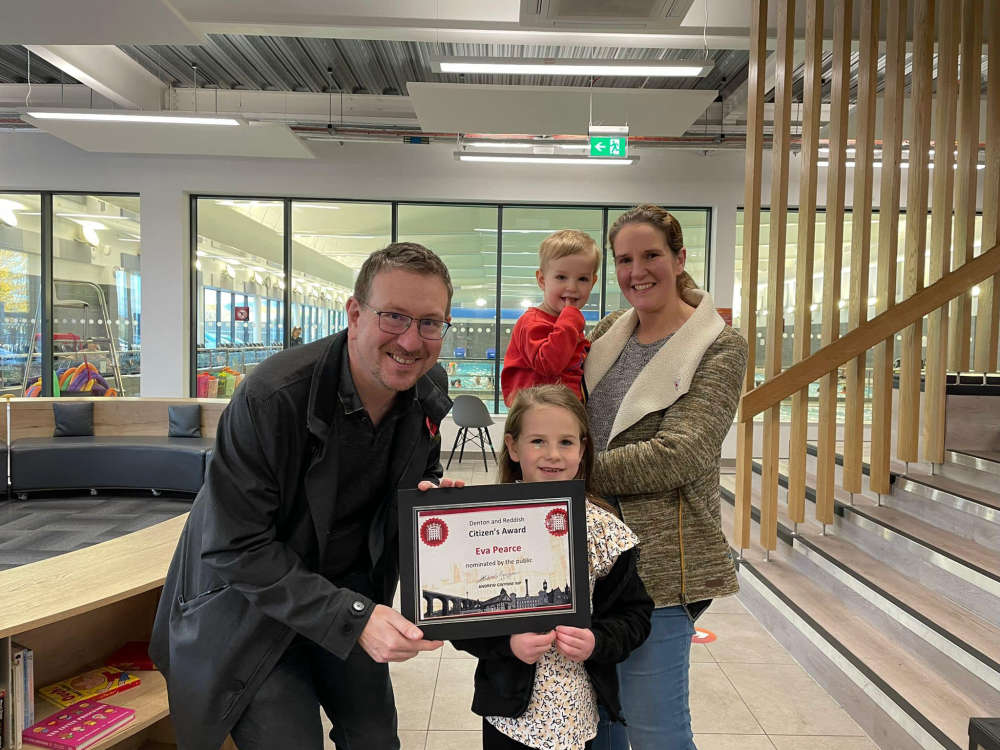 Eva celebrating her award with MP Gwynne and her family.
Denton MP Andrew Gwynne presented two Citizen's Awards over the weekend to two local residents who have gone above and beyond in the local community.  
The first award was presented on Saturday to six-year-old Eva Pearce from Audenshaw.
Eva was nominated for her work supporting Afghan refugee children.
She organised a sponsored swim to raise funds to buy bi-lingual books, gifts and other things to help refugee children settle in.
Eva managed to swim an incredible 144m, an achievement made all the more remarkable by the fact that she only completed her first 5m in June of this year.
Gwynne's second award was presented on Remembrance Sunday, after the Mayor's representative had closed proceedings at the Denton Service of Remembrance.
The MP took Josie Neal completely by surprise and presented an award alongside councillors Brenda Warrington and Vincent Ricci.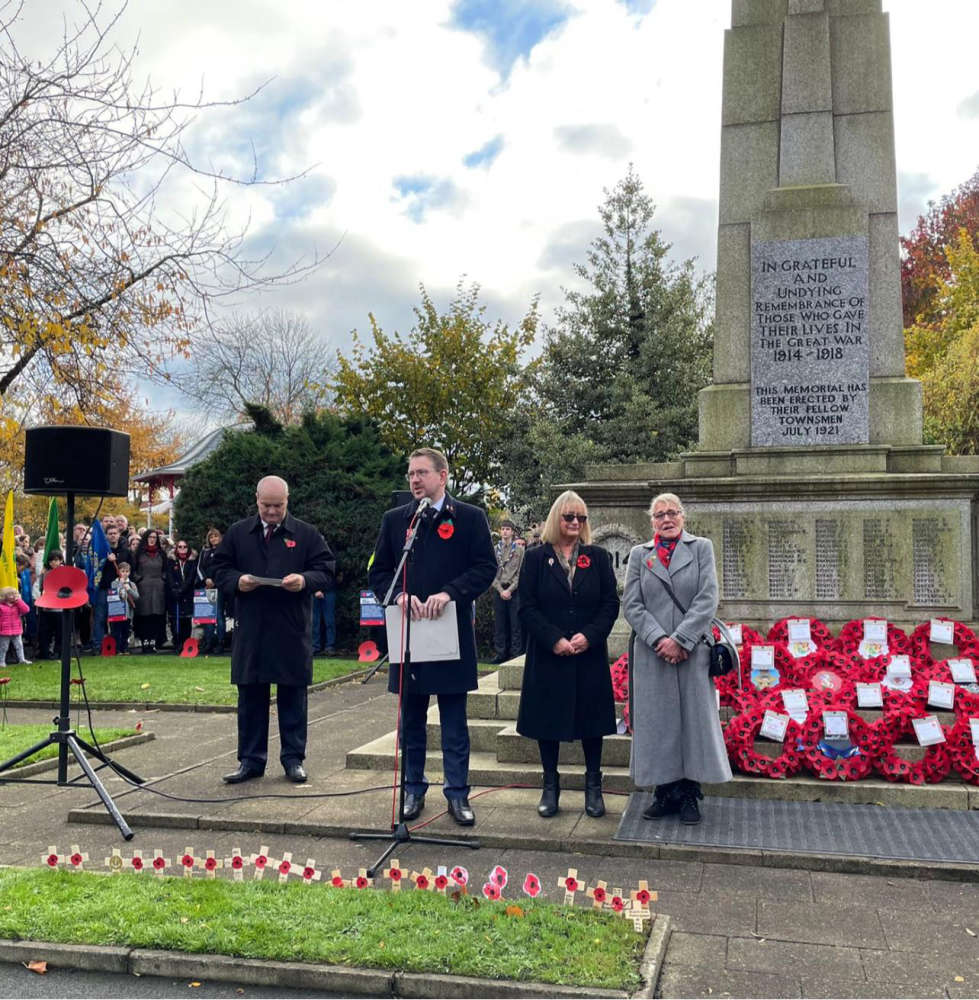 Gwynne presenting Josie Neal with her Citizen's Award alongside Cllr Vincent Ricci and Cllr Brenda Warrington.
Josie's award followed a post by her daughter Amanda on Facebook. In the post, Amanda wrote about the incredible work that her mum has done with the Royal British Legion.
Within a matter of hours, Gwynne was inundated with over 40 nominations from residents who had seen the post and wanted Josie to be recognised.
Josie has been a member of the RBL for over 50 years, standard bearer for 32 years, and the Poppy organiser for Denton for the last six years.
Gwynne's Citizens Awards were started at the beginning of last year and aim to celebrate residents across Denton and Reddish who go above and beyond for others. He has so far presented over 70 awards to local heroes.
Commenting on the two awards, the MP said: "Presenting Citizen's Awards to inspirational local people is one of the best parts of my job. It was a privilege to recognise the fantastic efforts of Eva and Josie.
"Eva was deeply moved by the plight of Afghan refugee children and took action to make a difference. She swam and swam and raised a fantastic amount of money for such a good cause. Eva's actions will help refugee children feel settled in what is an extremely scary time for them. What an incredible thing to do and what an incredible young girl.
"Josie has been a member of the Royal British Legion for over 50 years, and in that time has been tireless in her dedication and service. After her daughter put up that post online, it seemed like the whole of Denton got in touch to call for her to be properly recognised for her work.
"Josie had no idea that she was going to be presented with an award, and it was a lovely moment when she saw just how grateful we all are for the amazing things that she's done for the Legion and the local community.
"Well done and thank you Josie and Eva!"
Read more from the Tameside Reporter
Click here for more of the latest news
Click here to read the latest edition of the paper online
Click here to find out where you can pick up a copy of the paper