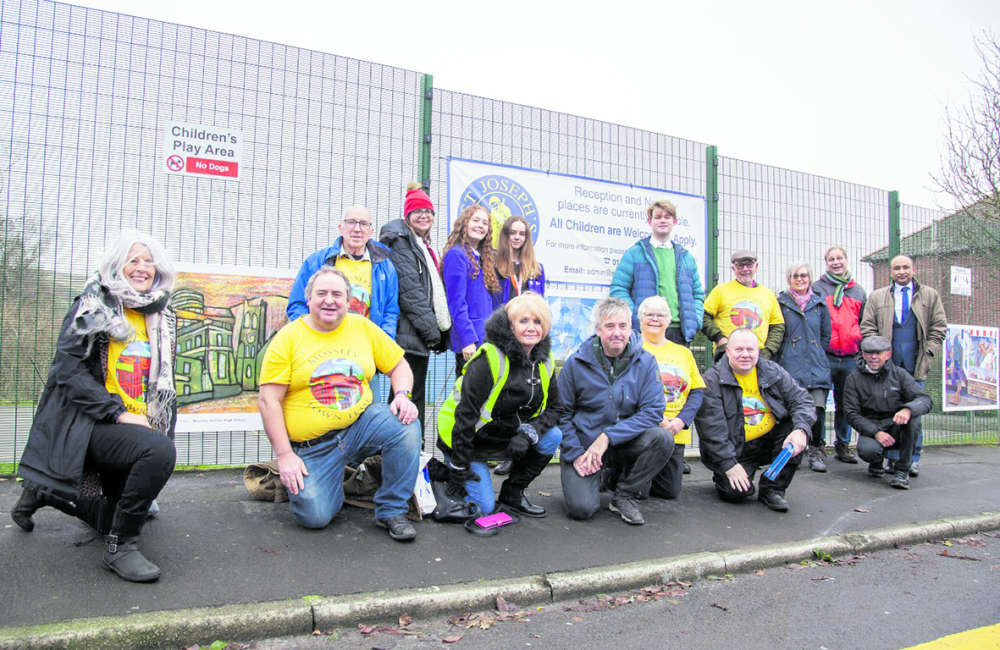 HAPPY: The artists, town team and head of art at Mossley Hollins High, at St Joseph's School Mossley, who have given permission to display work on their school railings.
Works of art have been springing up around Mossley to brighten up the town centre.
'Painting the Town' is an art trail which aims to reflect the character of Mossley in large-scale paintings on buildings and other sites.
The project is a joint initiative of Mossley Town Team with local artist Chris Cyprus.
The aim of the project is to enhance the attractiveness of Mossley and increase visitor numbers.
Paul Dowthwaite, Chair of Mossley Town Team, said: "The town team has worked in partnership with the Government's Welcome Back Fund to provide this extensive installation around the market ground. The bid was facilitated by Tameside's MBC's Development and Investment Team."
The Welcome Back Fund is aimed at providing events which will attract visitors and shoppers back to town centres following the Covid-19 pandemic.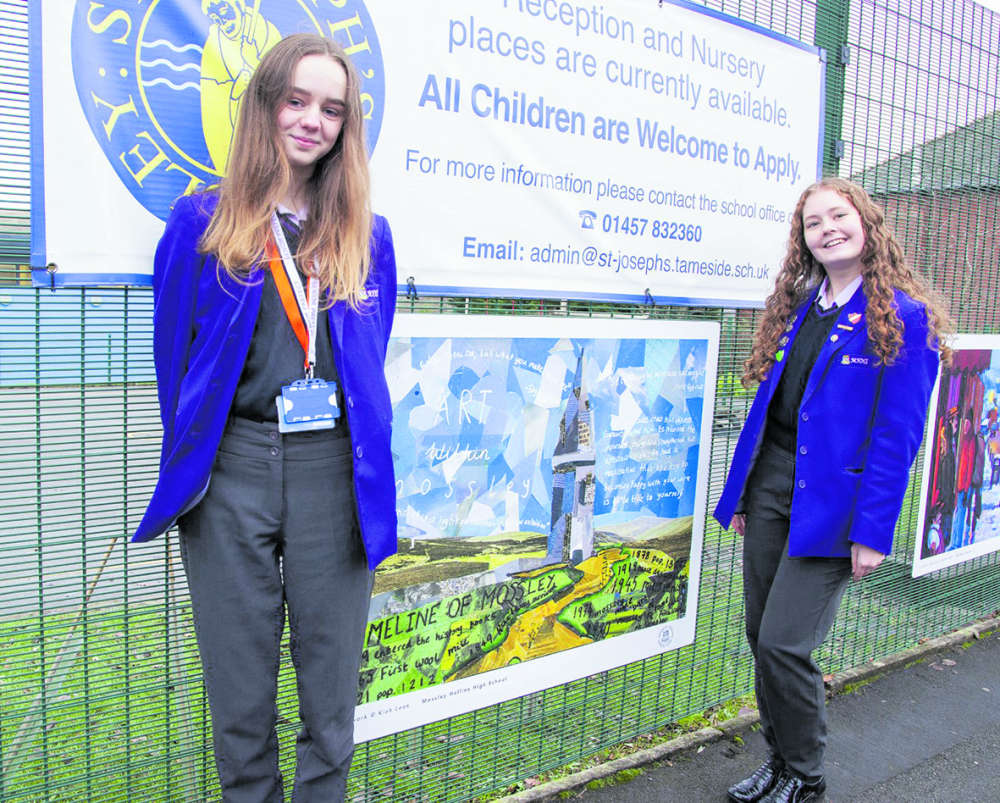 PROUD: Mossley Hollins artists Kiah Lees and Emilia Walker.
The town team said Painting the Town embodies many positive qualities by not only aiming to improve the town aesthetically, but will also provide a welcoming and immersive experience for visitors.
The paintings, which have been chosen to reflect Mossley life and landscape as seen through the various artists' eyes, have turned Mossley into an outdoor art gallery.
Chris Cyprus, who is curating the art trail, said: "I am passionate about the importance of art for well-being and the development of communities and individuals.
"This is something I have long wanted to do, and I am really pleased we are working together to bring the idea to fruition."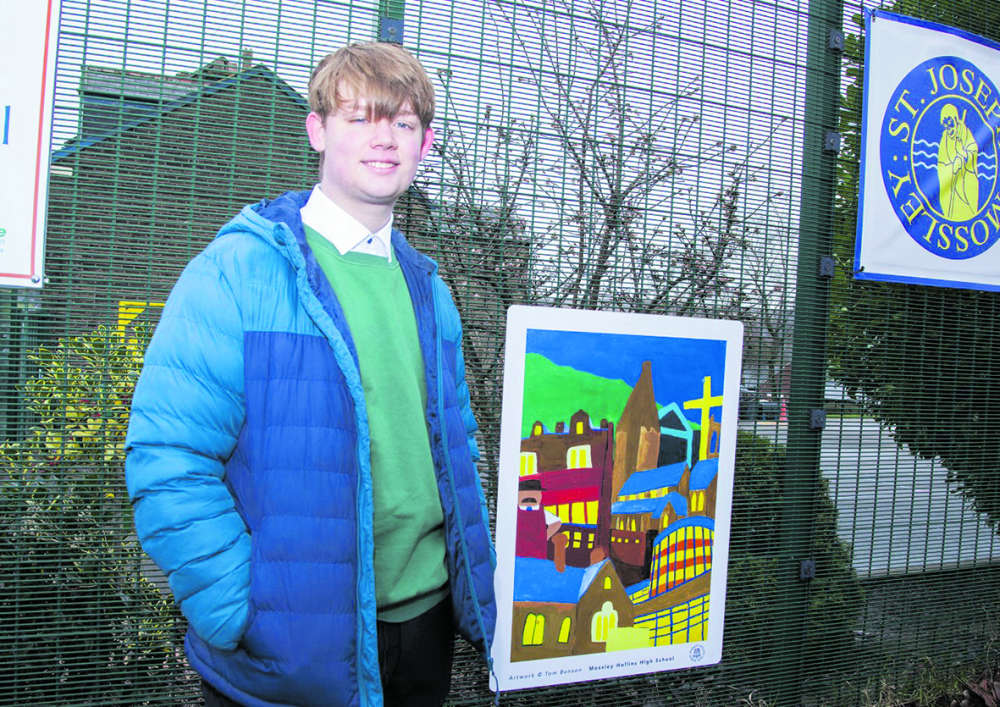 ART WORK: Tom Benson
It is hoped the art trail will boost community pride and well-being, as well as improve the environment, provide talking points to bring the community together, improve mental health, community spirit and engendering pride in the town.
Ani Adams, the head of art at Mossley Hollins High School, said: "This project shows the power of art and how it can unite a community and spread joy to everyone."
The art trail also provides a showcase for talented local artists, including young artists whose work is on display.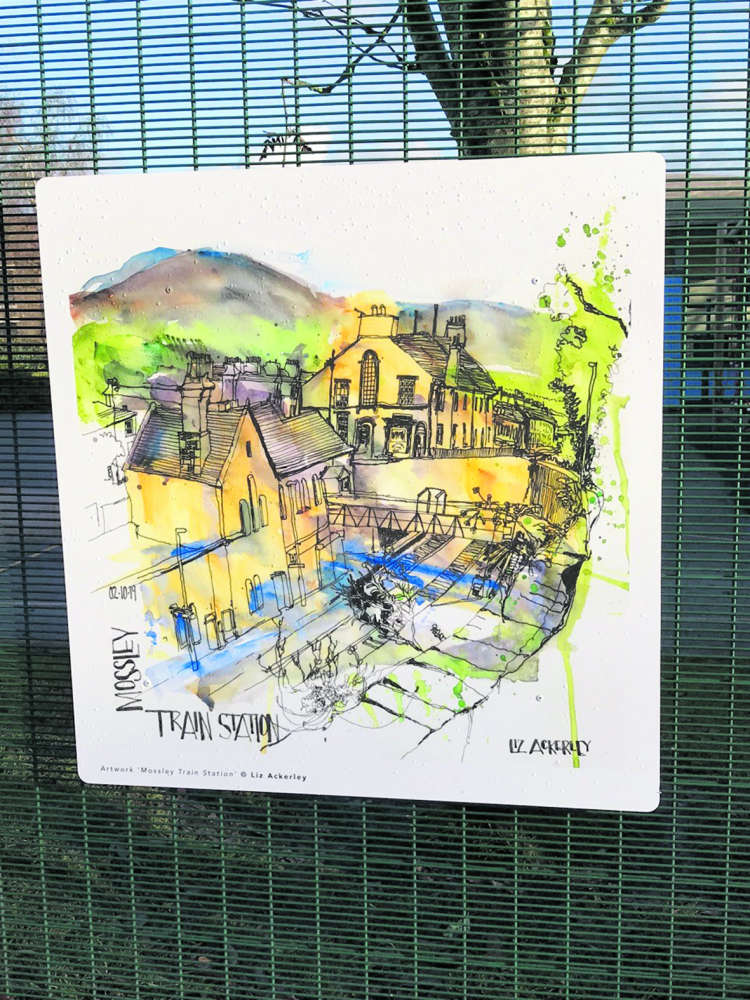 Some of the work on display
One young artist said: "To have my work on display in the community is an honour and I feel very proud when my family and I walk past every day."
Another one added: "The art lessons in lockdown were a welcome escape from the computer and were a creative time which improved my well-being."
Chris said: "I truly believe that the art trail will have a positive effect on both visitors and residents alike and I look forward to working with the town team to develop the project and to collaborate with many more artists along the way."
Read more from the Tameside Reporter
Click here for more of the latest news
Click here to read the latest edition of the paper online
Click here to find out where you can pick up a copy of the paper