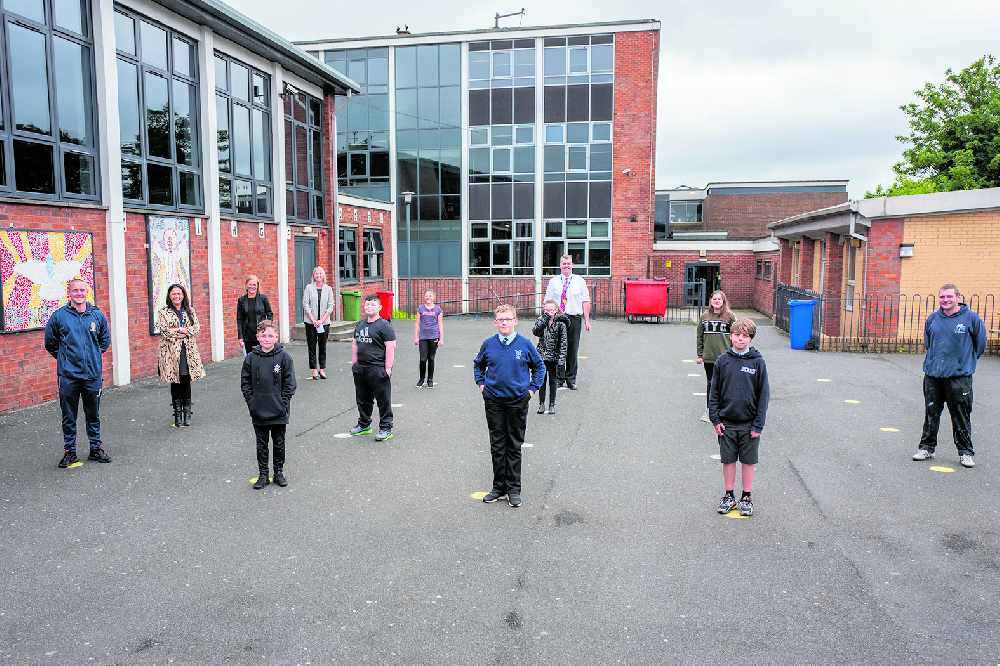 The first day in the top role as acting head is undoubtedly a daunting yet also hugely exciting and proud moment. All teachers will tell you it is all about the children.
But becoming acting head on April 20 this year at All Saints in Dukinfield, just a few short weeks after lockdown was certainly 'challenging' states Gus Diamond, in seriously understated fashion.
Yet almost heartbreaking too, for what is a school without its children?
A number of staff at the school have also been struck down with coronavirus, and although having recovered, were still very ill.
These have indeed been very worrying - not least 'challenging' - times.
Gus Diamond was deputy head for five years at the Catholic college before becoming acting head with one of his first duties to say farewell to former headteacher Linda Emmett.
There could be no assembly or presentation of course, so instead a touching online video send-off was organised.
Mr Diamond is an instantly likeable and enthusiastic teacher, yet cuts an imposing figure as he stands in the school yard, although his height means he is ideally equipped to lead in these strange times. For he is two metres tall!
"If anybody needs to know or asks me how far two metres is - I tell them it's exactly my height!" he quips.
It's a rather unique fact that has been cleverly turned into an educational poster starring the acting head - two metres now known as the 'Diamond Distance'.
It's all about driving the key safety messages home in a fun way, he says.
School life has been very different since March 23, but as lockdown restrictions gradually ease the college was able to welcome a number of Year 6 students last Thursday afternoon for the 'traditional' transition day.
The primary pupils who will step up to the secondary in September arrived at the school gate with parents and were warmly greeted by Mr Diamond.
Giving their names at a desk positioned outside, they sanitised their hands before immediately testing out the 'socially distant' spots painted out in the playground.
"The kids have really loved these," added Mr Diamond.
They have also been painted on another play area acting as the emergency fire point - where students can assemble in the case of a drill at the required social distance.
The 'new normal' however will be slightly different for these school pupils even in September as All Saints adapts and introduces all the Covid-safety measures required.
Despite 2m distancing signs now dotted about nearly everywhere, without the 'one metre plus' guidelines introduced by the government the school would have had no way of accommodating its near 700 students.
At some 50 years of age now, the school site is not the most practicable.
"The new guidance of one metre plus is very sensible," adds Mr Diamond who explains that some year groups will have their own designated areas in school come September, with Year 9s and 11s bubbled together.
The key is attempting to strike the balance of ensuring that everyone can operate in a safe environment, while still giving students an opportunity to fully access and enjoy their chosen curriculum.
The school's one-way system gives it a head start in this respect.
But now whole classrooms are being stripped out, with the rooms and all furniture being completely cleansed to ensure the rooms meet the Covid-safety criteria, with hand sanitisers also being installed in each room.
This will be an ongoing process throughout the summer months with plenty of 'taped-off' rooms still remaining out of bounds at present.
Sadly, new drinking stations recently installed outside to reduce the number of plastic bottles students had to bring onto the school site have also had to be taped off, unusable amid a pandemic.
The school has remained open throughout lockdown for the students of key workers and staff were also delighted to be able to welcome back Year 10s last month.
The year had been split into four groups, each quarter attending school on a different day and allowing 30 students to be taught within the school hall at any one time.
There were some nervous students - and some nervous staff - but having children back in the school meant the whole atmosphere 'lifted' explained Mr Diamond.
"Everyone was relieved to get back," he said.
He was full of praise too for the local authority, governors and parents.
"The Tameside local education authority has just been amazing in terms of the way that they have handled this whole situation - and the communication especially has just been excellent," he said.
For the whole school, staff, students and parents have all had to learn a new way of communicating too - with live lessons through 'Microsoft Teams'. There have also been regular welfare calls home to stay in touch with students and parents.
The next 'challenge' now for All Saints is to prepare for the 'new norm' of school life that looms in September after the summer holidays - a challenge it is busy preparing for.
But the reward will come with being able to welcome all of the students back to school again and allowing Mr Diamond to get back to doing the job he so clearly loves.
A fond farewell to former head online
As previously reported, All Saints gave former headteacher Linda Emmett a unique send-off by serenading her in an online video.
She was credited with turning around the school's fortunes after it was placed in special measures shortly after her arrival five years ago, but under her leadership, All Saints is now rated 'Good' by Ofsted.
Staff and students showed their appreciation with their own version of Sam Cooke's 1960 song, 'Wonderful World', titled 'Our Wonderful School'.
Gus Diamond introduced the video by saying: "Linda, as a fond farewell from all of us here at All Saints and to say a massive thank you for everything you've done to create our wonderful community, we'd like to sing a song for you, just to celebrate everything that you mean to us. Thank you!"
The video ends with students saying their 'goodbyes and good luck'.
Mr Diamond added: "Everyone loved doing the video."