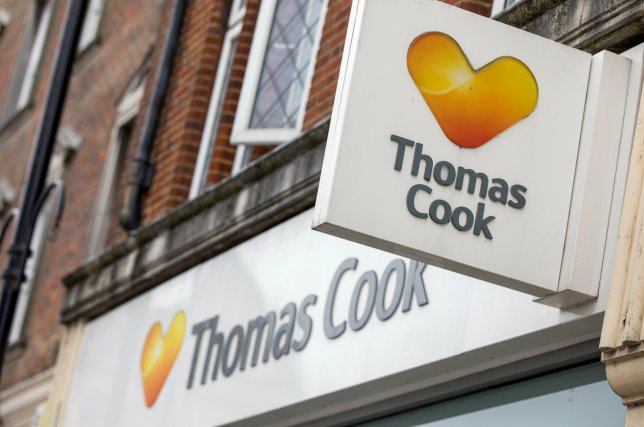 A taskforce to support Thomas Cook staff in Greater Manchester affected by the collapse of the travel company has been set up.
The group is made up of trades unions, Jobcentre Plus and Manchester Airports Group (MAG).
Roughly 3,000 people were working for Thomas Cook in Greater Manchester, with more than 900 cabin crew helping 2.8 million travellers through Manchester Airport each year, a tenth of the airport's passenger numbers.
From tomorrow (Wednesday), affected staff will be able to access advice and support via a single web portal or through email: info@gmthomascook.com.
The 178-year-old holiday firm ceased trading with immediate effect on Monday, with all of its flights cancelled. They also have travel agents in Glossop, Tameside and Oldham.
It has led to the biggest ever peacetime repatriation, aimed at bringing more than 150,000 British holidaymakers home.
Around 14,000 people are now back in the UK, as of Tuesday morning. That's 95 per cent of those who were due back on Monday, according to the UK Civil Aviation Authority (CAA).
Transport Secretary Grant Shapps announced on Monday that the Government and CAA has hired dozens of charter planes to fly customers home free of charge.
The tour operator's failure puts 22,000 jobs at risk worldwide, including 9,000 in the UK.
All customers currently abroad with Thomas Cook who are booked to return to the UK over the next two weeks will be brought home as close as possible to their booked return date.
The flights will start operating from today. All the details of each flight will be posted on a special website, thomascook.caa.co.uk, as soon as they are available.
The Government and the UK CAA aim to fly people as close as possible to their booked return date – so customers are being strongly advised not to cut short their holiday or go to the airport without checking the website for information about their return journey.
The UK CAA is also contacting hotels accommodating Thomas Cook customers, who have booked as part of a package, to tell them that the cost of their accommodation will also be covered by the Government, through the Air Travel Trust Fund/ATOL cover.
Customers who haven't already left the UK, should not go to the airport, as there will be no further outbound flights operated by Thomas Cook. The dedicated website will let customers know how to get their money back.
Hundreds of staff from many Government departments and agencies, including the UK CAA, the Department for Transport, and the Foreign Office, will be deployed in call centres and at airports to help people.
Stalybridge and Hyde MP Jonathan Reynolds commented: "Terribly sad to hear that Thomas Cook has ceased trading overnight. If you were due to travel with them, I'm sorry to say the advice is so not go to the airport as all their flights have been cancelled. New flights are being scheduled to get you home if you are already abroad with Thomas Cook (for the next two weeks only). My heart goes out to their employees as well as those who have lost their holiday. A sad day.
"My own view is that Government should have intervened to stabilise the company financially by taking an equity stake. A great shame to see this much loved business go under."
Denton MP Andrew Gwynne added: "Awful news to be waking up to. My heart goes out to all those employees who've found they are no longer in a job this morning."
If anyone in our area has been affected by the collapse of Thomas Cook in any way, you can get in touch with us in the usual ways.