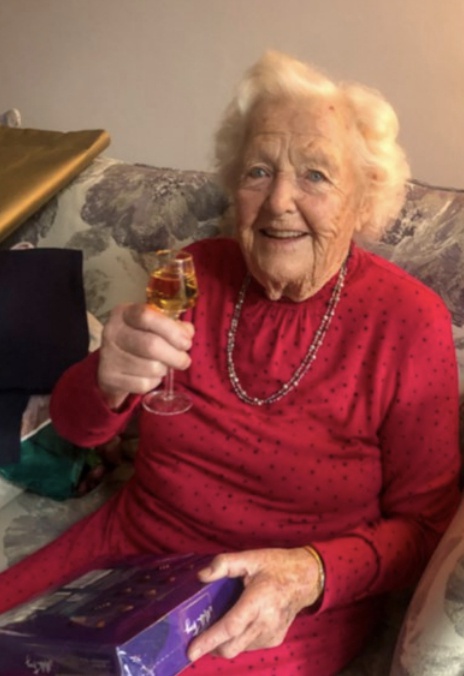 Members of Old Chapel Unitarians Church in Dukinfield have paid glowing tributes to their former flower secretary, Joyce Archer, who sadly passed away on January 4.
Joyce (pictured) lived in Dukinfield all her life and brought joy to the local community.
Born on Old Road, she moved to Dewsnap Lane at six years old and attended the Old Chapel Primary School.
In 1949, she was married at the Old Chapel Church to Don Archer, and following the birth of her two daughters, Jocelyn and Valerie, became involved in the church, taking on the role of Flower Secretary.
Old Chapel's Sunday School representatives, Christine and Ann, told the Old Chapel magazine: "We received the sad news about Joyce earlier this month. Old Chapel Sunday School has lost a wonderful friend and supporter.
"Joyce was responsible for the beautiful basket of flowers carried by the children on Whit Sunday. She was always very willing to make up the basket and would never accept any payment for flowers.
"At Christmas party time there was always a large tin of chocolates for the children and at pantomime time she always contributed to our appeal for raffle prizes or packets of biscuits. We are grateful we had such a precious friend in Joyce and she will be missed very much by all of us."
As an active member of the Women's League, Joyce represented Old Chapel at women's meetings and the Women's World Day of Prayer. She was also a long-serving member of the Royal Voluntary Service and ran the over 60s club until she was 80 years old.
Joyce had a flair for theatrics, performing at concerts and as a member of the Yew Tree singers.
Steve, who performed alongside Joyce, added: "I remember appearing with Joyce in many dramatic plays which were always a joy, and on my return to Dukinfield after being away for so many years with work, it was always a pleasure to bump into Joyce in the chapel as she arranged flowers.
"However, my fondest memory will be the number of times she phoned me and then she would tell me she didn't mean to phone me. I always told her it was meant to be and we'd have a little chat. I'll miss those phone calls."
Not just theatrical, Joyce was artistic and created wonderful floral displays that captured the hearts of the congregation.
Old Chapel added: "She was renowned for her ability to turn a few flowers into a beautiful display and a knack in using the brass vases on the communion table. It was in her role as flower secretary that she kept in touch with many people that moved away from Dukinfield but still felt attached to our congregation.
"At all our events Joyce was there to support or 'do.' Her smile and kind words were her hallmark, but she wasn't afraid to speak her mind either.
"She was keen to maintain her independence even after losing her husband Don, and she will be fondly remembered by many who saw her walking or catching the bus up to Chapel with flowers.
"Joyce will leave a huge hole in our congregation, but will be remembered with love by all."
Joyce was a member of the autumn fair team, which she joined in 1985, and is remembered by fellow member, Marjorie Gee: "Joyce always had a smile for you and a lovely calming influence.
"She never missed a fair, and would come even when she wasn't fit enough because she didn't want to let anybody down.
"She was very artistic; I remember sitting with her at a coffee evening and we had to draw a picture - Joyce's contribution was much better than anything I could have ever done.
"She was a lovely lady and I never heard her say a bad word about anyone. She will be missed greatly by everyone."
Read more from the Tameside Reporter
Click here for more of the latest news
Click here to read the latest edition of the paper online
Click here to find out where you can pick up a copy of the paper