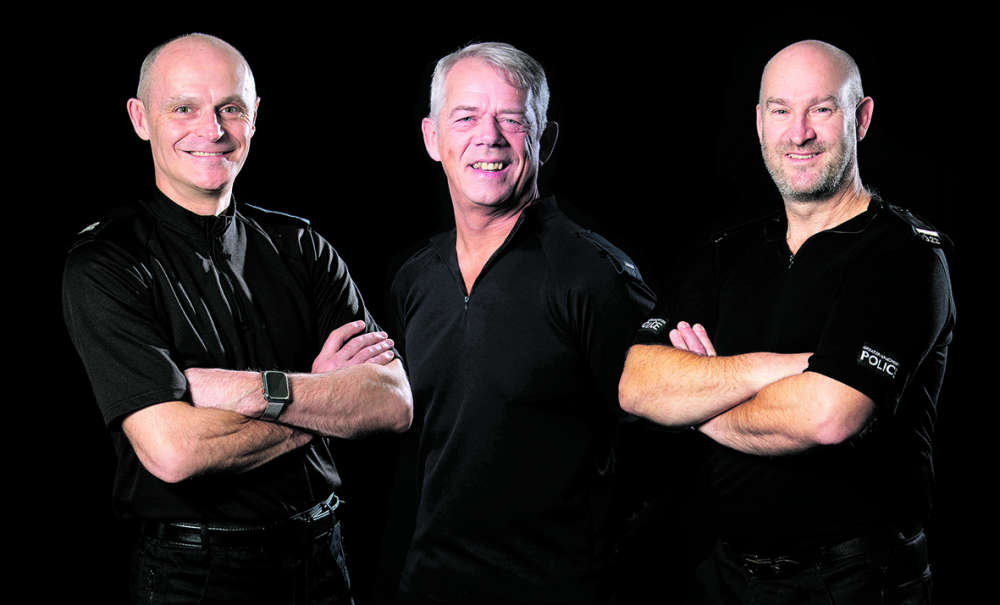 DEDICATED: Martin Bridge, Dave Brown and Andrew Morrell.
Three volunteers have given almost 60 years between them to the streets of Tameside in their roles as Special Constables.
The three - comprising of a martial arts instructor, a fire detection officer and an insurance company employee - joined GMP as Special Constables before rising through the Special Constabulary ranks and continuing to give up their own time to help on the beat across the district.
Special Sergeant Martin Bridge, 54, joined the Special Constabulary an impressive 26 years ago. He attended a meeting at his local police station where he chatted with the Chief Inspector at the time.
Martin, from Denton, often travels the world advising companies on their fire detection systems and protocols - travelling from Trinidad to Monaco - and still finds the time to work every Friday night on the beat.
He said: "I've seen some awful sights and been to terrible scenes over the years, but being in the Special Constabulary gives people life experience - the good, the bad and the ugly.
"You can't tell the difference between a Special and a regular officer and you're never shielded from anything. I'd tell anyone to give it a go. It'll enhance your life."
Special Constable Dave Browne, 58, has been in the Specials for 17 years and once helped those escaping the Tsunami in 2004 at the airport.
He said: "I was only four months into being a Special and I was asked to go to the airport and assist with people who were flying back after the tsunami.
"They had no clothes, no keys, nothing. That really brought the role home to me - I saw the effort and coordination from everyone there and really opened my eyes to what the job entails. There's a fun side, and a serious side."
Dave, from Stalybridge, joined The Special Constabulary at 40 and particularly enjoys seeing the benefit the volunteers make on the local community.
"I decided to stay in my regular role in insurance but still give up time to be a Special where I run a lot of traffic operations," he said.
"I give around 10 to 12 hours a month and arrange training for traffic policing. I work in insurance so traffic and making the roads safer is a keen interest of mine.
"Before joining as a Special I'd never seen a dead body in my life. As a Special you're fully immersed in the things that officers have to deal with, but it's so worthwhile to see how you can benefit the community and your own confidence."
Special Inspector Andrew Morrell manages the Specials in Tameside after working his way up in the role since 2005 after a stint as an appropriate adult volunteer.
He said: "I always wanted to be in the police, I didn't want to stand back and moan about the lack of police action when there's a chance for people to join and get involved.
"I spent the first 12 months going round and dealing and helping with the issues that had always annoyed me such as bad driving and anti-social behaviour."
The 53-year-old volunteers an average 15 to 20 hours a week alongside his full-time job in martial arts.
He added: "I'd tell anyone not to give joining a second thought. The best part of the job is public engagement - being able to go out and talk to the public and really forge those relationships in the place you live as a volunteer is an honour."
The Special Constabulary at GMP is recruiting, for more information or to join visit the GMP website https://www.gmp.police.uk/
Read more from the Tameside Reporter
Click here for more of the latest news
Click here to read the latest edition of the paper online
Click here to find out where you can pick up a copy of the paper