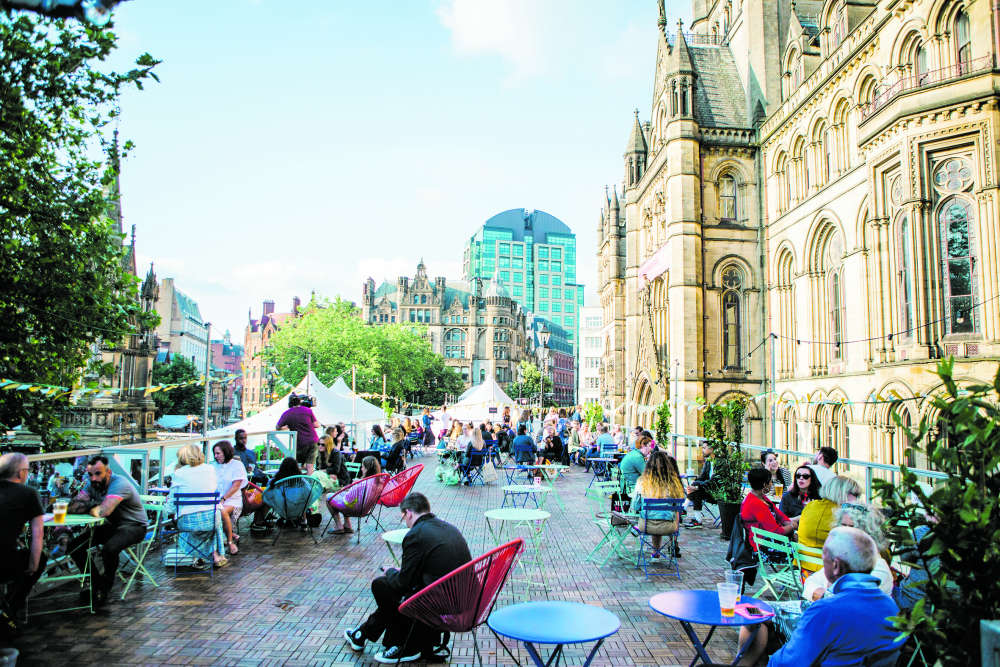 Festival Square at Manchester International Festival 2019. Credit: Louis Reynolds.
Manchester International Festival is back with an eclectic programme of home-grown talent and artists from over 20 countries.
From a giant sculpture of Big Ben in Piccadilly Gardens made from 20,000 books, to a mass outdoor dance event featuring 160 Greater Manchester residents, much of this year's festival is free to attend, with more work than ever in public spaces around the city.
Festival Square, the home of the festival in the heart of the city, returns July 2-18 in a new Covid-19 safe seated format in Cathedral Gardens with food, drink and a free daily programme of Greater Manchester talent featuring over 100 artists. Performers include Chloe Foy, The Untold Orchestra, Billy Nomates and Pip Millet.
For families, every Saturday and Sunday from noon-2pm there will be free family activities in Festival Square, including family friendly gigs and craft workshops. In The Global Playground there will be an uplifting new show mixing dance, music, theatre and puppetry - families are invited to explore how we play together.
For the first time, Manchester residents will take over the curation of the festival's talks and discussions series, Looking Forward to Tomorrow which will explore some of the big issues of the day including the climate emergency and anti-Black racism with a range of speakers all chosen by local people, including artists, activists, key workers, campaigners and members of the Greater Manchester community.
Greater Manchester residents are also at the heart of new artworks such as Portrait of Black Britain in Manchester Arndale featuring 100 portraits of Black British people; I Love You Too which will see the publication of a book of love letters told by over 100 Greater Manchester residents; and Big Ben Lying Down with Political Books – a giant sculpture in Piccadilly Gardens made from 20,000 books chosen by Greater Manchester residents and organisations from Thomas Paine to Marcus Rashford.
Greater Manchester musicians also feature in the festival's eclectic music programme alongside internationally-acclaimed stars such as Rema, Arlo Parks and Damon Albarn. Rooted in Rhyme will take audiences on a journey deep into Manchester's Hip Hop underground with a packed line-up taking in everything from urban pioneers to emerging grassroots talent in collaboration with Unity Radio and Manchester Hip Hop Archive. Emerging Islamic culture festival Salaam will showcase the music talent of singer Abi Sampa, kora virtuoso Sona Jobarteh and poet Muneera Williams.
MIF is committed to presenting a safe festival for everyone. As well as following all government and industry guidelines, organisers are working closely with specialist safety consultants to ensure all venues are Covid-safe and secure for everyone. For those who can't join in person, a rich online offer will provide a window into the festival wherever audiences are, including livestreams and work created especially for the digital realm.
Tickets are on sale at mif.co.uk.