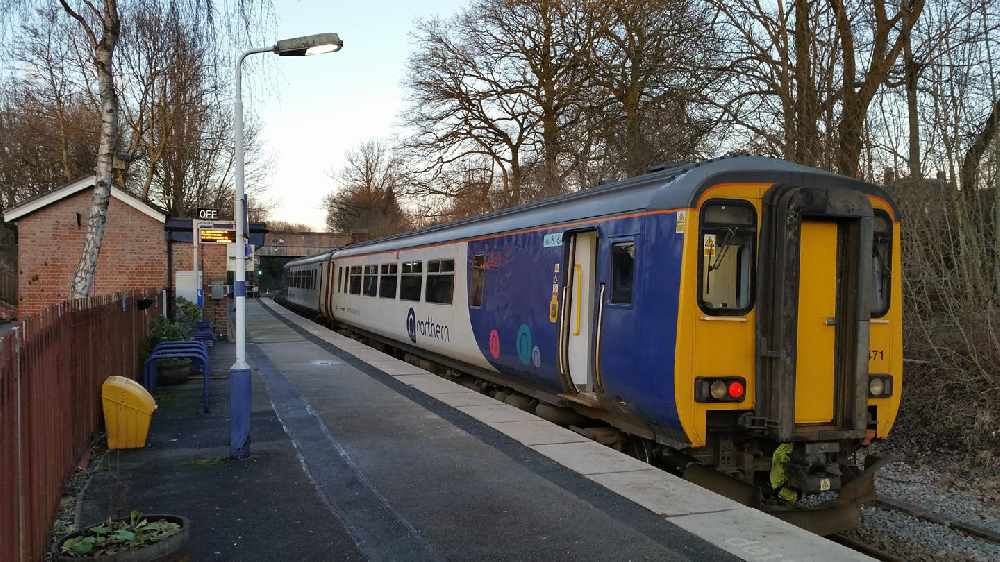 Rail bosses insist there are no plans to permanently axe a busy train service which serves three stations within Tameside, amid continuing pressure from MPs. 
A number of passengers who travel on the Manchester Piccadilly - Rose Hill Marple line had expressed their fears on social media that a forthcoming suspension of the service for three months might lead to it being removed for good.
Back in July, the now government-owned company Northern Trains Ltd announced there will be no trains on the line from Monday 14 September until Monday 14 December. It said the "temporary" closure is largely due to allow for driver training, which had to be "paused" earlier this year due to the coronavirus pandemic.
It means no trains calling at Fairfield station in Audenshaw, or Hyde North and Hyde Central stations, during the autumn. Passengers using these already-underused stations voiced their concerns about what this will mean for them.
In a bid to urge bosses to change their mind over the decision to suspend the service, Denton MP Andrew Gwynne teamed up with his Labour colleague Jonathan Reynolds, the Stalybridge and Hyde MP, as well as Hazel Grove's Conservative MP William Wragg.
They sent a joint letter to Northern Trains Ltd Regional Director, Chris Jackson, and Rail Minister, Chris Heaton-Harris MP, to express their collective opposition to the proposal and reflect the strong views of their respective constituents, who have signed petitions against the move in their thousands.
Since then, the three MPs - along with Stockport councillor David Meller - have held a virtual meeting with Mr Jackson.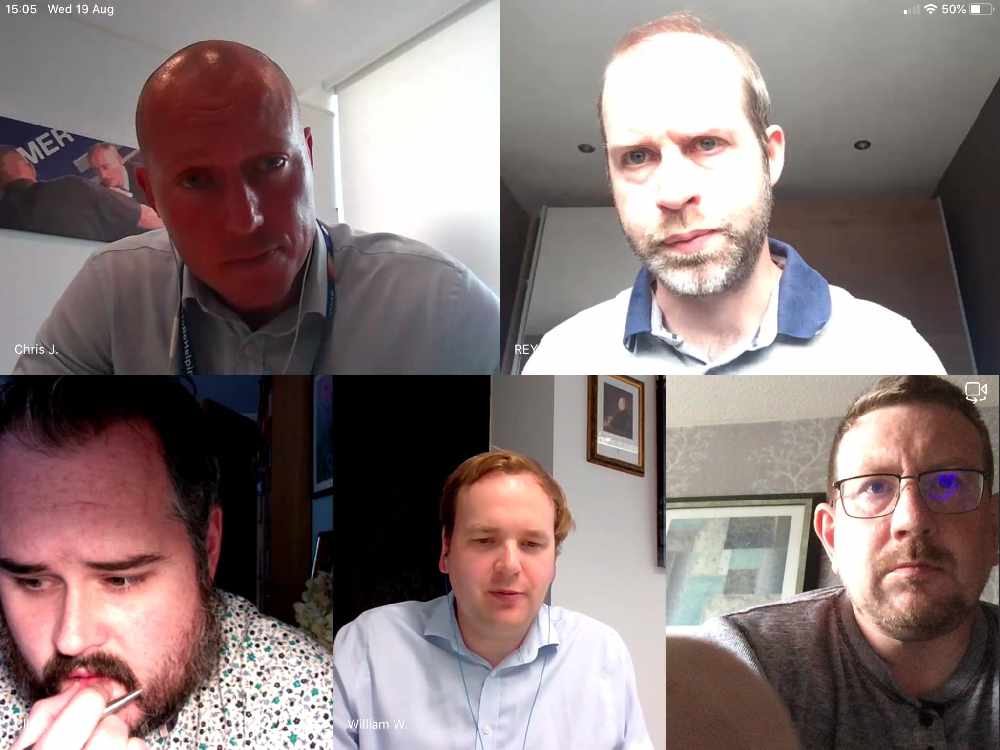 (clockwise from top left): Northern Trains Ltd Regional Director Chris Jackson, Stalybridge and Hyde MP Jonathan Reynolds, Denton MP Andrew Gwynne, Hazel Grove MP William Wragg and Stockport councillor David Meller.
Service could be restored earlier than planned
MP Gwynne, who serves Audenshaw, said they expressed the "strongest concerns and objections" to the temporary closure and will continue to do so with the Rail Minister when Parliament resumes following the summer recess.
Northern explained its staff shortage problems arising from Covid-19 but said its position remains unchanged relating to redeploying drivers from other lines to cover the Rose Hill Marple service in that it won't be possible.
However, Mr Gwynne said "some minor successes" were achieved as a result of the meeting.
Northern clarified that the suspension of the Rose Hill Marple service is indeed "temporary" and not part of an attempt to remove services.
It has also set 14 December as the date to restore the service and will seek to bring it back earlier "if the staffing situation improves", while the stations will be refurbished during the period they are not in use.
Update on tickets and available refunds
Northern and Metrolink have also come to an agreement that passengers who normally use Fairfield station will be able to use any season tickets they have on tram services through Droylsden.
Mr Gwynne also said that he has requested for Northern to discuss with Stagecoach Manchester the possibility for rail tickets to be accepted on bus services from Haughton Green for Denton users of Hyde Central station.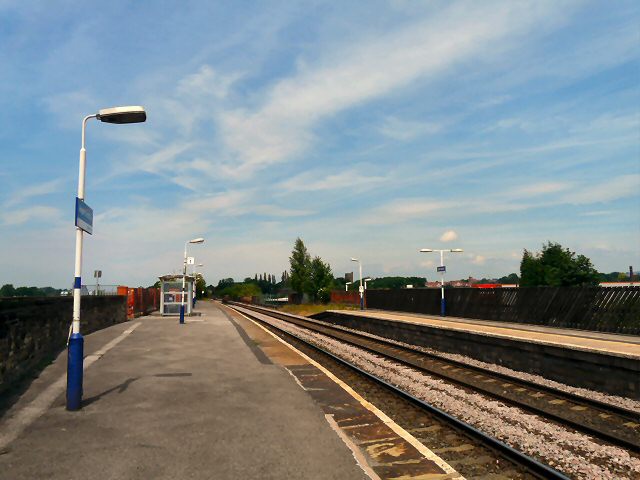 Hyde Central is one of three train stations in Tameside which will be out of use for three months
The MP reported that Northern is "confident" that any patronage shift from Rose Hill Marple on to the New Mills line, through Reddish North, can be "accommodated safely on the current lower numbers using train services" and it will monitored to ensure Reddish North passengers won't be adversely affected.
Refunds for tickets already purchased will also be provided at no charge for any passengers not wishing to use the alternatives in place.
Mr Gwynne added: "As I say, it's far from ideal, but assurances have been given, and other arrangements put in place. I wanted to keep you updated on the meeting and please be assured that we will continue to work across party lines to press for a better outcome through the Department for Transport, and failing that, for services to be resumed earlier than 14 December."
'Urgent need for driver training to begin again'
Northern has "said that very tough decisions" have had to be made as a result of the impact of Covid-19, while the Manchester Piccadilly - Rose Hill Marple service was "chosen carefully" due to accessibility of alternative modes of public transport and other rail stations on different routes.
The company say the average walking time to nearby stations is 20-25 minutes:
Hyde Central to Newton for Hyde – 1.1 miles
Hyde North to Flowery Field – 0.8 miles
Fairfield to Droylsden Metrolink stop – 0.9 miles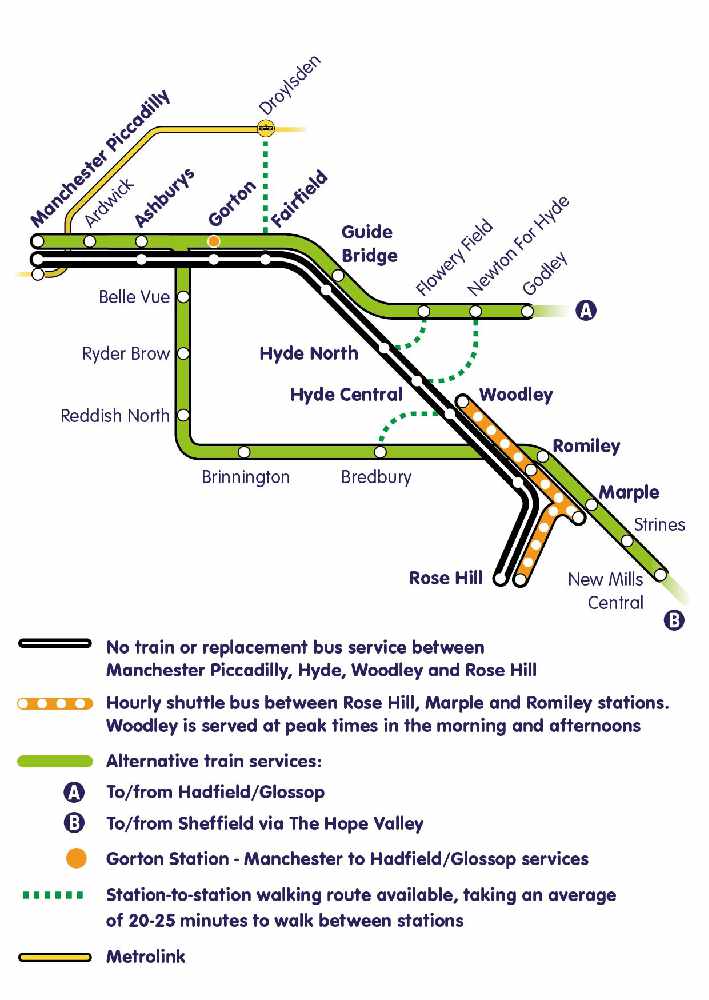 It added: "This is due to the challenges we have faced as a result of the COVID-19 pandemic. Many organisations have faced difficulties due to COVID-19 and the railway is no exception. During the pandemic, training programmes were paused and there is now an urgent need to begin this training again to enable us to provide a reliable and resilient railway service across Greater Manchester and beyond in the future."
Northern say its Passenger Assist service is available from all affected stations for customers with mobility assistance, including additional alternative transport from Hyde Central, Hyde North and Woodley. Where possible, it's recommended booking assistance in advance by calling 0800 138 5560 (Text Relay 18001 0800 138 5560), 24 hours a day, 7 days a week, or online at northernrailway.co.uk/accessibletravel.