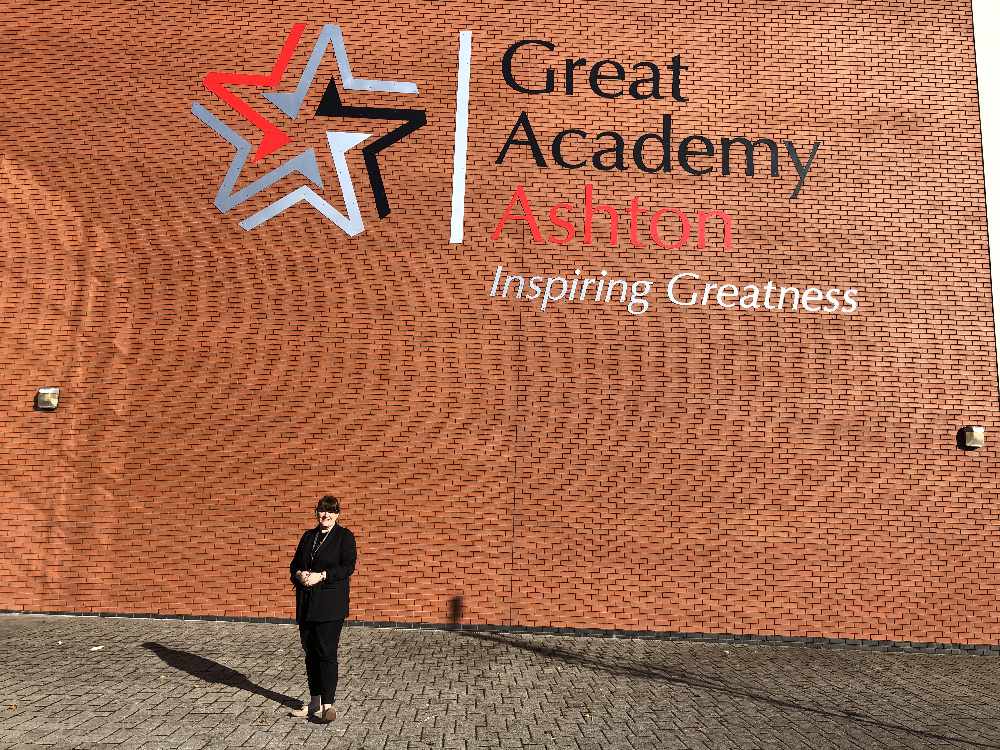 Great Academy Ashton has suffered a number of isolated outbreaks of Covid-19, prompting an appeal this week from Principal Jenny Langley on behalf of all Tameside schools.
The cases at Great Academy have forced separate bubbles of students into quarantine measures and although transmission has been halted immediately, the cases have sparked a wider appeal to school communities across the borough for parents and carers to take Covid guidelines seriously and help the borough's schools stay open.
Quarantine
Jenny explained that if a bubble is closed, schools all have timetables in place to allow for remote learning to kick in for the 14 days of quarantine.
At Great Academy students are all in Microsoft Team Bubbles and can access learning online with their teaching staff.
"So far I am beyond pleased with how that has gone - it is not perfect - but the children more and more are logging on and asking us how they can keep up with their learning, so I can see how motivated they are and that is another reason it is so important to keep schools open as this is about children valuing their education.
"So that makes me more motivated to say to everyone in Tameside to please, please follow the guidelines out of school. The more that we respect those guidelines and do what we can, the more we can have our children in school where it's important for them to be."
Each coronavirus case identified at the school has been carefully worked through to ensure transmission is stopped in its tracks.
Jenny also praised the 'strong' public health systems in Tameside to provide support and advice for schools.
Jenny explained the process in dealing with any outbreak of coronavirus at the school.
"The first thing we do is ascertain the first time that symptoms presented.
"The second is work out where that child has been within the school and how big a bubble they are in. Most of our bubbles are not bigger than 30.
"Then we find out about the child's social contacts, who they might have sat with at lunch-time, who they walk to school with, how they get home and then we close down that bubble."
It also has to be ascertained if any other subsequent cases are linked to any previous case.
"So far we have been able to shut our bubbles and have them return two weeks later without a connected case," said Jenny.
"So that tells us the measures we have in place are secure and the contact tracing that we do is reliable, so we have stopped the transmission and other students can attend school as usual.
Balance
"That is the key balance that schools are all finding themselves in - we all want children in school - we absolutely agree there are risks from the virus itself, but there are also risks to them not being in school.
"So the balancing act that they can come to school and we can manage any positive case safely is the challenge for all heads. So far we have stopped transmission so I am confident in our measure and procedures."
The key safety measures and national guidance - hands, face and space - are 'critically important' adds Jenny, who says that message is delivered to staff and parents all the time.
"We, like every school, have sanitising stations in and out of every classroom, at every exit.
"The one everyone finds more difficult is that advice about trying not to touch your face so the virus can not access the system and of course wearing face coverings in public places indoors - even outdoors if you can't socially distance, is important.
"For schools of course that means in all communal areas."
But while school bubbles can prevent transmission in school, just who students are socially mixing with on their way to or from school is far more complicated to manage without students taking responsibility themselves, although this is also where parents have a part to play in re-enforcing safety messages.
"That's why it is incredibly important for that face mask to be worn because we don't know where there could be that unknown contact," added Jenny.
"It's very difficult for schools to enforce and to monitor that whole journey home, so some of that is about messaging to parents also to encourage the children not to gather at school gates.
"The safer we are outside of school, the more we can continue with the education that we want to provide."
Students are given key reminders usually around hands, face and space each day, but there are also wider messages too.
Schools are places that can be managed with bubbles and cleaning, testing and tracing, but as soon as students stray into areas outside of school life that are less well regulated, the school is not in control.
"That is why it is so important that outside school everyone follows the same rules and people should not be mixing outside their own household or support bubble," she added.
"The more people stick to those guidelines outside school then far better the chance we can keep schools open - and that's what we all want."
Listen to the full interview with Jenny below.