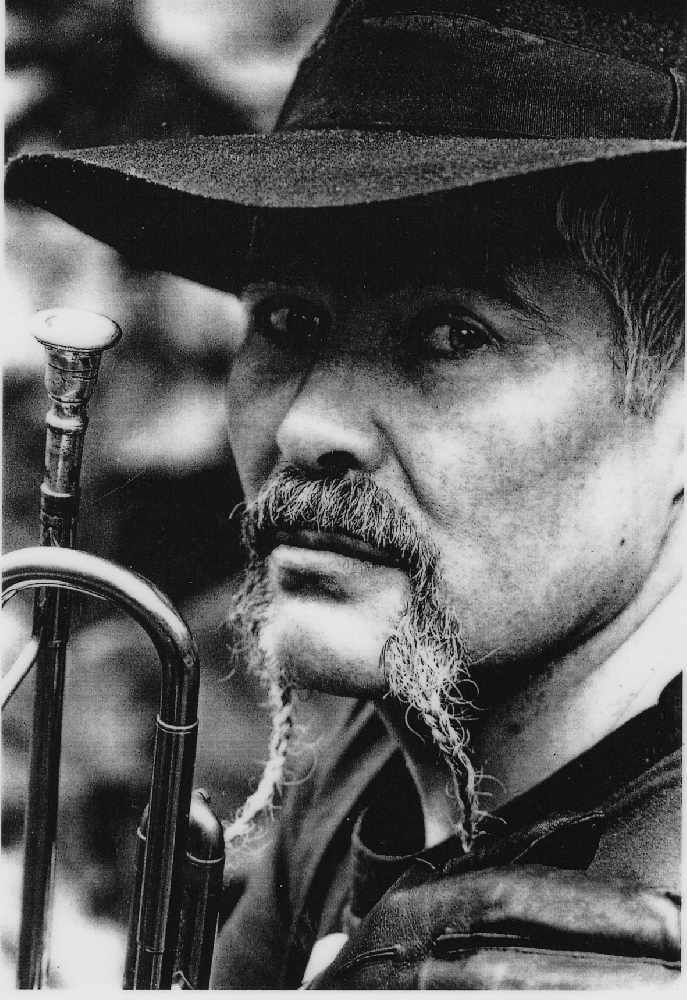 He began singing the blues about 70 years ago. Now he's one of Europe's top blues performers and on Wednesday (5 May) Victor Brox celebrates his 80th birthday.
Victor (pictured) has travelled the world, lived in the USA, Africa and Europe, jammed with artists including Pink Floyd and Stevie Wonder, and accompanied blues legends such as John Lee Hooker, Muddy Waters and Sonny Boy Williamson. Both Tina Turner and Jimi Hendrix named him as their favourite white blues singer.
But Ashton-born Victor's career didn't begin in America's Deep South. It all started in the schoolroom of St Mary's, Droylsden, when he was just ten - practicing with his first band, the Blues Train, which is still running.
In fact, they soon play Victor's first gig since lockdown at the Carlton Club, Whalley Range, Manchester, on May 23 from 2-8pm where he hopes to meet lots of old friends again after the enforced lay-off.
Back in the 1950s a very youthful Victor became fascinated by records of boogie woogie piano players and rock'n'rollers like Little Richard and Chuck Berry. Already learning violin, he began picking up the basics of guitar, trumpet and many other instruments. Nowadays, Victor mainly features guitar or piano to back his gravelly vocals, though reckons: "I play most instruments and can knock out a blues on virtually anything."
After university, he became a teacher at St Andrew's Junior School in Hadfield, while continuing his musical career, which eventually took over full-time.
In the 1960s and 70s Victor became one of Britain's top blues artists. He played in the band of Alexis Korner - regarded as the father of British blues. Now Victor himself is a legendary figure of the music with a lifetime achievement award.
He made now sought-after blues records with his wife, singer Annette Reis. Though since divorced, the couple have five children, all musically talented.
Daughter Kyla - based in Mossley - is a blues and soul recording artist and performer who has won the International Blues Challenge. She and some of the family will be lending a hand at Victor's 80th celebration.
As for Victor, over the past half century he's ranged from appearing as a solo artist to running various bands including a ten-piece, and became a mainstay of top British blues band the Aynsley Dunbar Retaliation. His repertoire is wildly eclectic from Lancashire folk to Big City blues.
During lockdown he's been writing his life story, chronicling encounters with a roll call of big names and fascinating characters.
They include Catch 22 author Joseph Heller, jazz great Charlie Mingus, underground cult figure Nico, and musicians including Jimi Hendrix, BB King, Marc Bolan, Frank Zappa, James Booker, and Champion Jack Dupree.
He's recorded with Mick Jagger and New Orleans pianist Dr John, and accompanied Vanessa Redgrave at a rare singing appearance she made in Manchester during a political rally.
When he and Annette played Harold Pinter's birthday party, the playwright was so impressed he offered to write the sleeve notes for their next album.
A prolific songwriter, Victor wrote the anthemic Warning number on Black Sabbath's first album.
Victor has appeared on stage - singing the role of Caiaphas on the original album of Jesus Christ Superstar - plus on radio, television and records and in countless live shows.
He even appeared in the film Ever After starring Drew Barrymore - playing a Leonardo Da Vinci lookalike.
These days, after a lifetime of travelling the world, he's once again living locally, though till the pandemic was still playing gigs abroad and across the UK.
Despite health problems and personal setbacks, Victor is set on continuing - eccentric, wise, witty, with a fund of good stories and an encyclopedic knowledge of music, he would be missed.
Google the words Victor Brox and you'll find countless references about his contributions to music.
Victor says: "Playing the blues has taken me round the world. It's given me a lifetime of doing something satisfying and making wonderful friends."
Read more from the Tameside Reporter
Click here for more of the latest news
Click here to read the latest edition of the paper online
Click here to find out where you can pick up a copy of the paper