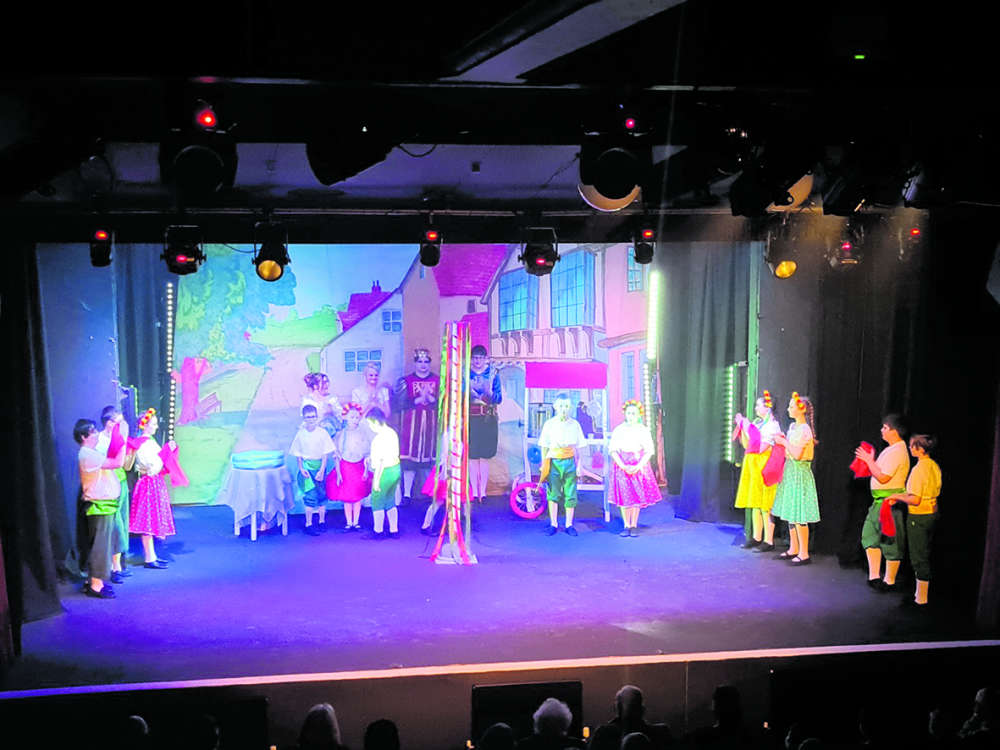 Young actors at Tameside Youth Drama produced one of their most memorable pantos at Hyde Festival Theatre in their latest run.
The group brought Jack and the Beanstalk to the stage with a strong lead cast transporting the audience to the 'Village of Old Windy Bottom' and beyond to the Giant's castle in the sky.
As for all local drama groups, staging productions amid the pandemic has been extraordinarily difficult, so the resultant superb show is testament to the hard work and dedication of all involved.
Not least because many of the children themselves have been poorly with Covid or self-isolating if family members have been infected, making rehearsals far more challenging with Zoom brought back into play when necessary.
With audiences presently socially distanced at the Hyde Festival Theatre for this production, the young cast didn't get to play to packed houses, but did at last manage to step out on stage - and for some of the children it was their very first time treading the boards.
Their enthusiasm, excitement and enjoyment instantly shone through and was highly infectious as the audience were soon clapping and cheering along.
More than 40 youngsters, aged from seven to 18, graced the stage in total, and within the chorus and dancers are some true talents.
The joy of being back on stage - especially for those in the main roles - lifted this production to a new level.
Katie Wilkins had everyone engrossed in Jack's journey, not least when Jack reaches the top of the beanstalk and her singing is entrancing as she transported everyone to the Giant's lair.
Hollie Appleyard has been taking to the stage with the group for a number of years and is also wonderfully talented and enjoyable to watch and she brought a dimension all of her own to Dame Dotty Dimple.
Abigail Whalley was equally commanding as the evil witch Piccalilli, while Millie May Taylor as her counterpart was a fabulous Fairy Sugardust.
Jack's brother Simple Simon has one of the key roles in engaging with the audience and Robert Doherty kept this going wittily throughout.
Sisters Amelia and Elizabeth Kerr brought great chemistry to their roles as Snatchet and Scarper and were an absolute joy.
Angelina Piccolino sang beautifully as Princess Charlotte, with Jack Bunting and Shannon Brookes humorously filling the roles of her parents King Crumble and Queen Apricot.
Jacob Worthington was suitably evil as Rancid the Ratman, Aiden Grantham was just brilliant as Humphrey, and Seth Neal sang beautifully as the harpist.
The chorus and dancers added to the magical atmosphere and here special mention must go to the young Ned Evans whose incredible enthusiasm and confidence was an absolute joy to behold and recognised and enjoyed not only by an appreciative audience, but all those around him on the stage.
Choosing just one individual to receive the Reporter Award was more difficult than ever, but Katie Wilkins as Jack just edged it, tasked with performing an incredibly challenging song as Jack tops the beanstalk.
But such was the high level of performance and standard of show delivered by all involved that you could be forgiven for thinking you were in the West End rather than Hyde!
Director Rachel Bunting's vision is to enable children and young people to be part of a theatrical production which is of a professional standard and the lighting, stage and sound effects all achieve that with the 'Night Magic' scene as the seeds grow into the beanstalk truly memorable and enchanting.
The group of course is about so much more than staging shows - but primarily about helping all children and young people build confidence, grow in team work and learn new skills - in front of and behind the stage, born more than 30 years ago to provide youngsters with somewhere to go and something to do.
Tameside Youth Drama continues to go from strength to strength and is now taking new members.
The group meets every Wednesday (the first meeting was yesterday) at Rayner Stephens High School, Yew Tree Lane, Dukinfield from 6.30pm to 8.15pm. Sessions cost £6.
For details of how to get involved you can visit the Tameside Youth Drama Facebook page or email tydgest1986@gmail.com
Who knows - you could find yourself stepping out in the group's next production which will be the Addams Family this July.
Read more from the Tameside Reporter
Click here for more of the latest news
Click here to read the latest edition of the paper online
Click here to find out where you can pick up a copy of the paper