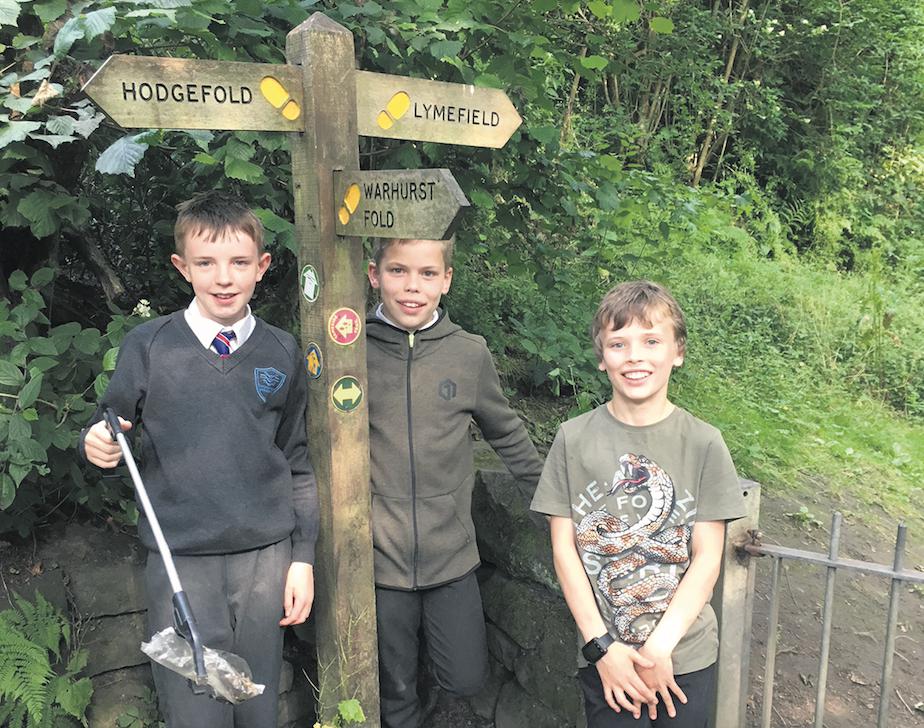 Three young lads from Tameside have completed a gruelling walk around the borough to raise awareness of plastic pollution.
Seb Dixson and brothers Sam and William Moses walked the 34-mile Tameside trail in the baking heat last week, splitting the trip over two days.
Seb, who's just finished his first year at Longdendale High School, has been working with the school to reduce its use of single-use plastics, in particular hats and aprons. He's been fundraising for sustainable replacements, with the school's backing.
"My school uses plastic aprons and hats and we go through hundreds and hundreds of them every half-term," Seb explained. "I've been trying to get them to stop because I thought enough was enough. The financial adviser said that if I could get the money for one half term, they would commit to sustain it."
Longdendale Assistant Headteacher, Miss Gemma Lowe, said: "Seb is a very passionate, determined learner. He has actively campaigned to ensure that one-use plastic is eliminated to support the eco work in school. He has demonstrated such strong endeavour of active citizenship in his pursuit to save the wildlife. We are so proud of the work he has completed this year."
Sam confessed he would rather it was raining than walk in the 28 degree heat like they did, but it was worth it for a cause he and his friends are passionate about.
He added: "I've always detested littering but for the past year and a bit, I've really been thinking that we need to sort this out. It won't sort itself out; it needs people to change something."
The lads' walk around Tameside highlighted the scale of the problem, with Seb, Sam and William collecting five 40-litre bags full of plastic litter, and that barely scratched the surface.
Seb's dad Richard, who supported the boys on their trip, said: "You've got two issues; you've got the big businesses that are basically following market influences and equally, we're all making choices as individuals. The amount of litter along some places on the Tameside Trail is appalling.
"I think it's great that people their age are so committed. It's a voice for people their age but more importantly, it's a message for people my age that actually, we've put them in this position. It's quite nice that the younger generation are trying to give us the message and sort us out. I'm very proud of them."
You can donate to help Seb end plastic waste at Longdendale and beyond by visiting www.justgiving.com/crowdfunding/sebtamesidetour.