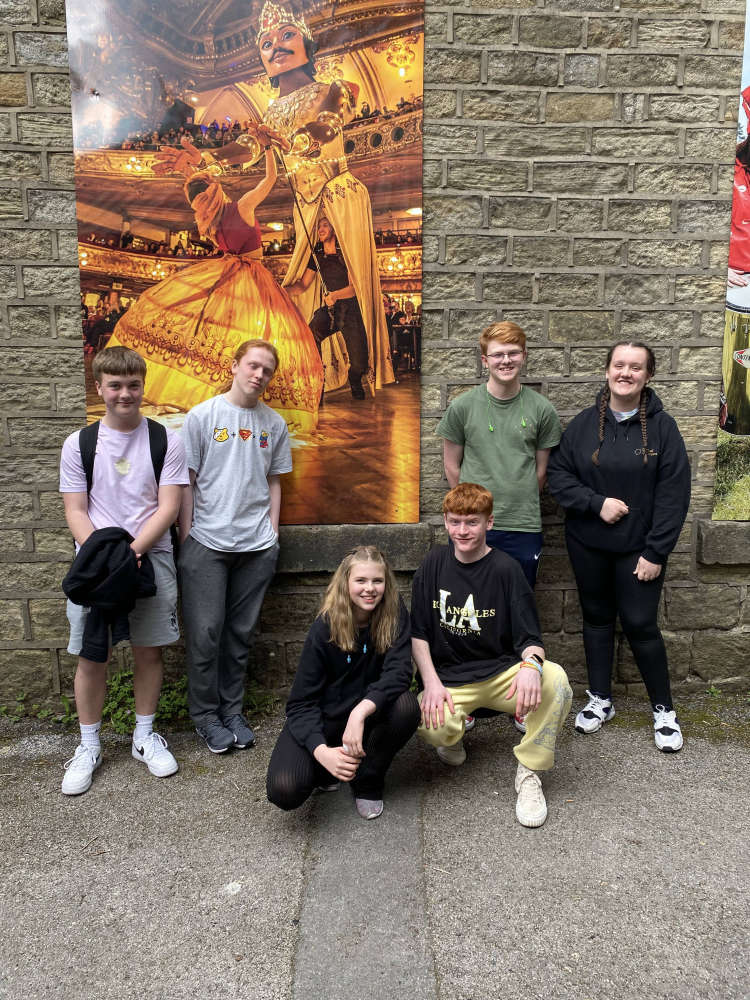 (left to right) Oliver Sowden, Jacob Gower, Madelyn Horrocks, Nicholas Lee, Joseph Horrocks and Alex Stoney-Griffiths.
A group of teenagers from Tameside have been selected to join the biggest street celebration in decades, which also features stars from Ed Sheeran to Sir Cliff Richard and Basil Brush.
Drummers Joseph and Madelyn Horrocks, 14 and 13, Alex Stoney-Griffiths, 18, Joseph Atkinson, Jacob Gower, and Oliver Sowden, and dancer Nicholas Lee, all 16, are amongst 200 people from Greater Manchester who are currently rehearsing for the Queen's Platinum Jubilee Pageant, a spectacular parade which is taking place in London on Sunday 5 June.
The performers were chosen to take part in the parade by Mossley-based carnival arts organisation Global Grooves, the only northern group to produce a section of the Royal celebrations.
After an intensive rehearsal period at the north's carnival arts centre of excellence, The Vale, in Mossley, the teenagers will travel to the capital to represent the borough in front of members of the Royal Family. The day's events will be viewed by a global TV and online audience of hundreds of millions.
Nicholas, from Ashton, is a member of Company Chameleon senior youth dance company and says he lives to dance. Whilst drummer Oliver, from Dobcross, attends Saddleworth School and has been playing percussion 'all of his life'. He says though his dyslexia can make it difficult for him to express himself, drumming helps him to share his thoughts and feelings.
Drummer Alex, 18, from Mossley, attends Clarendon Sixth Form College in Ashton and is a member of Juba de Leao drum and dance collective, whilst fellow Mossley resident Jacob, has been drumming since he was 11 and is also a keen bass guitar player
Percussionists Joseph and Madelyn Horrocks attend All Saints Catholic College in Dukinfield and Joseph Atkinson comes from Uppermill.
Nicholas, who attends Wright Robinson College, and hopes to one day perform at Sadler's Wells dance theatre in London, said: "I knew I had to get involved with the Pageant because I live to dance and one of my biggest dreams has always been to perform in London.
"Simply being in London it's been a massive dream of mine for so long but growing up we could never really afford it and now the Pageant is allowing me to do this but in the most stylish way possible - performing for the world!
"The largest audience I've ever performed in front of is 300 and I've only ever performed on a stage before, not as part of a moving parade.
"So to be able to do this whilst representing Tameside is incredible."
Joseph Horrocks said: "I am really looking forward to playing the music on the day with lots of talented people. It is amazing to know that I will be representing Tameside."
Freya Bennett-Nielsen, producer, Global Grooves, said: "Our carnival parade celebrates Greater Manchester in all of its wonderful diversity and shines a light on the cultural exchanges that take place when people collaborate with others who have vastly different experiences, ideas and ways of living.
"We are proud to be taking some of Tameside's finest young performers down to London and absolutely know they will do us proud in front of the eyes of the world."
Kirsty Connell, network coordinator, Greater Manchester Arts, which is supporting Global Grooves to take the young people to London, said: "The Queen's Platinum Jubilee Pageant offers a fantastic opportunity to showcase some of the talent we have here in Greater Manchester.
"We're really pleased to be able to support Global Grooves in ensuring that all of Greater Manchester is represented."
Global Grooves' colourful carnival influenced spectacle, called A Sharing of Gifts, draws inspiration from across the Commonwealth, including the Caribbean, Africa and the Indian subcontinent. It will also feature readily recognisable music, fashion and dance influences from closer to home.
At the head of the promenading entourage will be a glorious carnival queen in her own chariot, played by drag artist Cheddar Gorgeous. Following behind will be four giant walkabout puppets, a 100-strong young people's carnival music group, 50 lavishly costumed dancers and a sea of giant flag bearers.
The parade will wind its way through the streets of Westminster and along the Mall, past Buckingham Palace, using carnival, dance, music, circus and street theatre to tell the story of HRH's record 70-year-long reign.
The pageant will be one of the final events across a four day bank holiday weekend 2-5 June.
Since 2003, Global Grooves has inspired people all over the globe to take part in carnival-style events, working across Greater Manchester as well as in Gambia, Brazil, New Zealand, Singapore, and Trinidad & Tobago. In 2021, Global Grooves launched the Northern Carnival Centre of Excellence within The Vale arts centre in Mossley.
Read more from the Tameside Reporter
Click here for more of the latest news
Click here to read the latest edition of the paper online
Click here to find out where you can pick up a copy of the paper