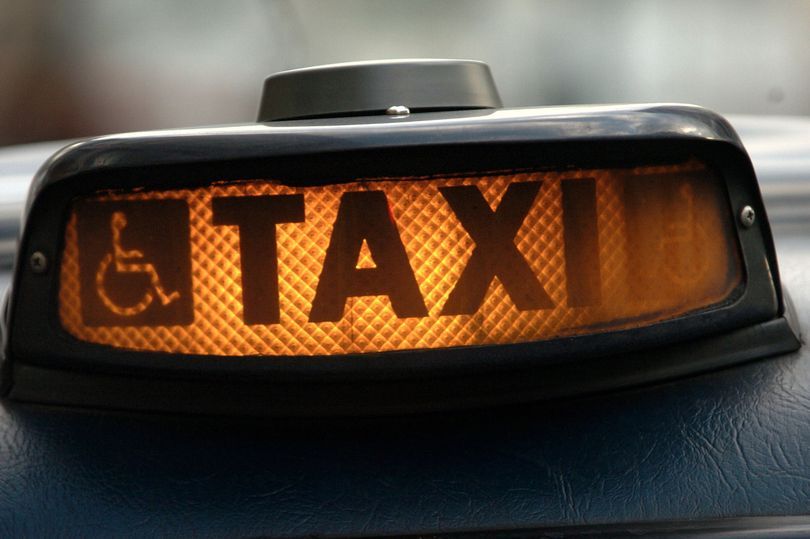 Disgruntled Tameside black cab drivers have claimed that 'out of town' taxis are 'ruining business' for them.
This comes comes after Greater Manchester Mayor Andy Burnham condemned taxi drivers licensed outside of the region amid claims they were registering elsewhere to avoid meeting local standards.
Private hires are different to regular taxis in that they are only available to pre-book via companies like Uber. They cannot be flagged down on the street like black cabs, also known as hackney carriages.
In March it emerged that almost a third of England's private hire taxi drivers are registered in Wolverhampton.
"It's affecting us a lot, it's ruining business for us really," one aggrieved driver told us.
He claimed that Wolverhampton drivers are only required to take one MOT test per year if their vehicle is up to three years old, whereas Tameside drivers must take two regardless of the age of their vehicle.
"It's not nice for us locals when you have so many outsiders taking business - that's not personal to anyone, I'd just prefer to see the economy staying local," he added.
"At the end of the day, it's the councils who aren't benefitting from this too because all of the money made is going straight to Wolverhampton and our council won't get a single penny of that."
He continued: "It's clearly a government loophole that they're taking advantage of somewhere along the line. Wolverhampton is midlands, it's almost 100 miles away so why on earth are they driving here?"
Another local taxi driver said he feels that 'tougher sanctions and tougher rules' are needed in the borough.
He said: "Personally, I think some rules and regulations around Private Hire Vehicle 'cross border' hiring should be implemented.
"London has done it, they've really cracked down on it and we need to do the same. I agree with what Andy Burnham said, but I've met him and the guy is all mouth, no action.
"There's no point saying something and not fulfilling it - there's a big difference in the London mayor and the Manchester mayor.
"I just really hope he goes through with what he's said and takes some drastic action to help all of us locals who are really struggling while they're taking all of our passengers."
Other drivers said that they feel 'frustrated' with the lack of action to support them.
The main difference in standards relates to the age of vehicles allowed, with GM councils requiring newer vehicles to be used on the roads as well as more advanced background checks, according to Mr Burnham.
There is also a concern amongst cabbies that drivers are getting in a taxi without knowing all the rules, prompting questions of safety for passengers.
Current legislation means that private hire drivers can operate anywhere in the UK outside of London, even if they are not licensed in that particular area.
GM sought powers to restrict out of area operation in its Trailblazer negotiations, but did not get agreement from the Government as part of the devolution deal.
Wolverhampton Council have previously denied that it is 'quicker and easier' to get a private hire licence with them, claiming applicants undergo a 'strict and rigorous' process that includes a one day training course, enhanced Disclosure and Barring Service checks, a medical certification and a face to face English assessment. A previous report stated that in 2021 and 2022, 55% of applicants failed the checks, according to the council.
Under Manchester City Council, it costs £255 to register as a new private hire driver plus costs for tests and then between £222 and £342 to register a vehicle (depending on its age).
However, under Wolverhampton Council, the application fee for a new private hire driver is only £49 for a one-year licence or £98 for a three-year licence and £95 to register a vehicle under 10 years old.
A Transport for Greater Manchester spokesperson said: "Taxis and private hire services are a crucial part of our trans- port network, providing approximately 45 million trips a year. The sector provides an important service, particularly for those without access to a car, and people who don't live or work near other parts of the public transport network.
"Current legislation means that outside of London, private hire drivers can operate anywhere in England and Wales, regardless of where they are licensed. The existing system means that local councils can't guarantee a high standard from 'out of area' drivers and their ve- hicles. A change in the law is required to make sure that anyone who drives or operates a taxi or private hire vehicle in Greater Manchester meets high safety standards and is licensed in our area.
"Greater Manchester leaders have sought powers from the government to tackle the challenges posed by 'out of area' operation of private hire services and to date these have not been devolved."