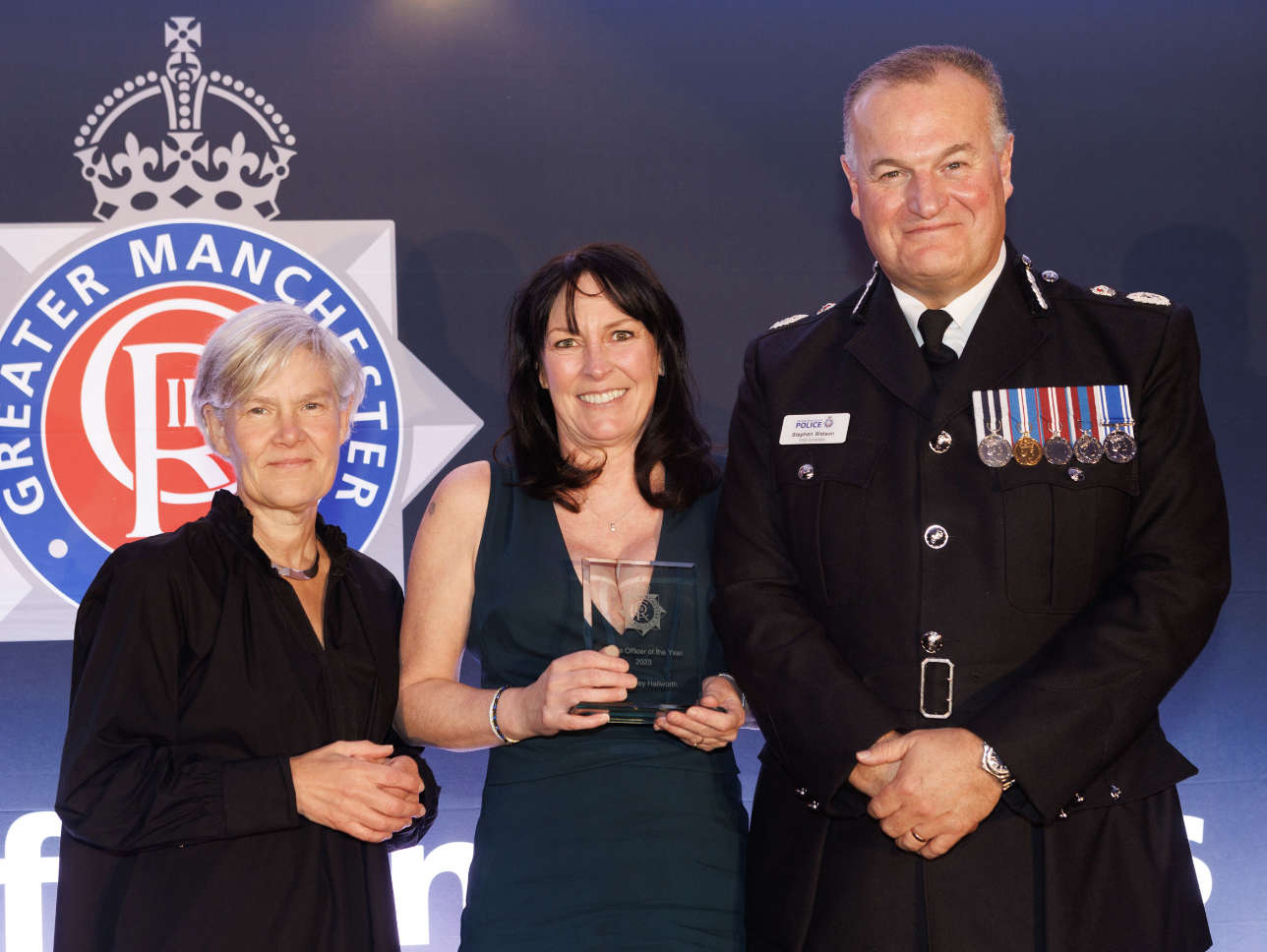 A police officer from Tameside has won Greater Manchester Police's (GMP) top honour.
Tracy Hallworth has been named GMP's Police Officer of the Year.
PC Hallworth, who received her award at the Chief Constable's Annual Awards held at the Etihad, combines her response role with also being a Family Liaison Officer.
Along with her colleagues, PC Hallworth recently arrested four men carrying machetes in Stockport town centre.
On another call-out, a male suspect tried to push her out of a window while being arrested.
PC Hallworth said: "I am absolutely delighted to represent all frontline uniformed police officers as the winner of the award.
"I have been on response for the past 15 years and still have pride and a sense of accomplishment in doing my job.
"I still get emails every year from a teenage girl that I talked down from a bridge.
"I have lost count of the amount of jobs where a calm demeanour makes the difference between significant harm and a place of safety for the individual involved.
"It is not always an easy role and it's certainly not 'just a job'. It's a vocation, and there is no other job like it – I couldn't sit behind a desk all day.
"I cannot express enough that the role of response officer is exhilarating, sometimes heart-breaking but mostly rewarding, and I am lucky to be part of an amazing team with fantastic supervision."
PC Hallworth, who is from Tameside, joined GMP 'late in life' in her mid-30s and is based at Cheadle Heath Police Station.
As a response officer, she can be called to any part of Stockport as well as being on the duty Family Liaison rota.
PC Hallworth has been described as 'consistently exemplary' in her citation by Inspector John Barber, who nominated her for the award.
She said: "I used to manage a supermarket and joined the police force late in life – a decision I have not regretted for a minute.
"I feel that you get as much out of this job as you put in, and I have tried to be the best I can be and to set an example of good policing to officers who are younger in service.
"Being a Family Liaison Officer can be a tough job but it's so rewarding and such an important role."
PC Hallworth was put forward for the Chief Constable's Annual Awards by Chief Superintendent Webster, Stockport's district commander.
He said: "Tracy is a dedicated and experienced officer who does her very best every day to support our community, celebrating over 15 years as a response officer with a work ethic and determination which is second to none.
"We have all witnessed how Tracy serves our community ethically, fairly, with huge resolve and personal resilience.
"She has always gone above and beyond in her role - an example of that is her work as a Family Liaison Officer, dealing with the relatives of individuals who have often died in tragic circumstances.
"Tracy's performance is exceptional; her approach, her nurture and mentoring of junior officers is something to be admired.
"I am exceptionally proud of Tracy, she is a role model for many, and I know that the rest of the Stockport district will be proud too.
"I am sure that Tracy's friends and colleagues will congratulate her when you see her on patrol, in the police station corridors, or any other setting."
The other shortlisted finalists were City of Manchester North Police Constable Matthew Read and Bolton Detective Constable Andrew Jameson.