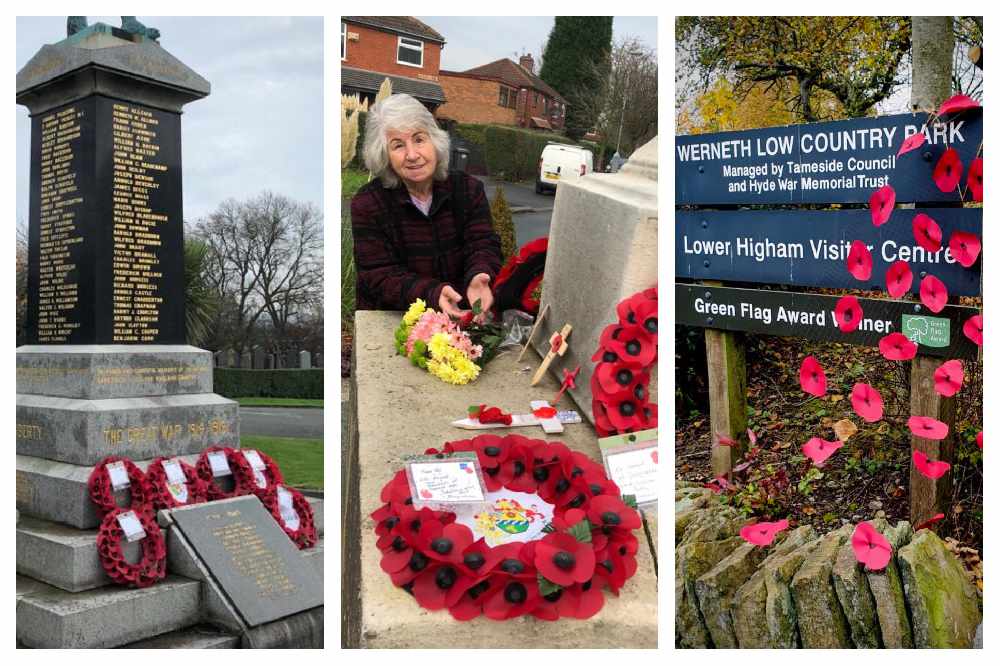 The people of Tameside honoured those who lost their lives in conflicts around the world in a different way on Remembrance Sunday this year.
Normally, residents would gather in their numbers at war memorials, attend church services and take part in community parades in the borough's towns to remember the war dead.
But this year, the coronavirus pandemic - and the current four-week national lockdown - has led to commemorations being scaled back or cancelled altogether.
However, determined to continue the tradition and ensure the victims of conflict are not forgotten, thousands of people across the borough observed the two-minute silence at 11am from their doorsteps - in a similar way to the clap for key workers on Thursday evenings earlier this year.
Across Tameside, a number of short services and wreath laying ceremonies still took place on Sunday morning, but with very limited numbers and strict social distancing - and no parades, bands or processions.
Ashton-under-Lyne
A small service took place in the town's memorial garden - which was attended by Ashton-under-Lyne MP Angela Rayner and Civic Mayor of Tameside Cllr Janet Cooper. You can watch it back via our Facebook video below.
Tameside Council CEO Steven Pleasant, who was also in attendance, told the Tameside Reporter's Lee Wild: "It was very difficult, very different from what we normally do each year in terms of a church service - very different from normal but actually I think we did a good job today.
"It's always a sombre occasion but everyone was socially distanced and it was all very safe. It was a proper mark of respect so that was really good."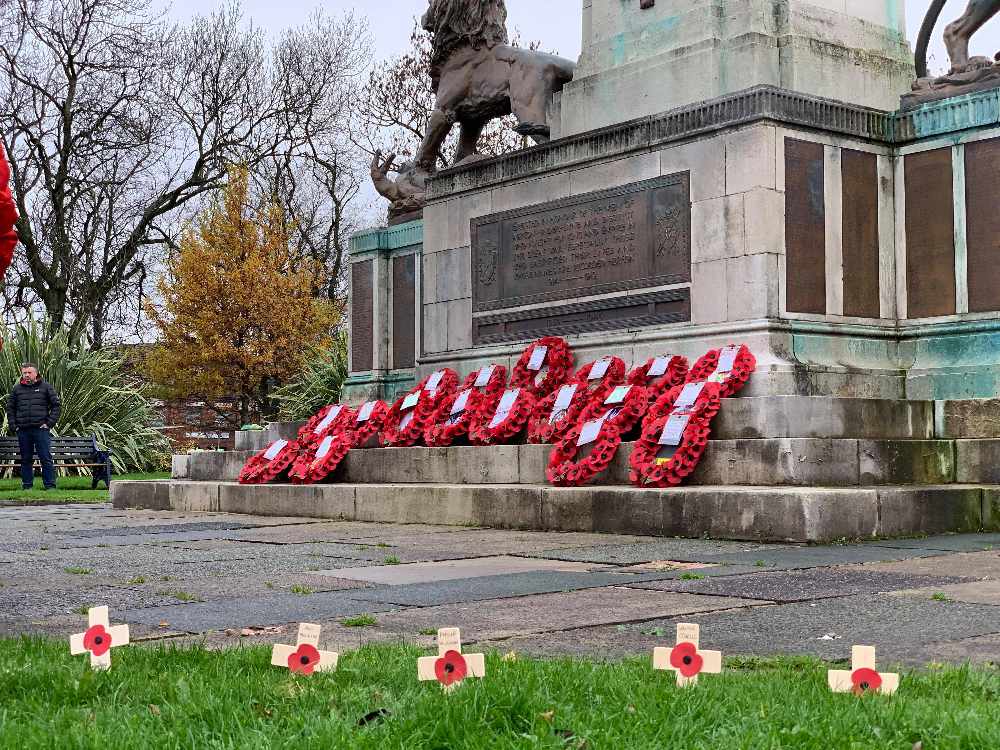 Wreaths and poppy crosses left close to the war memorial in Ashton. Photo: Lee Wild.
Tameside Civic Mayor Cllr Cooper also told us: "We were all here in spirit, even the people who felt they couldn't be because they were isolating or feel they should be isolating. We all feel it and it was lovely to be here and be part of it. However limited it is, it doesn't take away what's behind it.
"It's a credit to everyone who has turned up today because even the ones who have snuck in at the back have still observed social distancing to keep us all safe, and that's what it's all about."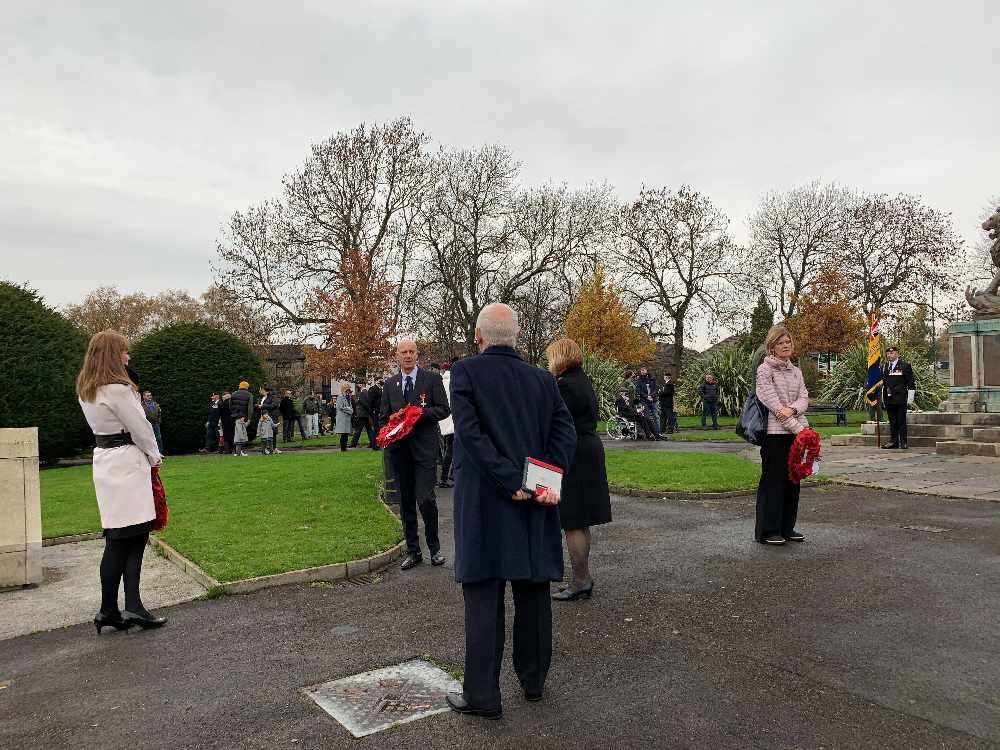 Politicians and dignitaries paying their respects, whilst maintaining social distancing. Photo: Lee Wild.
In a series of tweets, MP Rayner said afterwards: "Today we remember and honour those who sacrificed so much for us all. We owe an enormous debt of gratitude to those who fought for our freedom. I am proud to pay tribute to all those who served our country and the servicemen and women who continue to do so.
"This Remembrance Sunday is very different and we cannot come together at commemoration services. This weekend I have laid wreaths at memorials in my constituency, joining people up and down the country who are privately paying their respects.
"2020 has been a year of struggle and sacrifice for so many. In these difficult times we can all draw strength and inspiration from the wartime generation, all those who sacrificed so much for us and those who are serving our country both at home and abroad.
"This Remembrance Sunday, as we mark 80 years since the Battle of Britain and 75 years since the end of WWII, we must renew our commitment to ensuring that all of our veterans get the support that they need and deserve. We all owe them so much."
They shall grow not old, as we that are left grow old;
Age shall not weary them, nor the years condemn.
At the going down of the sun and in the morning
We will remember them. #LestWeForget #RemembranceSunday pic.twitter.com/PoA0b3uQtH

— 🌈 Angela Rayner 🌈 (@AngelaRayner) November 8, 2020
Meanwhile, Tameside Rotary Club members attended Ashton Cenotaph, avoiding the busy time of the 11am silence and adhering to social distancing to pay their own respects. President Maria Bailey laid a wreath on behalf of all Tameside Rotary members.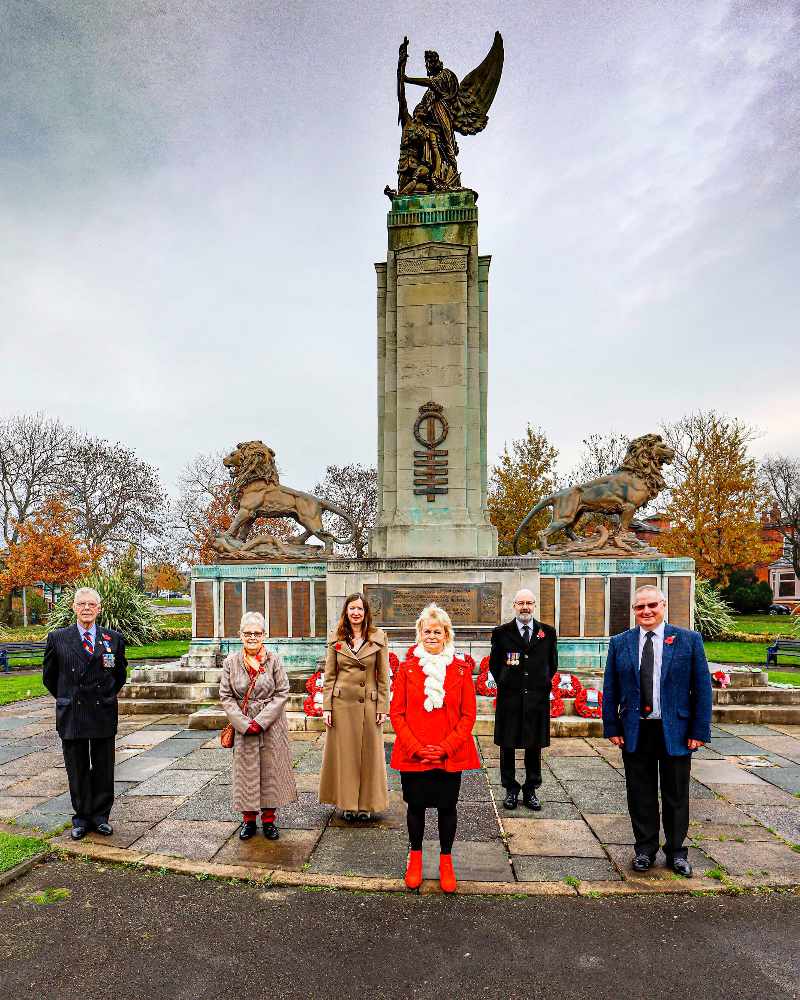 Photographed above from left to right is Tameside Rotarian Jeff Mellor (who served during WW11 in the RAF), Tameside Rotarian friend Valerie Eccleston, Tameside Rotary Vice President Angela Robbins, Tameside Rotary President Maria Bailey, Tameside Rotary Secretary Peter Holden (proudly wearing Edward Holden's medals, his Grandfather, who was in the Cheshire Regiment) and Tameside Rotary new member Steve Knowles (On the committee of the Old Comrades Association based at the Armoury. It is also the Ashton under Lyne branch of the Duke of Lancaster's Regimental Association).
Denton
Tameside Council leader Cllr Brenda Warrington and Denton MP Andrew Gwynne were among those in attendance at a service at the Victoria Park war memorial.
Tameside remembers. Denton War Memorial in Victoria Park. #LestWeForget pic.twitter.com/VLLV0Js7Dq

— Tameside Council (@TamesideCouncil) November 8, 2020
MP Gwynne said: "A different kind of Remembrance Sunday this year. Thanks to Tameside Council for arranging a small official wreath laying ceremony and two minutes' silence at the Denton Cenotaph where I laid my Parliamentary wreath.
"Afterwards I joined the Denton West Councillors to pay respects informally at the Thornley Park memorial.
"As in previous years, I proudly wore the Great War miniatures my Great Grandad, Benjamin Ridgway, was entitled to wear. He died in northern France in 1916. His body was never found."
Earlier in the week, a wreath was laid on behalf of Denton Ward councillors Denise Ward, Vincent Ricci and Allison Gwynne.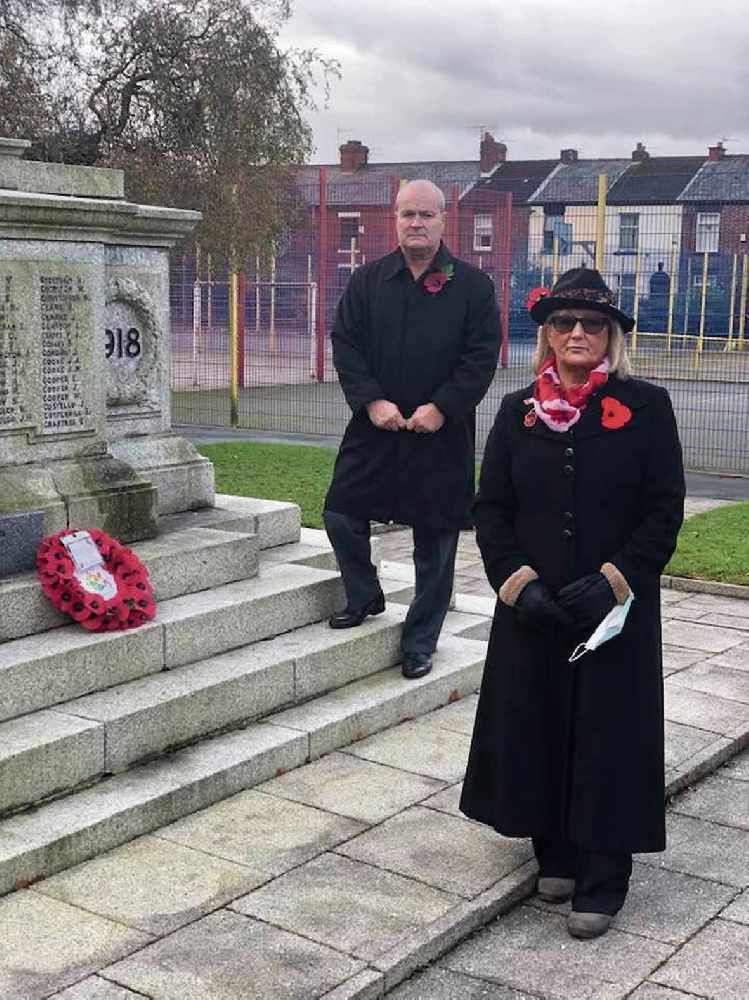 Other wreaths have also been laid at the memorial by local residents and groups.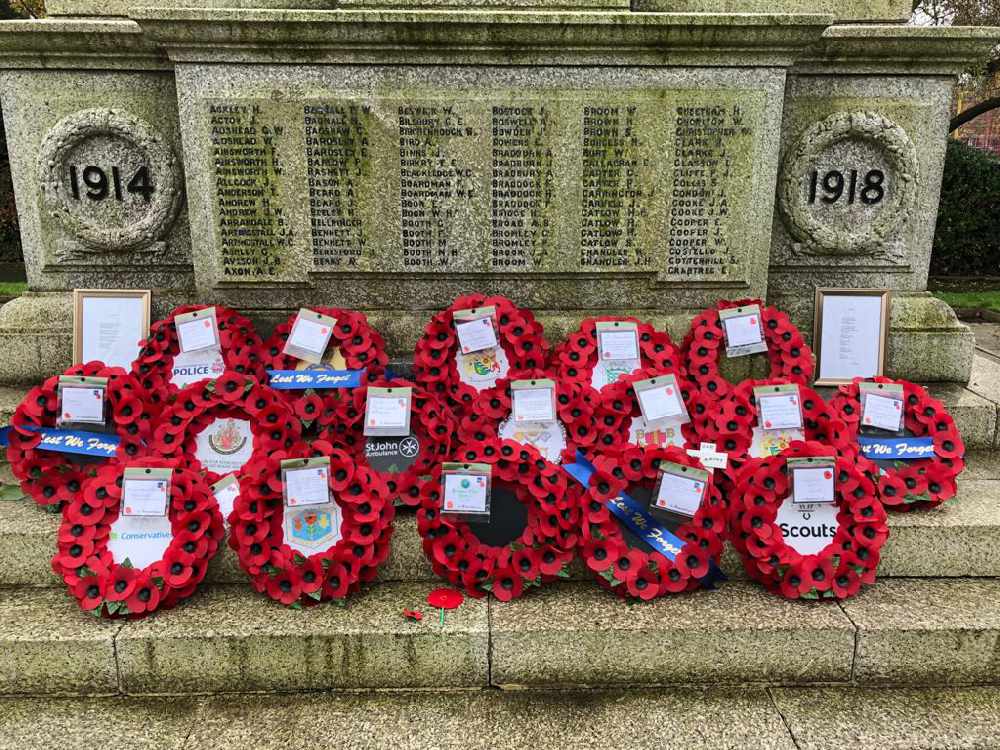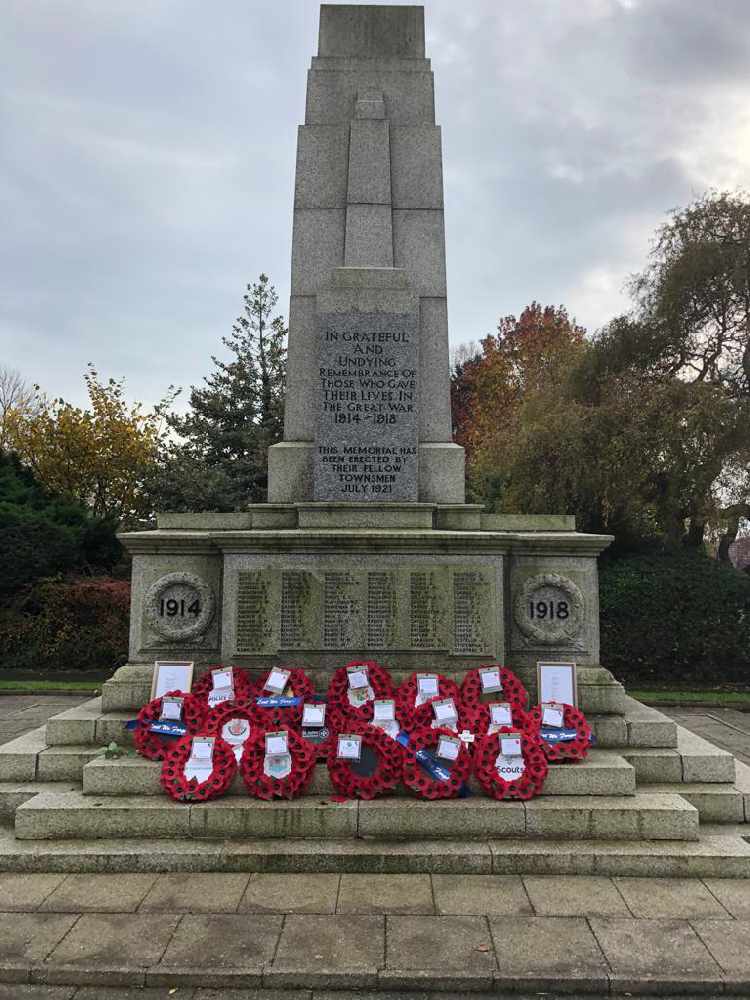 Meanwhile, Denton South councillors said they were honoured to lay wreaths of remembrance at St Mary's Church in Haughton Green.
People can watch the Act of Remembrance back by clicking here.
Stalybridge
As ever, a service took place at the war memorial on Trinity Street but, understandably, it was a more low-key occasion this year with residents instead encouraging to remember from home.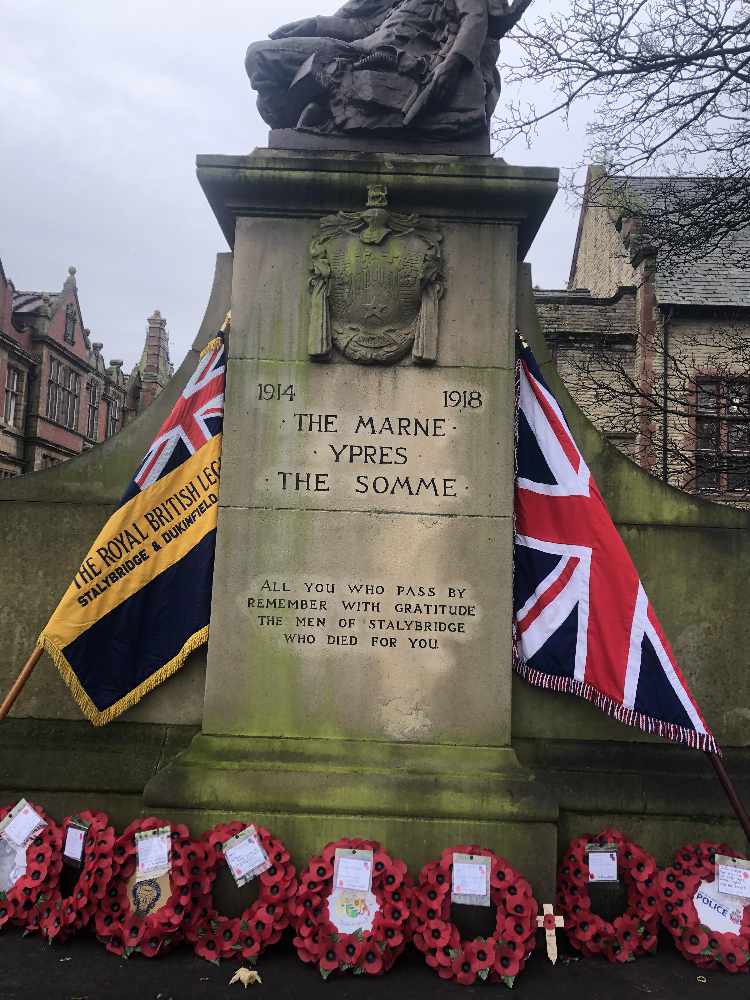 Speaking to the Tameside Reporter's Katie Catherall, local MP Jonathan Reynolds acknowledged that it wasn't an easy day but thanked those who attended for following the Covid-19 guidelines to keep everyone safe.
He said: "Remembrance Day is a really big day across Tameside, as people know. In Stalybridge, there's a particularly large parade that we do - we parade around the town with the band.
"Usually there's several hundred people at the war memorial but we obviously can't do that this year. It's been difficult, we've asked people to stay away if they could. A few people have come but I think it's gone really well."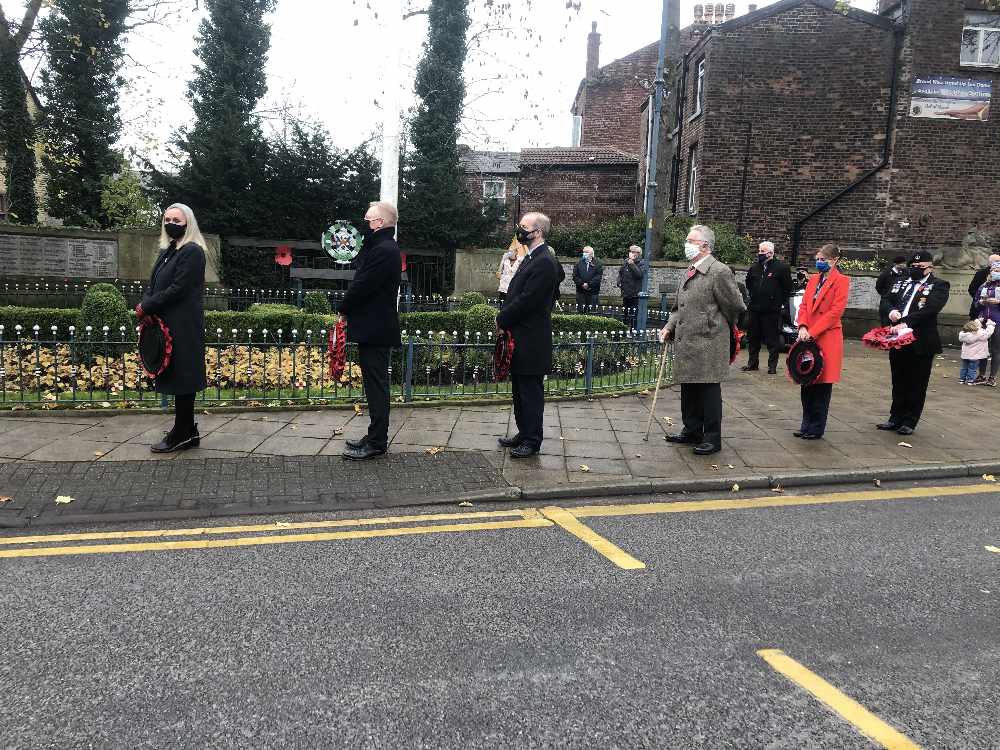 The MP continued: "People have had a chance to come out if they really felt that they needed to be here, but they've been responsible - people wearing masks and socially distancing. It's been much smaller than usual but we've still been able to lay wreaths and have the veterans here. I think that's really important.
"It's not an easy day and I know people ideally would want to have been here in the numbers they usually are - even the rain doesn't keep people away most times. But I think from what we've been able to do, and what The Royal British Legion have been able to organise, we're really happy with how it's gone."
Mr Reynolds also laid a wreath on behalf of all his constituents.
For obvious reasons we couldn't have our usual #RemembranceSunday parade in Stalybridge today, with the bands and the big crowds, but I have laid a wreath on behalf of all constituents and will do so again in Hyde this afternoon pic.twitter.com/gMwUZbPQTV

— Jonathan Reynolds (@jreynoldsMP) November 8, 2020
An Act of Remembrance at St George's Church in the town, filmed prior to the lockdown, was also streamed on the church's Facebook page shortly before 11am.
Dukinfield
A small gathering took place at the town's war memorial as people came to pay their respects.
Scroll through a selection of images from the proceedings - taken by Nigel Skinner - in our album here:
Dukinfield Town Hall will also be floodlit in red to honour our fallen heroes.
Droylsden
A number of wreaths and tributes have been left at the town's war memorial and Littlemoss War Memorial Garden as, despite the coronavirus pandemic, the town's people and politicians paid their respects to the service men and women who have lost their lives for our liberty.
MP Angela Rayner and Droylsden East councillor David Mills once again attended the Littlemoss memorial garden to lay wreaths.
MP Rayner said: "As in previous years, it was a great honour to lay my wreath at the memorial garden in Littlemoss in my constituency. This has been a challenging year for everybody however, it is important we still remember our fallen service personnel."
Councillor Mills commented: "I was honoured this year to once again lay the wreath on behalf of our Civic Mayor of Tameside, Councillor Janet Cooper. It is always important to remember of service men and women. The memorial garden in Littlemoss is a stark reminder of the sacrifice those who gave to this country especially in our ward."
Among those paying tribute at the war memorial were 77-year-old Dorothy Armstrong (pictured below), who remembered her grandfather who was gassed in the First World War and her father-in-law who died in World War Two after he was taken prisoner by the Japanese.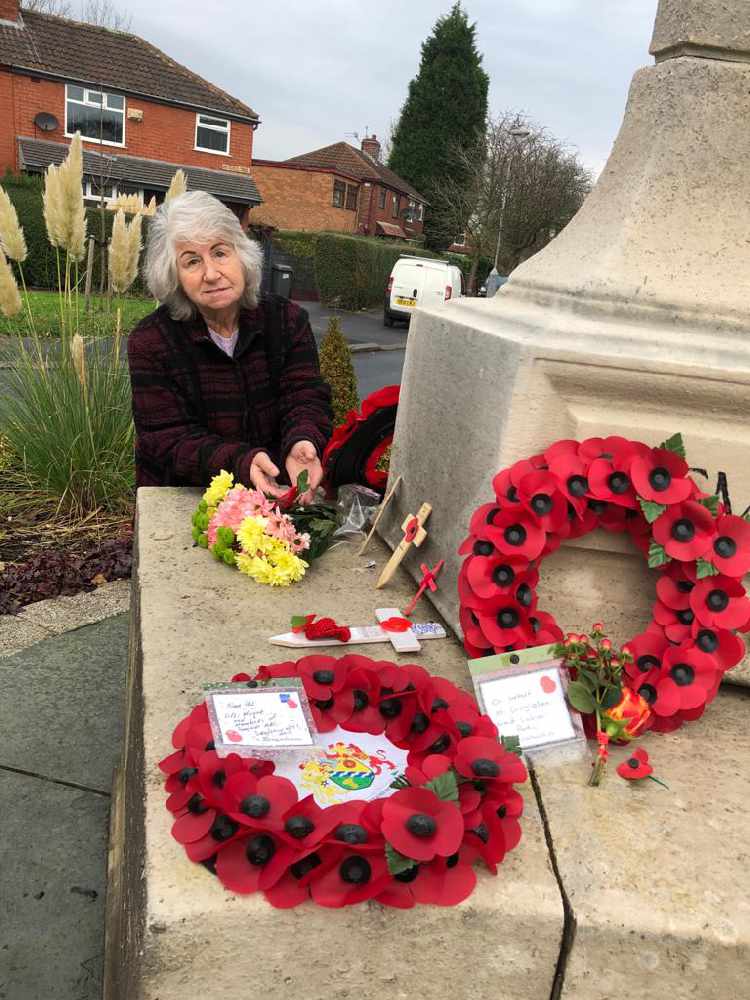 See more of the town's tributes in our photo album below:
Hyde
Wreaths and other tributes were laid in Hyde at the Cenotaph on Werneth Low and outside the town hall.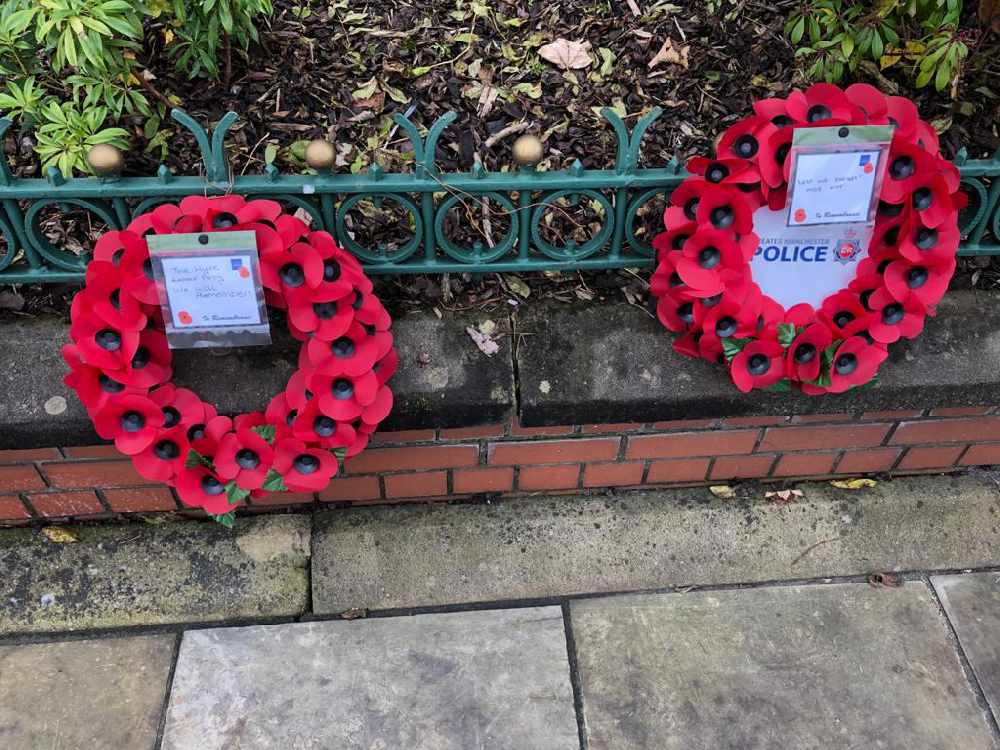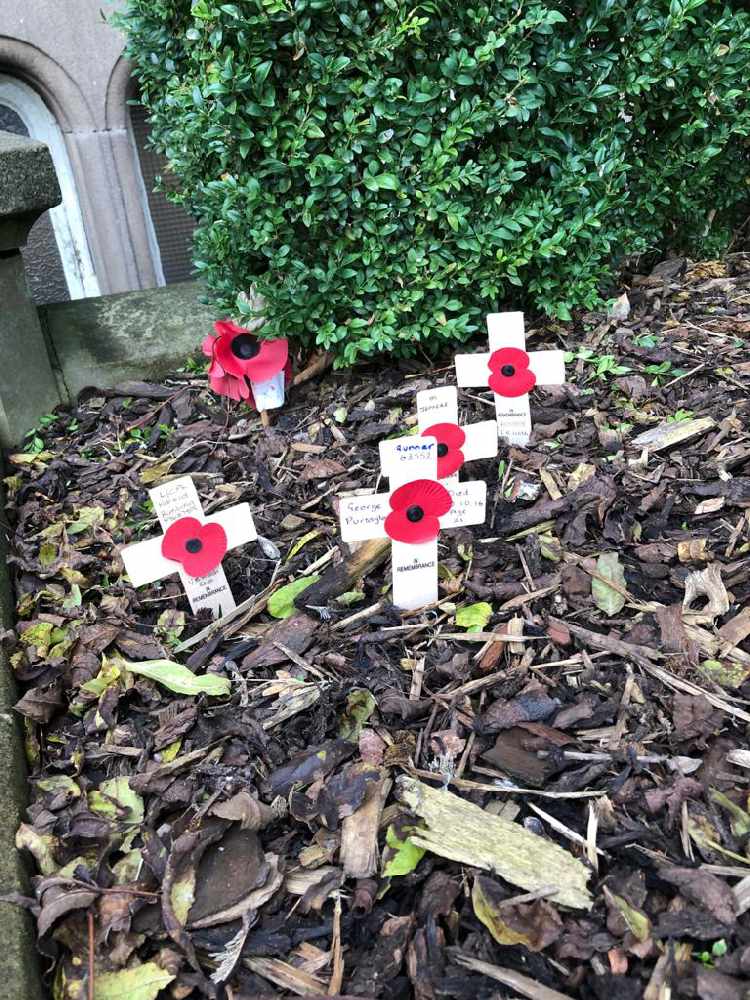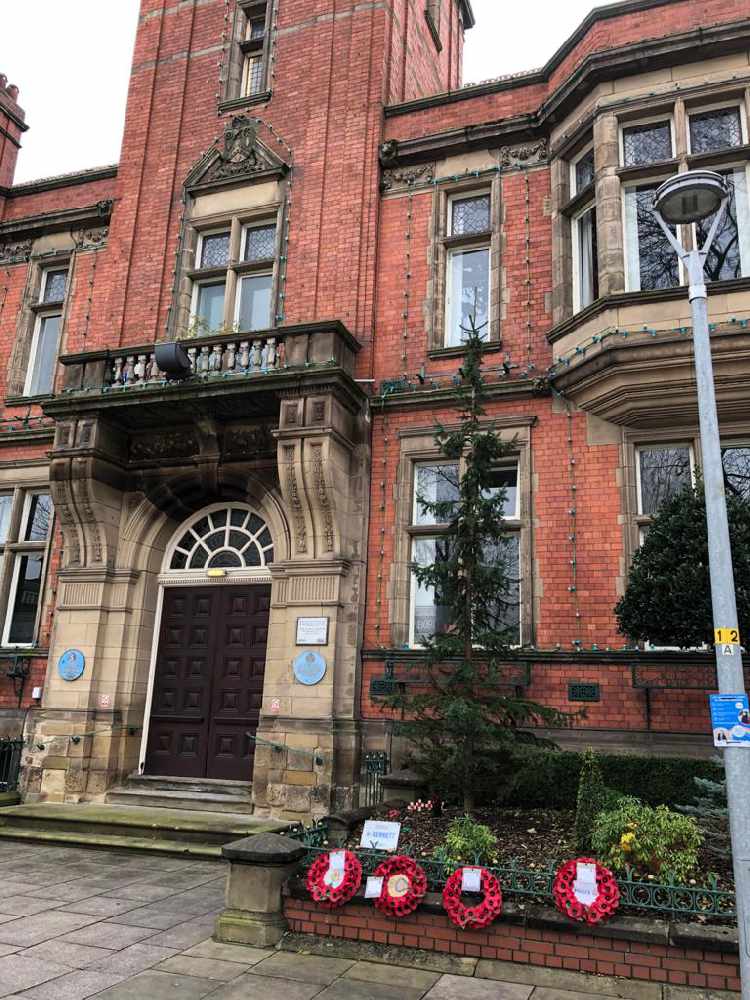 Hyde Werneth councillors Ruth Welsh and Phil Chadwick said: "Today was not the usual day of Remembrance at the Cenotaph on Werneth Low, but nonetheless earlier this morning we walked up to pay our respects and reflect on all those that gave their lives for what we have today. Lest We Forget."
MP Jonathan Reynolds also laid a wreath in the afternoon on behalf of all constituents.
There were also some beautiful poppy decorations at the entrance to Werneth Low Country Park.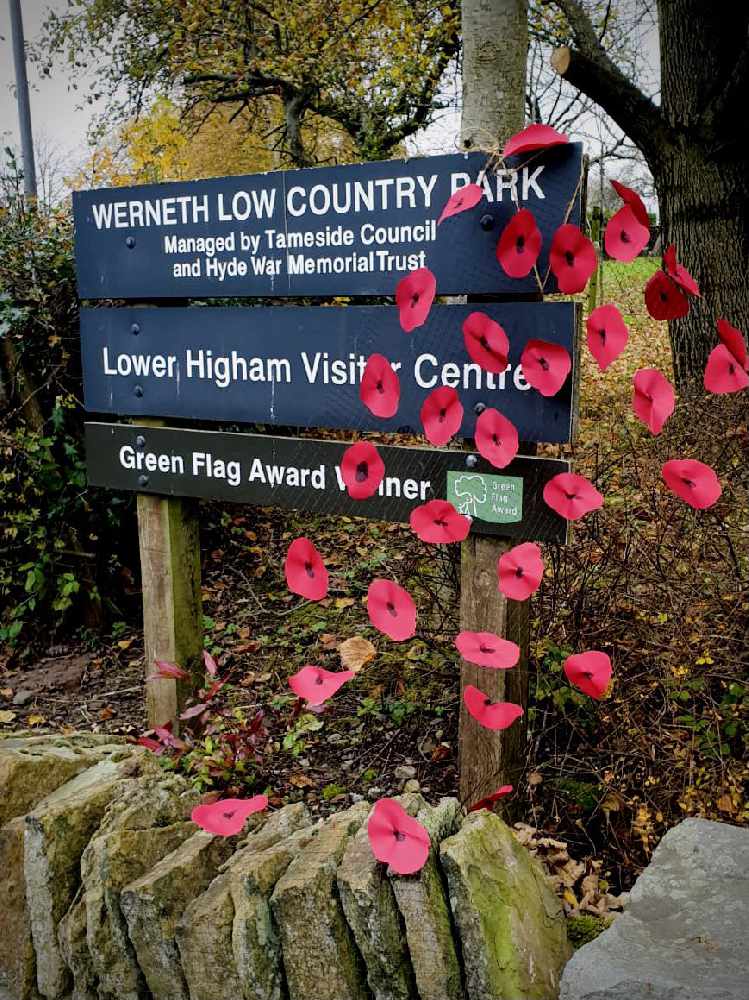 Councillor Chadwick also shared these nice poppies on the railings outside Dowson Primary School.
Lovely to see the poppies on the railings at @DowsonPrimary for #RemembranceDay #LestWeForget pic.twitter.com/kSLT5fII0r

— Phil Chadwick (@PhilChadwick81) November 9, 2020
Audenshaw
Similar tributes have also been paid at Audenshaw's memorial, with wreaths laid by representatives of local organisations.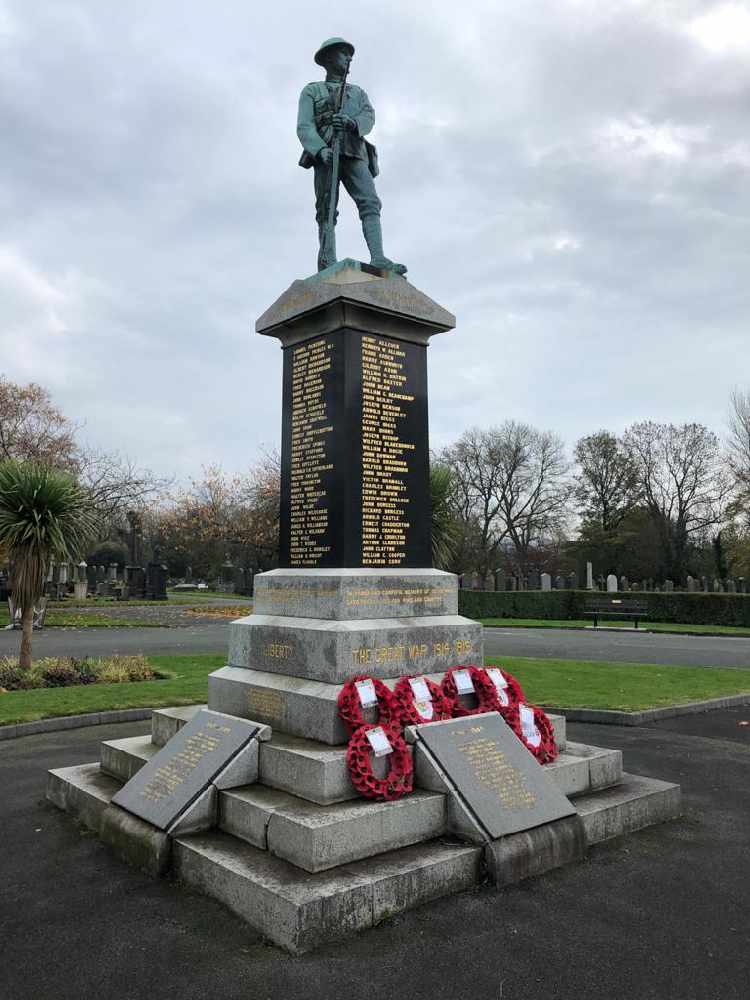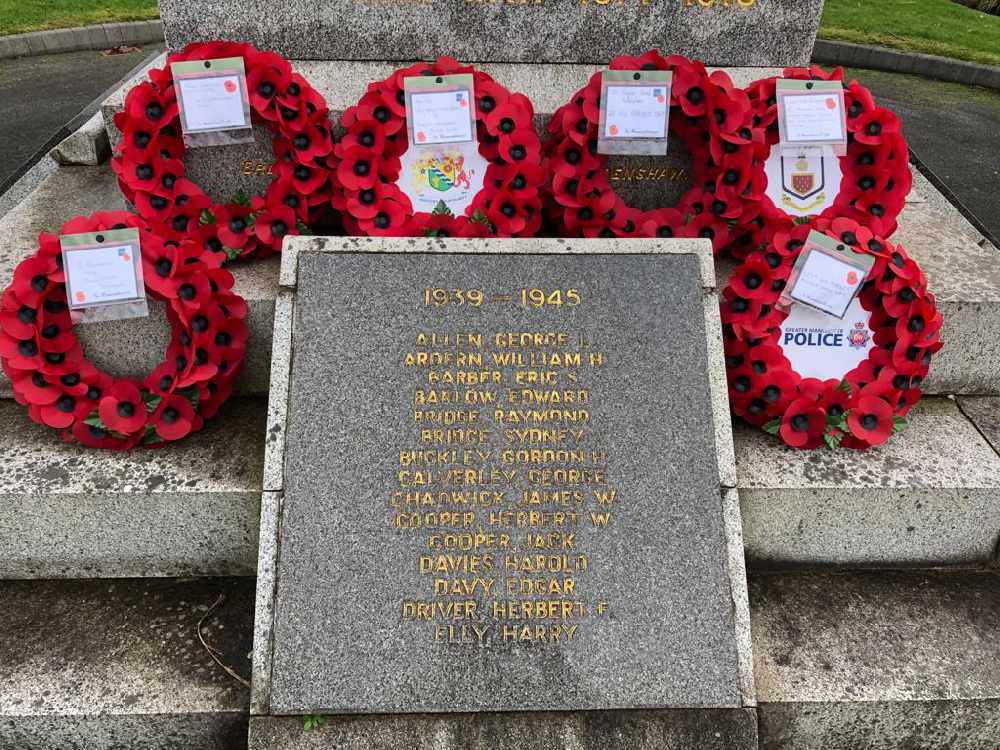 Mossley
Wreaths and tributes have been laid at the town's war memorial, where a small number of people gathered for the two-minute silence - which began with the sounding of the maroon at 11am.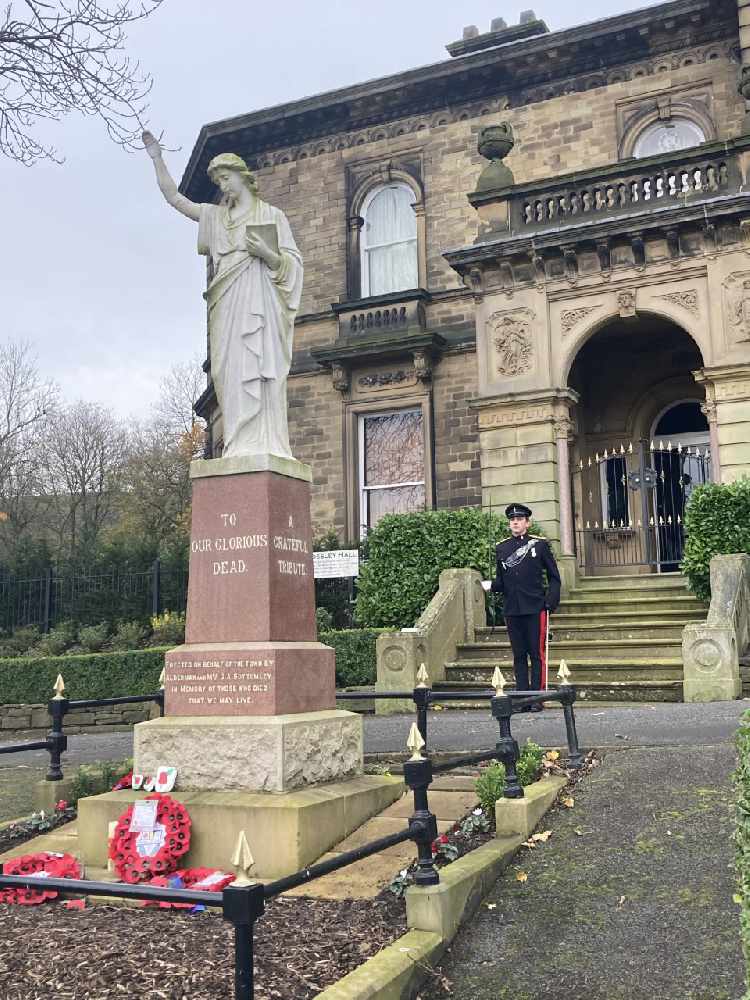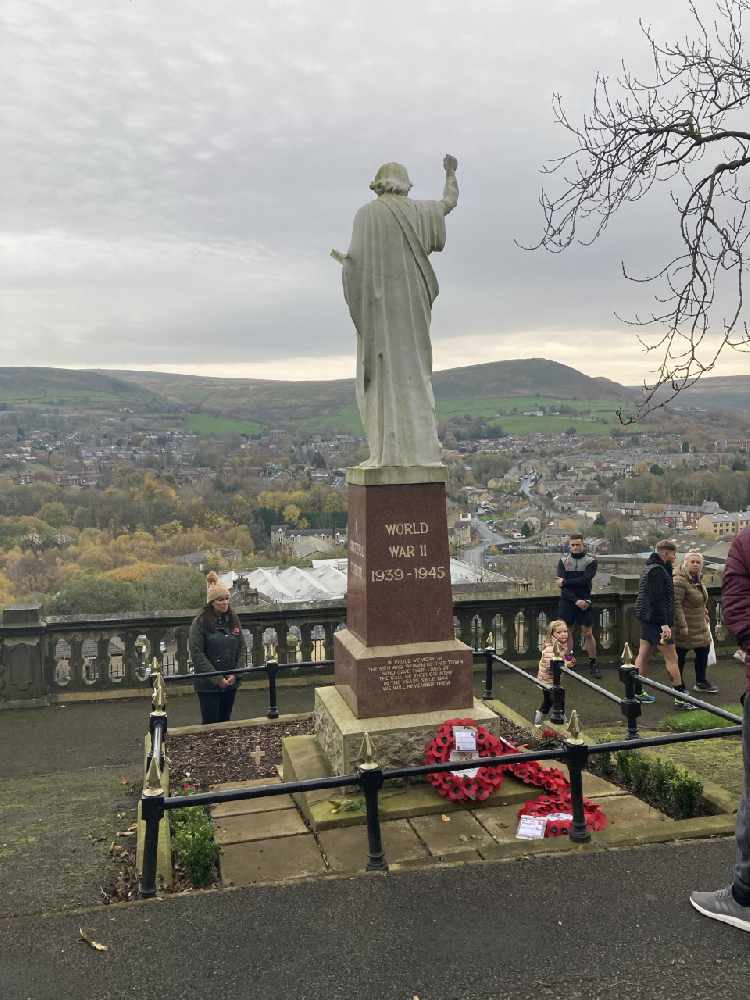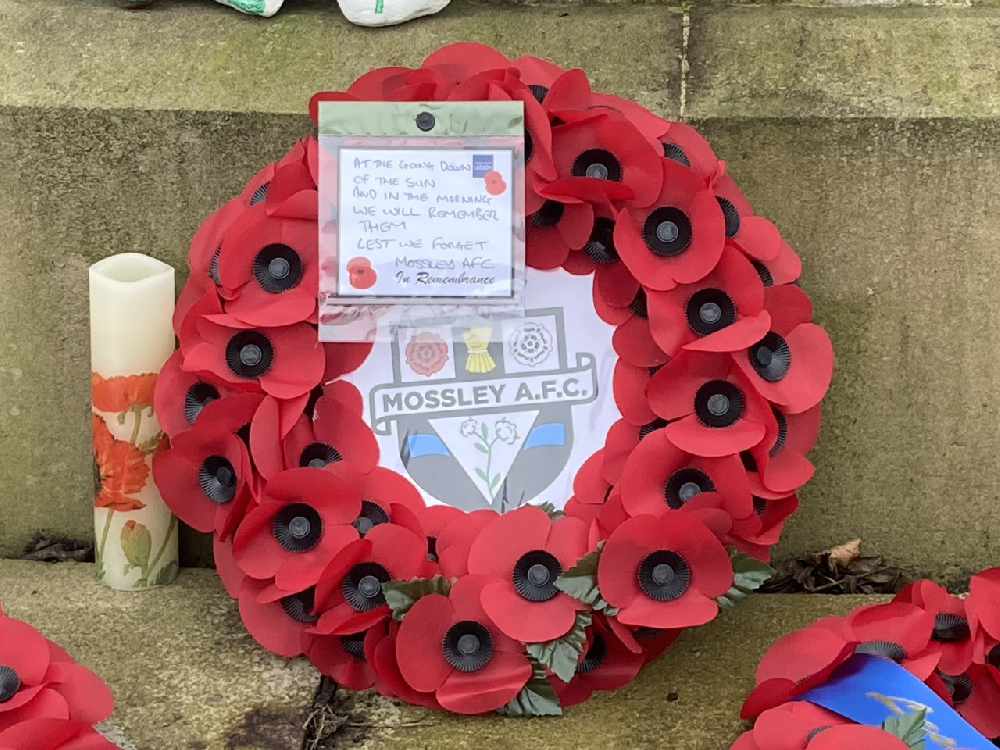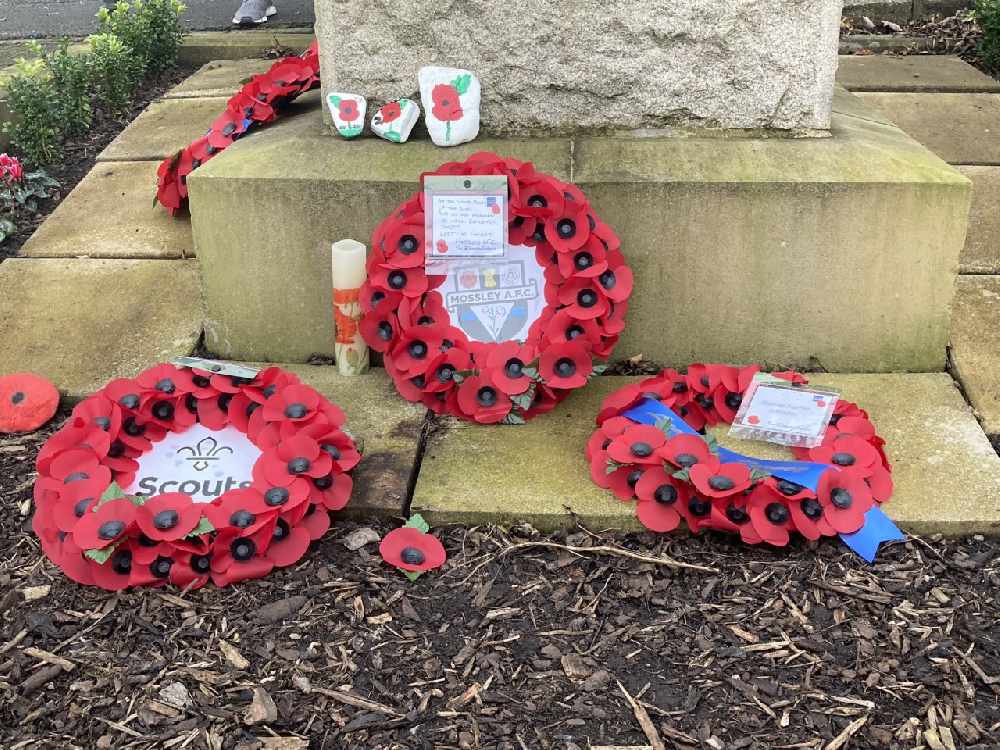 An Act of Remembrance was also streamed live on the Parish of Mossley's Facebook page from 10.50am.
The Reverend David Warner, from St George's Church in Mossley, has shared memories of his great, great uncle who lost his life in World War One and the incredible emotion of visiting the Thiepval Memorial. Read more here.
He also writes more about the importance of the season of Remembrance in his latest column for us, which you can read here.
Meanwhile, Kathryn Young has fought for four years to have the final resting place of Sgt Ralph Buckley, in Mossley Cemetery, recognised by the Commonwealth War Graves Commission. Now, thanks to her efforts, Sgt Buckley's grave has been deemed as a Commonwealth War Grave. Read the full story here.
Other tributes
A number of wreath-laying events by individuals or small groups of representatives had already been held leading up to Remembrance Sunday.
Poppies have been painted on roads in each of the borough's nine towns by Tameside Council. Read more about that here.
People who would like to place a wreath at a cenotaph or memorial in Tameside are asked to do so at different times to stagger attendances.
You can also still donate to this year's Royal British Legion Poppy Appeal online at https://www.britishlegion.org.uk/
There will be another two-minute silence on Wednesday (11 November) on Armistice Day - which marks the day that World War One ended, at 11am on the 11th day of the 11th month, in 1918.
Five days after the signing of the Armistice on Monday, November 11, news of the peace was filling the pages of the then Ashton-under-Lyne Reporter. Read more here.