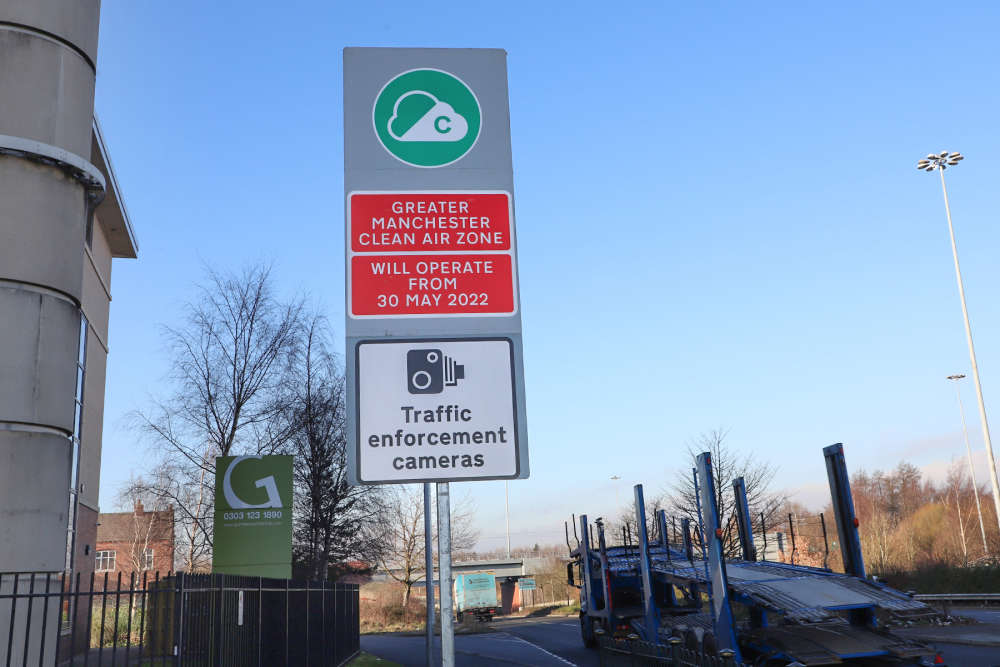 A sign for the Clean Air Zone in Tameside. Image: Nigel Wood.
Tameside has united with other Greater Manchester councils in calling for the government to review the impact of vehicle supply chain issues on the GM Clean Air Plan.
Signs and cameras are being installed in Tameside to prepare for the launch of the Greater Manchester-wide Clean Air Zone (CAZ) on 30 May.
It will initially affect non-compliant buses, coaches, HGVs and taxi and private hire vehicles which are not licensed in Greater Manchester. Funding is available to help upgrade eligible buses and HGVs.
Applications for funding support for eligible van, LGV, coach, minibus, and GM-licensed taxi and private hire vehicle owners were due to open at the end of January. These vehicles will not be affected by the CAZ until June 2023.
Authorities say private cars, mopeds and motorbikes have never been part of the GM CAZ and will never be included.
The Greater Manchester Air Quality Administration Committee – made up of representatives of all 10 councils – has written to George Eustice MP, Secretary of State for Environment, Food and Rural Affairs, requesting that he pauses the second phase of Clean Air Funds.
It is also asking for an 'urgent and fundamental review' to be undertaken that will identify how a revised policy can be agreed to manage global and national supply chain issues and support local businesses' ability to comply with the government-ordered GM Clean Air Plan.
The government is also being asked to investigate if the current plan could create significant financial hardship for commercial vehicle users – already facing fuel and cost of living increases on top of the impact of the coronavirus pandemic.
Greater Manchester councils say they want the government to understand the issues that their legislation is causing local businesses and to fully fund the solutions.
Meanwhile, Mayor of Greater Manchester Andy Burnham had a "constructive meeting" with Environment Secretary George Eustice on Wednesday (26 January).
A spokesperson for the Mayor added: "The Mayor relayed his view, and that of the ten council leaders, that major changes are needed to the scheme to protect businesses and jobs in light of the new emerging evidence about problems in the vehicle market.
"The Secretary of State agreed to meet again with the Mayor in the next 7-10 days to agree a way forward."
"But we're concerned that the shortage and rising price of compliant vehicles available for sale, and a lack of funding, could affect people's ability to upgrade. The point of the Clean Air Zone is not to charge people for driving polluting vehicles, but to encourage them to upgrade to cleaner ones. However, we can't change or suspend the implementation of the Government ordered GM Clean Air Plan without permission from the Secretary of State.
"It's not right that poor air quality – mostly brought about by polluting vehicles – contributes to 1,200 deaths every year in Greater Manchester and we remain resolutely committed to tackling this without losing a job, a business or putting anyone into hardship.
"Our residents will have seen signs and cameras being installed in Tameside as we prepare for the Zone's launch in May, but this will initially affect non-compliant buses, coaches, HGVs and taxi and private hire vehicles from outside Greater Manchester and will never affect private cars or motorbikes."
In March 2020, the government issued a legal direction requiring the 10 Greater Manchester councils - including Tameside - to address the clean air issue by introducing a Category C charging Clean Air Zone.
Greater Manchester secured £120 million in government funding towards upgrading non-compliant commercial vehicles, but the government turned down a request for a £10 million hardship fund which councils say would have helped those who need support most.
The review will also consider whether some vehicles – such as motorhomes and horseboxes – that are not used for commercial reasons could be exempted from a CAZ. And it will consider amending the current vehicle ownership requirements for GM Licensed Hackney and Private Hire owners when a vehicle has been upgraded due to licensing requirements, to ensure they are not detrimentally impacted by the decision to pause the opening of the funds.
People can visit www.cleanairgm.com for more information and use the online checker tool to find out if their vehicle is in scope for daily charges and whether they might be eligible for an exemption, discount or funding support.
Read more from the Tameside Reporter
Click here for more of the latest news
Click here to read the latest edition of the paper online
Click here to find out where you can pick up a copy of the paper