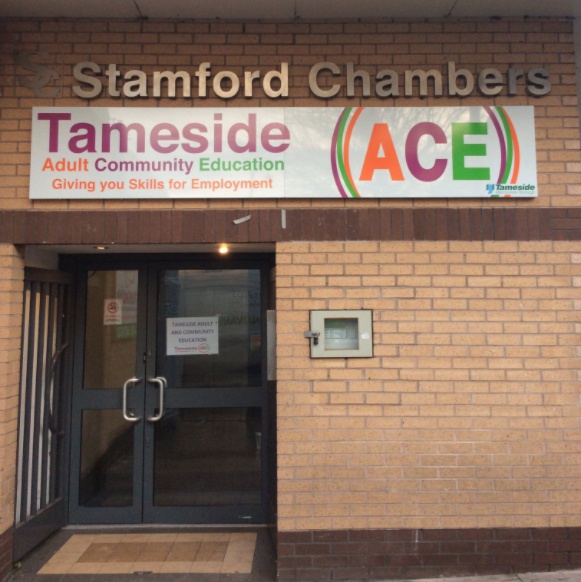 Tameside Adult Community Education (ACE) is set to reopen its doors to learners on 14 September.
Based in Stamford Chambers in the centre of Ashton, ACE has been closed since the Covid-19 lockdown was imposed in March.
ACE say its staff are eager to welcome learners once again and have been working hard to support residents while they remained at home.
During lockdown, they made regular welfare calls to vulnerable learners to check on their wellbeing and have kept learners engaged with their courses during this period. Those learners without access to IT were assisted using phone calls and regular posting of workbooks.
To support the safe reopening, ACE will be using additional technology to support learning and reduce the need for physical resources in the classroom.
The centre will look a little different on its return as a range of safety measures have been put in place.
Classrooms have been set out in accordance with guidance on social distancing and group sizes have been reduced.
Safety signage and markers have been added to corridors and shared spaces to assist learners moving around the building.
Visitors are asked to not enter the building if they have Covid-19 symptoms or have been in contact with anyone with symptoms in the last 14 days.
Cllr Leanne Feeley, Tameside Council's executive member for lifelong learning, said: "The ACE Centre has been delivering training opportunities for over 30 years and we are thrilled to be able to reopen following this challenging period. We're looking forward to seeing our learners old and new once again.
"We want to reassure everyone about the extensive safety measures we've put in place to ensure the health and safety of staff and visitors while continuing to provide friendly and welcoming facilities.
"Joining Adult Learning is a great way to learn and develop whilst combatting social isolation and making new friends, so I would encourage anyone looking to learn new skills or to try something new to get in touch. It will be brilliant to welcome learners back to ACE to enrich their lives and support them to feel the excitement of learning something new."
For more information about ACE, email infoACE@tameside.gov.uk.