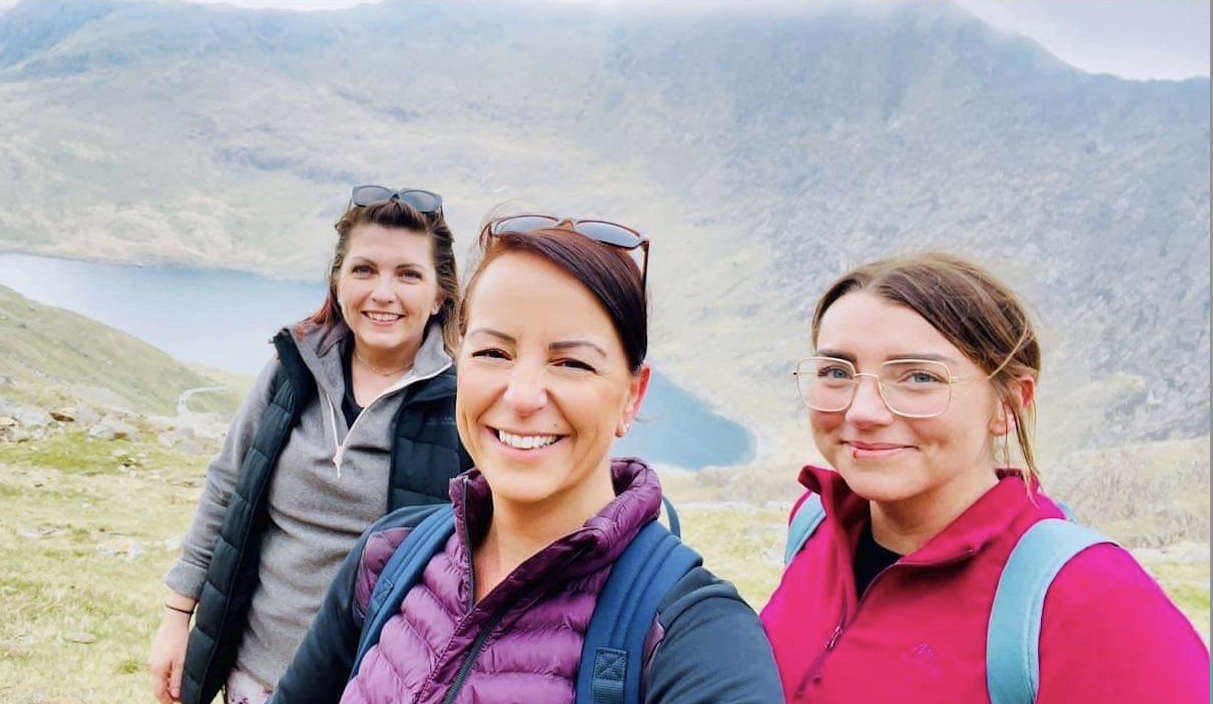 Jenny, Nat and Jade smiling on their way up Mount Snowdon.
Putting themselves through the ultimate test, one group of women have climbed Mount Snowdon in support of their friend.
When Michael Barlow was diagnosed with oral cancer aged 27, his friends and colleagues admired his determination despite undergoing surgeries and treatment.
Jenny Blane Waddington was in awe of his courage and along with friends, Nat and Jade, decided to take on a momentous mountain challenge to raise as much money as possible for Michael.
The trio decided to tackle Mount Snowdon – Wales' highest mountain with magnificent peaks rising high above the deep valleys.

"The day was beautiful. There were blue skies, it wasn't too hot, and we had perfect walking conditions. However, we couldn't see the top of Snowdon due to the mist, meaning we had no idea how high it was until we got there!
"The visibility was so poor, and we couldn't see the amazing views that many often do, but we wanted a dry day for the climb and that's all we prayed for. The reason behind it wasn't for the views, it was all for Michael," Jenny said.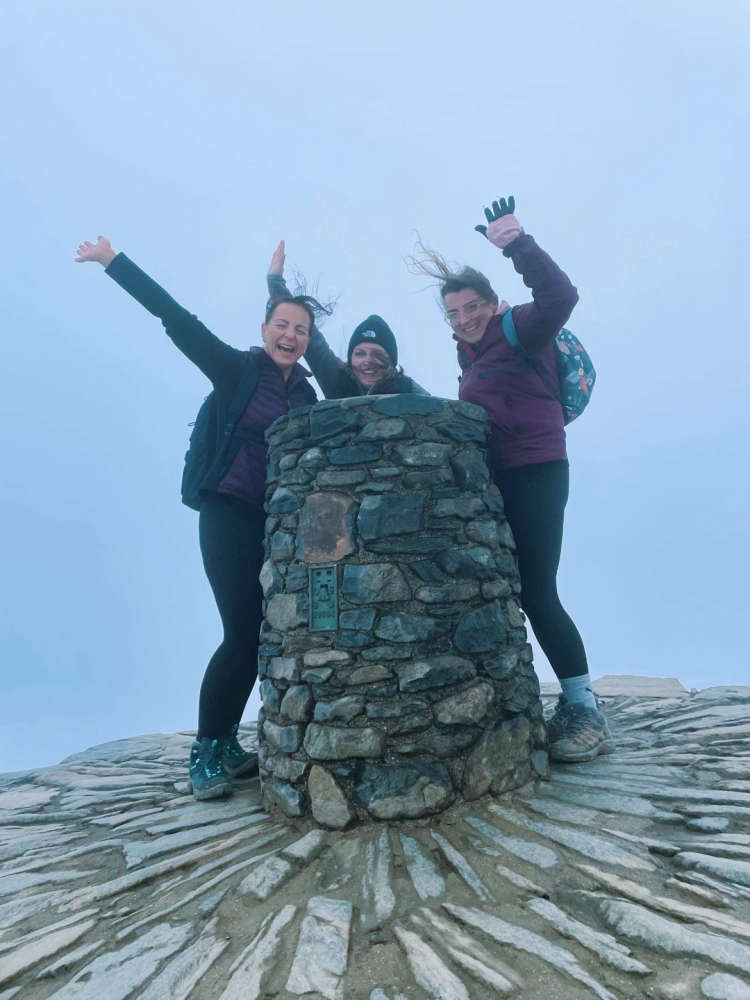 The women arrived at Pen y Pass at 8am and began their trek up Snowdon via Pyg Track – a rugged and difficult route to the summit.
They found themselves scrambling up the climb, passing people on their way down who were filling them with words of encouragement. The higher they climbed, the tougher it got, with the air turning cold and the rocks becoming steeper.
"We had to climb up the steps to the summit on all fours due to the wind, this was a little bit terrifying, but we were determined to get a picture at the top.
"We felt quite emotional as we came down off the summit, we shared a hug and congratulated each other. I personally got quite emotional thinking about Michael and how we had completed this for him," Jenny said.
Reaching flat ground, the ladies decided to pop open a bottle of Prosecco and toast to themselves and Michael.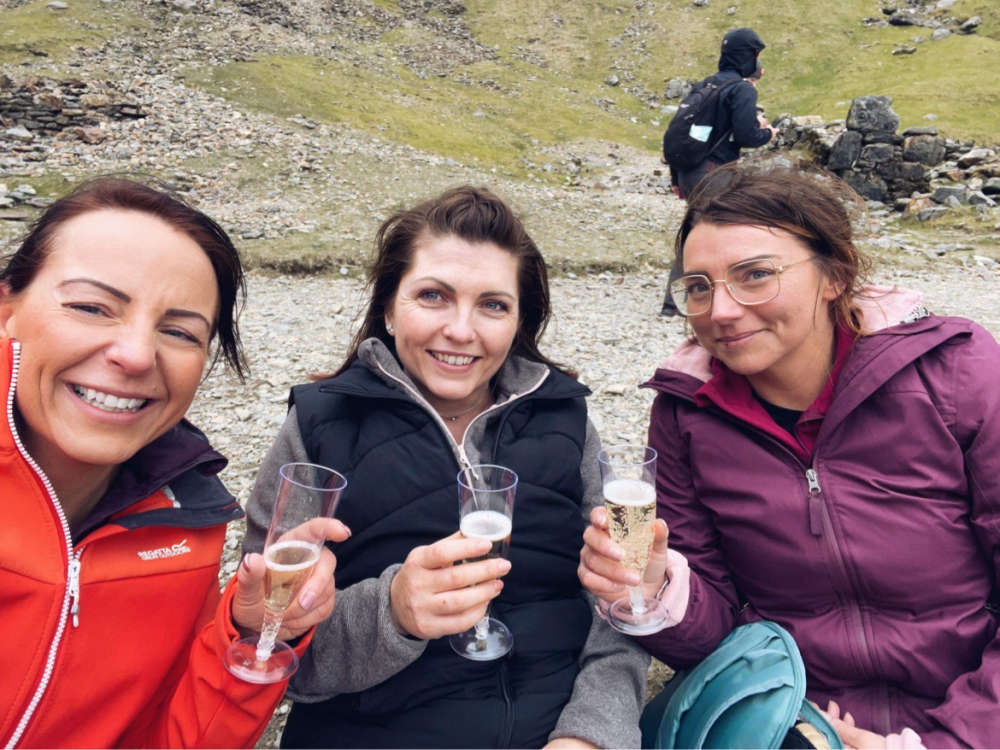 They have so far raised an incredible £1,260, an admirable amount of money that shows how amazing their fundraising efforts have been.
Jenny says that they have all found a real passion for walking and hiking through training and completing the climb. They have already set their sights on looking to complete Scafell Pike and Ben Nevis in the near future, however Jenny says they will hold off on doing Everest for now!
"We have adored hiking and seeing the beautiful scenes on offer, pictures never do the amazing scenery justice, and it makes me feel so lucky that we have such unbelievable scenery on our doorstep.
"I wouldn't have wanted to complete this challenge with anyone else other than these two girls. We laughed so much and supported each other when it was needed, we had the time of our lives.
"We are so pleased that we got to do this for such an amazing young man," says Jenny.
Showing his gratitude, Michael took to his Facebook to post a thank you to Jenny, Nat and Jade. However, they didn't feel like that was needed seeing as 'given what he has gone through, and his journey ahead makes Snowdon look like a walk in the park'.
Dedicating everything to Michael, these fabulous Tameside women have carried out an incredible selfless act.
You can donate to their cause here.
Read more from the Tameside Reporter
Click here for more of the latest news
Click here to read the latest edition of the paper online
Click here to find out where you can pick up a copy of the paper