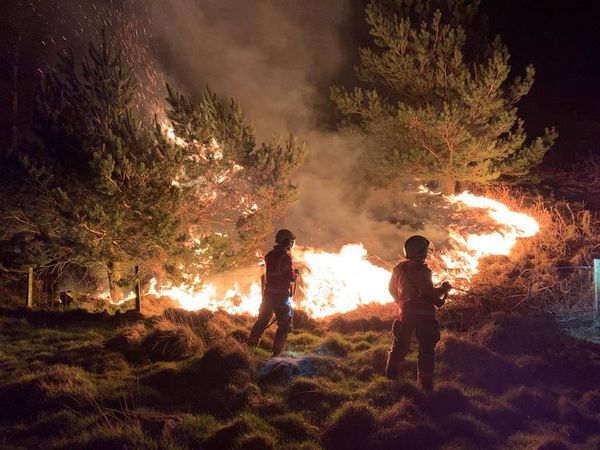 Fire crews tackling last week's fire near Dove Stone Reservoir. Image credit: Greater Manchester Fire and Rescue Service.
Greater Manchester Fire and Rescue Service has launched a survey to get local people's opinions on wildfires and how they can be tackled. 
Wildfire is an uncontrollable fire in a forest, grassland, moorland, brushland or land sown to crops.
The survey comes after a number of wildfires have broken out locally and the authority wants the public to spare 10 minutes to share their concerns.
On Thursday 22 April, just before 10pm, there was a fire close to Dove Stone Reservoir. The fire covered around 20,000 square meters of land and two fire engines, two wildfire units and two wildfire support units were called out to help extinguish it.
Then just three days later (Sunday 25 April), a blaze broke out on Marsden Moor. Firefighters spent around 40 hours at the scene and an extra 20 firefighters were sent in overnight, as a major incident was declared.
The blaze spread across two square miles and the cause is still unknown.
Greater Manchester Fire and Rescue Service also want to know what the public think should be done about wildfires to prevent them and what should be the consequence of negative actions around wildfires.
To find the survey, which closes on 31 August 2021, go to gmconsult.org.