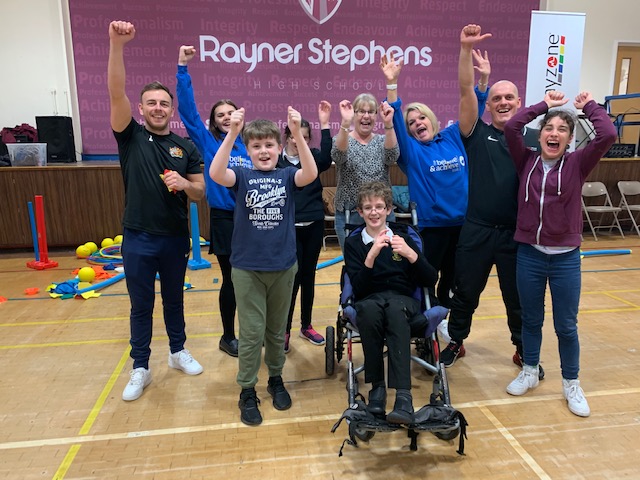 Sporting charity Believe and Achieve is celebrating success with their Monday night 'GM Satellite Club'.
The club aims to help children with additional needs get involved with activities that they might otherwise miss out on.
The club meets every Monday night from 5pm until 6pm at Astley Sports Village in Dukinfield and continues the work of Alex Williams, who sadly passed away in 2012 from the after-effects of meningitis.
He was a passionate sports ambassador raising awareness of the condition, frequently volunteering for disabled dance groups and even carried the Olympic torch.
Civic Mayor of Tameside, Leigh Drennan, was incredibly impressed when he attended one of the group's sessions recently, playing a number of games with young attendees and even running a victory lap or two.
He also spoke to parents who attend with their children each week, and spoke highly of the work the Trust is doing for the local community.
Alison Williams, the charity's CEO and Alex's Mum, says groups like this are vital for those who desperately want to play sport - but do not have the facilities to do so.
"There is a real sense of lack of provision for disability sport and physical activity in the local area for young people," she said.
"By setting up this program through GreaterSport GMSatellite Club Funding and the partnership work we have with Astley Sports Village and Tameside School Sport Partnership, we are already looking at ways to further enhance and create new opportunities for young people to access Sport in Tameside.
"In September last year, we were successful in applying for a GMSatellite Club Funding grant through GreaterSport to set up a brand new Disability Multi Sports Session here in Tameside.
"We are always asked where is there safe, fun and inclusive activities that young people can access who have additional needs, such as dodgeball, cricket, rounders, dance and more."
For more information, visit http://believeandachieve.org.uk.