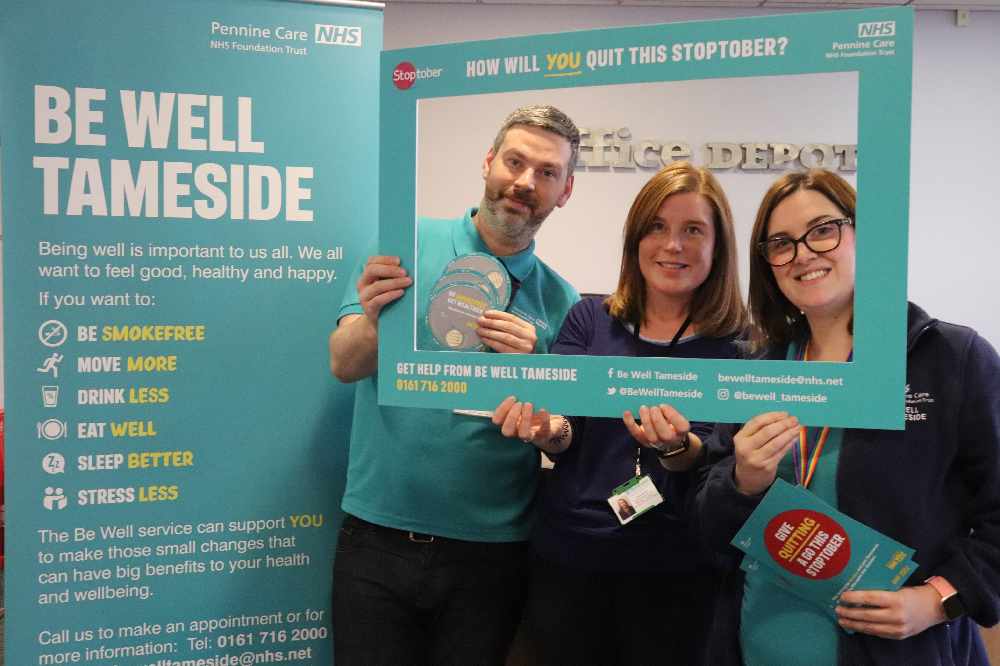 In-work health advice was available to employees in an Ashton distribution centre when NHS health and wellbeing advisers held a pop-up event in the building.
Staff at Office Depot at Ashton Moss had the opportunity to speak with Be Well Tameside's stop-smoking advisors on a drop-in stall in the building on Thursday.
The local service was attending to support the Stoptober and Greater Manchester Make Smoking History campaigns, with advice offered on the benefits of quitting, helping people take up the support available for them to quit.
The event was organised as part of the council's Tameside Healthier Workplaces scheme, which connects businesses with local organisations. The council say it looks to provide fully-funded mental wellbeing taster sessions, health checks and screenings to organisations across the borough.
There is also a considerable amount of information through the initiative available online which can be shared with interested businesses looking to boost workplace wellbeing.
Tameside Healthier Workplaces has a variety of fully-funded programmes and schemes available, which can be held at the location of the business. To provide these programmes, the council say they are working with local service providers including Be Well Tameside, Minds Matter, Tameside, Glossop and Oldham Mind, The Growth Hub and Maximus.
The scheme encourages Tameside employers of all sizes to offer the best possible workplace health for their staff.
Cllr Eleanor Wills, Tameside Council executive member for Adult Social Care and Population Health, said: "The Tameside Healthier Workplaces project gives employers the chance to share vital health messages with staff from their premises. I encourage interested local businesses to get in touch to find out what sessions are available for your workplace, as good health and wellbeing is important to both employers and staff."
To find out more about the scheme and how Tameside Healthier Workplaces can support local organisations, visit www.tameside.gov.uk/thw or email charlotte.allen@tameside.gov.uk.