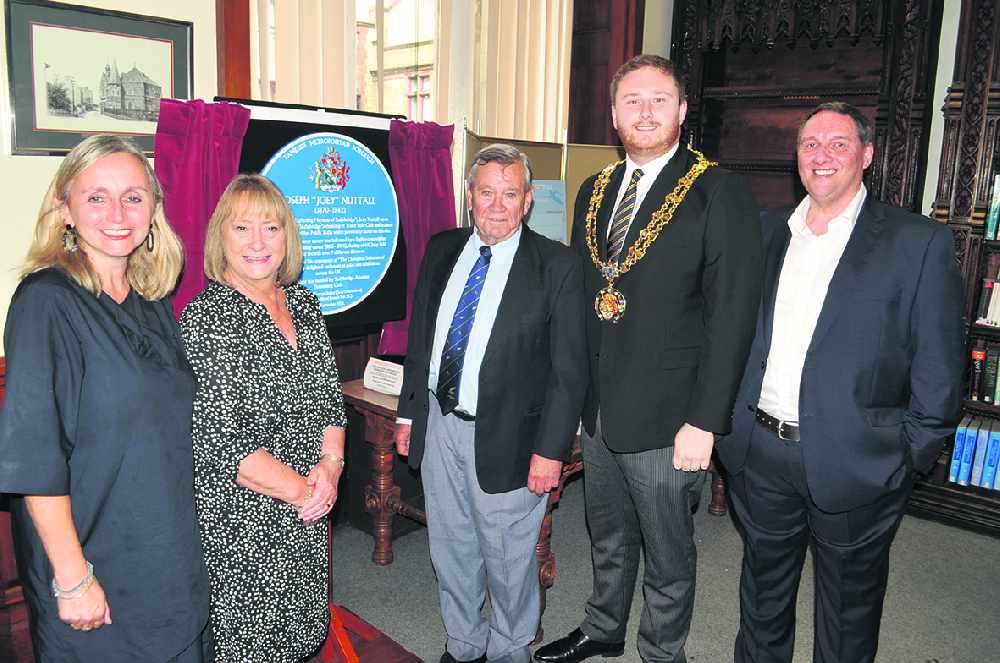 The grandson of a Stalybridge sporting legend travelled over 5000 miles to unveil a blue plaque in his honour this week.
Joey Nuttall, known as the 'Lightning Merman', dominated swimming in the late Victorian era and was generally accepted as the fastest swimmer on Earth.
Having honed his skills at Stalybridge Baths, Joey won a string of world titles at both amateur and professional level.
On Tuesday, a blue plaque in his honour was unveiled at Stalybridge Library. Joey's grandson, George Bailey, flew all the way from Zimbabwe to reveal the plaque alongside Brian Ward, a coach at Stalybridge Amateur Swimming Club.
"It was very emotional," George said. "It's something I never expected and it's a pleasure to be here and see it.
"As a kid, grandfather took me out for walks every day. Unfortunately, I'm not a very good swimmer! The only swimming I did was a cubs and scouts gala in Blackpool and I won a diving trophy. But my brother Geoff was a good swimmer and water polo player, and so is my grandson."
Joey Nuttall blue plaque

A blue plaque to the 'Lightning Merman', Joey Nuttall, was unveiled at Stalybridge Library this morning. Joey honed his skills at Stalybridge Baths before dominating swimming in the late Victoria era. The plauque was unveiled by Joey's grandson, George Bailey, who flew from Zimbabwe for the event, alongside Brian Ward, a coach at Stalybridge Swimming Club.

Posted by Tameside Reporter on Tuesday, September 10, 2019
Several other members of Joey's family were in attendance, with the relatives meeting for the first time.
Joey's great-niece, Carol Lusted, travelled up from Kent for the unveiling. Carol's niece, Karen Service, lives in Mossley and has two daughters, Sam and Danielle, were are both talented swimmers. They used to train at Active Copley and look at pictures of Joey, unaware that they were related to him!
For Brian Ward, the plaque was culmination of a 30 year campaign alongside the late Yvonne Kelley, who sadly passed away last March.
Brian and Yvonne started the campaign to have Joey recognised back in Stalybridge Amateur Swimming Club's centenary year, 1987.
He said: "It's absolutely fantastic to see the plaque and unveil it alongside George. We were so proud and it's just a shame Yvonne isn't here to celebrate it. (She passed away in March 2018). She really put the groundwork in.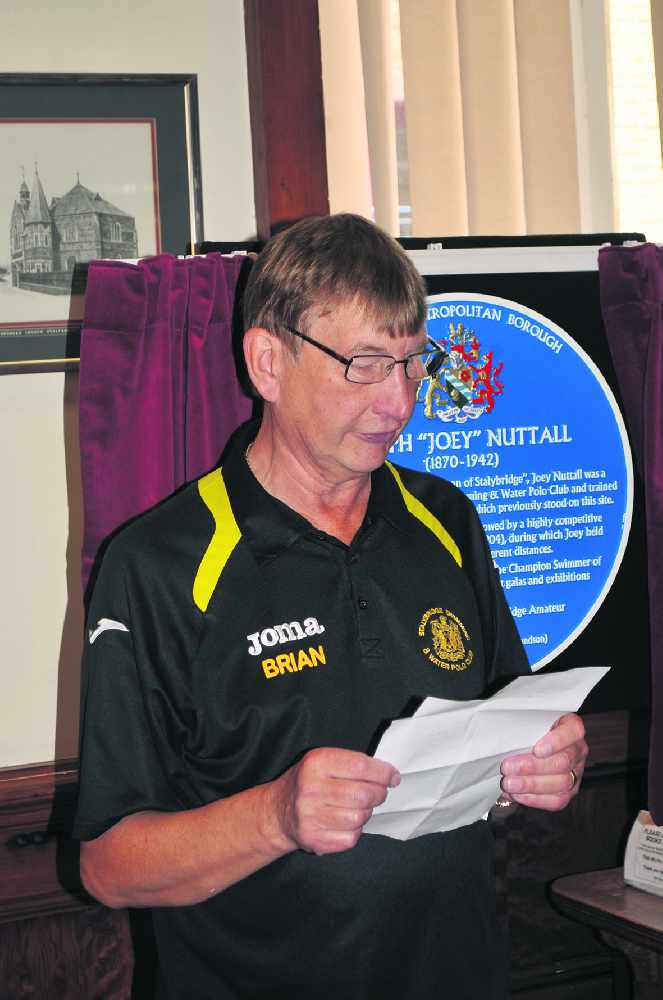 "We are delighted that Joey and his achievements have been recognised. Joey took the town's motto of "absque labore nihil" (nothing without labour) literally. He was a shining example to the people of Stalybridge in that he adopted a work ethic that provided him with the ability to become champion of the world 14 times.
"He was also a founder member of Stalybridge Swimming Club and left a great legacy for the swimmers of today."
The club, based at Active Copley, has over 200 members and hosts training sessions three times a week.
The majority of the research into Joey's life came from historian Keith Mysercough, with help from Tameside's Local Studies and Archives Centre. He gave a brief talk on Joey's achievements, including a tale of how Joey was so dominant that we would swim a lap and wait for the others to catch up before setting off again!
"It's taken ten years to get here and normally, as a professional historian, you never see this sort of thing," Keith said. "You do some research, you may write a paper or an article on it, and that's the end of it.
"But this, and the friends I've found within the family, is such a wonderful thing that normal people like me don't see."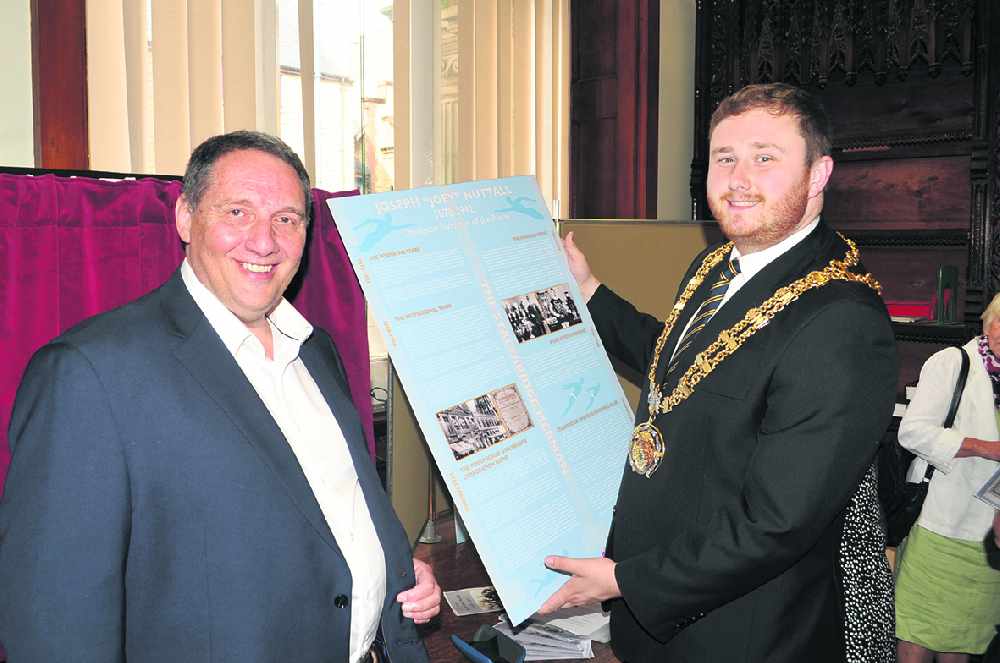 Keith is studying for his doctorate at De Montfort University in Leicester, looking into why North West swimmers dominated the sport during Joey's era.
He explained: "I think one of the reasons was because of the number of rich mill towns in the southeast area of Lancashire. They were so competitive that it improved the standards. That's why Joey came to the fore and became such a tremendous asset to Stalybridge."
Cllr Leanne Feeley, Tameside Council's executive member with responsibility for culture, added: "As the lead member for heritage I'm honoured to attend the unveiling of this blue plaque which rightly pays tribute to one of Stalybridge's greatest sons.

"I think it's fair to say Joey Nuttall was a phenomenon and would have won many Olympic gold medals had he been born a little later.

"He learned to swim at the old Stalybridge Baths and I'm proud that lessons continue at our present-day pool at Active Copley where I'm sure we're training some swimming champions of the future."