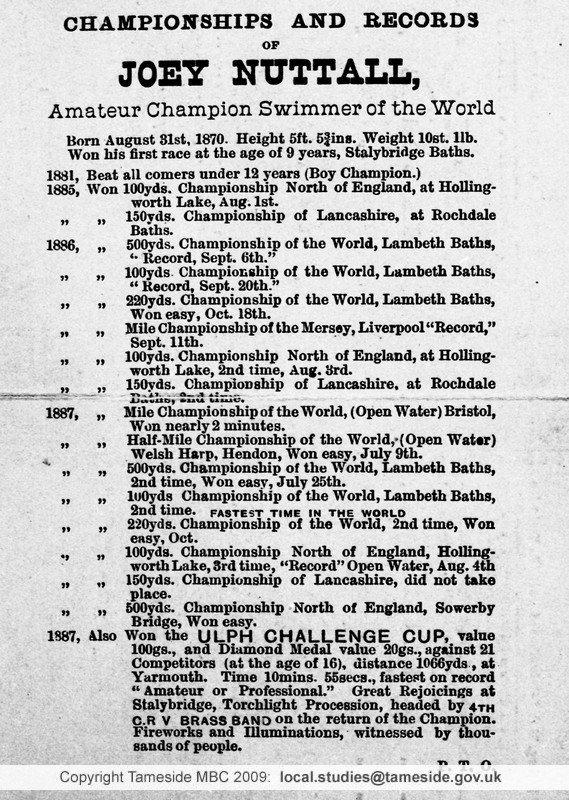 One of the 19th century's greatest swimmers is to be honoured with a blue plaque in his home town of Stalybridge today (Tuesday).
Joey Nuttall, who was known as the Lightning Merman, dominated the sport in late Victorian times and was generally accepted as the fastest swimmer on earth. He won a string of world titles and records at amateur and professional level in the pre-Olympic era.

He honed his skills at Stalybridge Baths, which was one of Britain's first public pools having opened in 1870.

In 1894, Joey embarked on a new phase in his swimming career by appearing in the recently-opened Blackpool Tower Aquatic and Variety Circus. He died in 1942, aged 72, and is buried in the town's Layton Cemetery.

The plaque, which has been funded by Stalybridge Amateur Swimming Club, will be unveiled at Stalybridge Library on Trinity Street – only a stone's throw from the old baths – by Joey's grandson, George Bailey, who is flying in from Zimbabwe, and club coach Brian Ward, at 11am on Tuesday (10 September).

Several other members of Joey's family will be in attendance, including his great-niece Carol Lusted from Kent.

Cllr Leanne Feeley, Tameside Council's executive member with responsibility for culture, said: "As the lead member for heritage, I'm honoured to attend the unveiling of the blue plaque which rightly pays tribute to one of Stalybridge's greatest sons.

"I think it's fair to say Joey Nuttall was a phenomenon and would have won many Olympic gold medals had he been born a little later.

"He learned to swim at the old Stalybridge Baths and I'm proud that lessons continue at our present-day pool at Active Copley where I'm sure we're training some swimming champions of the future."

Brian Ward, from Stalybridge Amateur Swimming Club, added: "Stalybridge Swimming Club are delighted that Joey and his achievements are to be recognised.

"Joey took the town's motto of "absque labore nihil" (nothing without labour) literally. He was a shining example to the people of Stalybridge in that he adopted a work ethic that provided him with the ability to become champion of the world 14 times.

"He was also a founder member of Stalybridge Swimming Club and left a great legacy for the swimmers of today. The club has gone from strength to strength in providing a safe environment for children to enjoy swimming, keep fit and make lasting friendships. Long may it continue."

Stalybridge Amateur Swimming Club, based at Active Copley on Huddersfield Road, hosts training sessions three times a week. It has a team of experienced coaches and pool staff, and caters for all ages and abilities starting from the age of four.