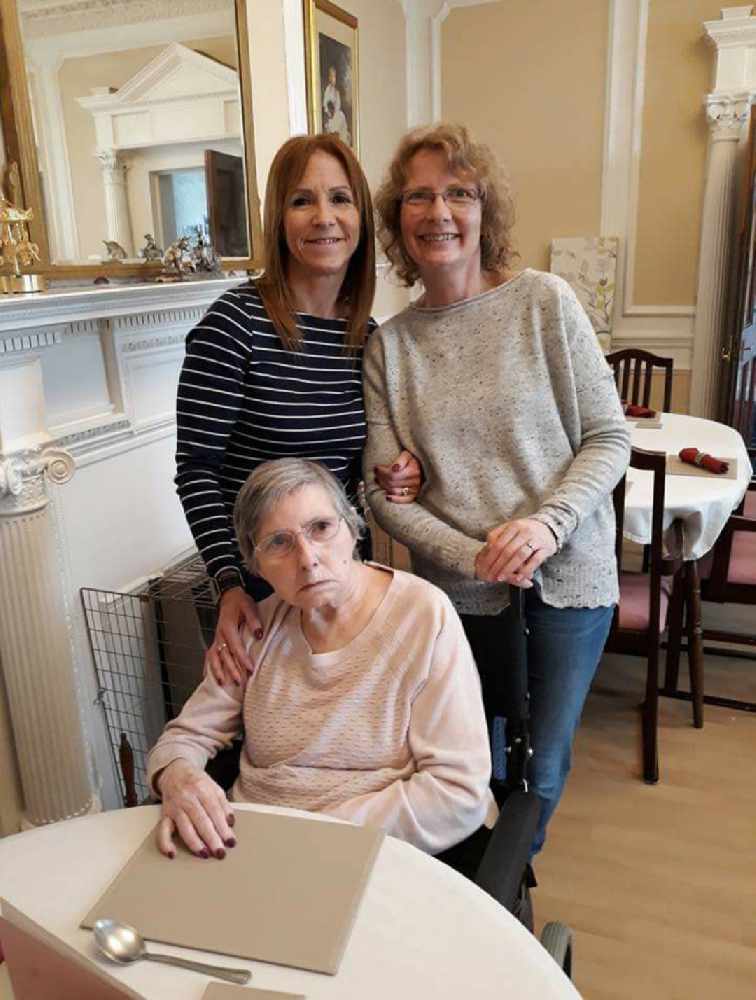 A Stalybridge mum and daughter will be conquering their own walking challenge to raise vital funds in the battle against dementia.
Vicki Whittaker, 50, will be completing a Memory Walk in the local area on Mother's Day (Sunday 14 March) with her 13-year-old daughter Eden whilst fundraising for the Alzheimer's Society.
Vicki's mum, Margaret Barker, passed away in July 2019 - four years after being diagnosed with dementia.
Vicki was meant to be doing the Glow Memory Walk last March in Margaret's memory with her older sister Sally, but Sally also passed away unexpectedly in January 2020. She is now completing this year's walk in memory of Sally too.
Vicki says: "This year, I will walk with my 13-year-old daughter Eden. Not only for my mum as we had always intended but also for my lovely sister too. We decided Mother's Day was a special day to do this.
"Once Mum began to decline after her dementia diagnosis, my dad, Brian (now aged 85), became her full-time caregiver. He is the sort of person that does not complain and gets on with things. Nonetheless, my sister Sally and I, could see he was losing weight and being in his 80s was struggling with the physical aspects of caring for her."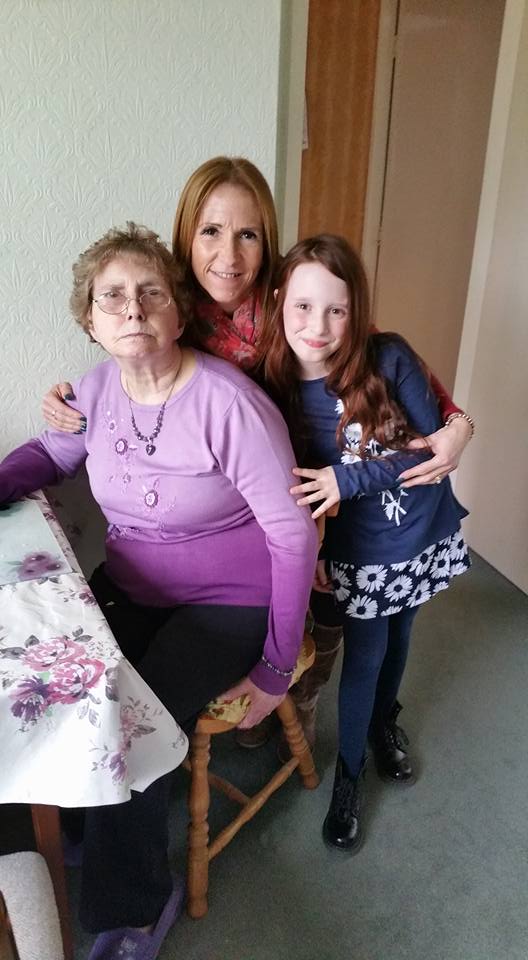 Vicki with mum Margaret (left) and daughter Eden.
Vicki went on: "For us, moving mum into a care home was a heart-breaking decision but one that enabled dad to spend the quality time with her that was impossible when he was caring for her around the clock. We had a positive experience with the care home, it was a little old-fashioned, but the staff treated mum with love and compassion, and we were so grateful for their kindness.
"My dad went in to visit her every single day without fail. For him, as for the whole family, her death has left a massive void in his life. For the first time, he had a lot of time on his hands, without knowing what to do with it, and I think the whole experience was often a very lonely one for him.
"While the official Memory Walk date is 21 March 2021, we have decided to do our virtual walk a week early on Mother's Day. The 14 March would have also been mum and dad's 57th Wedding Anniversary while 15 March was my mum's birthday, so it feels like the ideal time to do this for her."
Vicki and Eden will join thousands of supporters, all marching out and completing their own Memory Walk throughout March. People can sign up for free and choose a location to suit them.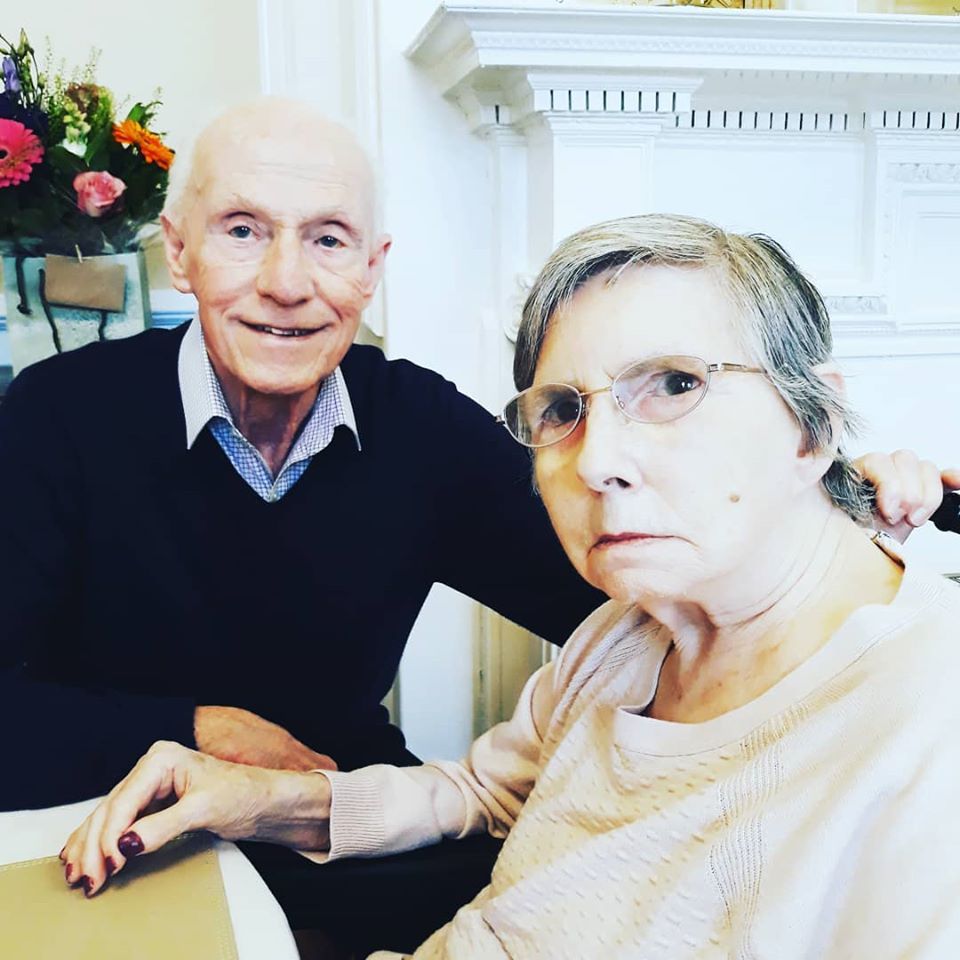 Vicki's mum Margaret and dad Brian
Vicki's commitment comes at a critical time for those affected by dementia. People with dementia have been worst hit by coronavirus in terms of deaths, both from the virus and knock-on effects of lockdown - thousands have seen their health deteriorate and mental health decline as a result of having little social contact and interruptions to essential care and support. Thousands of family carers have also been in complete despair because of care home visitor bans and a lack of respite.
Sue Clarke, Area Manager for Alzheimer's Society in Greater Manchester, said: "The coronavirus pandemic has been devastating for families in Greater Manchester like Vicki's, where there is 3,820 people aged 65 and over with dementia. People affected by dementia need us now more than ever, but the pandemic has hit us hard financially, despite an unprecedented demand for our services.
"We want to thank Vicki and Eden and everyone taking part in a walking event for us across Greater Manchester. Money raised will help Alzheimer's Society reach and support more people through our vital services, like the Dementia Connect support line, which has been used almost three million times in the UK since March 2020.
"We are in awe of the resilience of supporters like Vicki and Eden, whose dedication to fundraising for Alzheimer's Society ensures that we are able to support those who need it most during this difficult period."
If you would like to take part in a trek or Memory Walk for Alzheimer's Society, visit alzheimers.org.uk/events to sign up.
Main image:
Vicki (left) with her sister Sally (right) and her mum Margaret (front).
Read more from the Tameside Reporter
Click here for more of the latest news
Click here to read the latest edition of the paper online
Click here to find out where you can pick up a copy of the paper