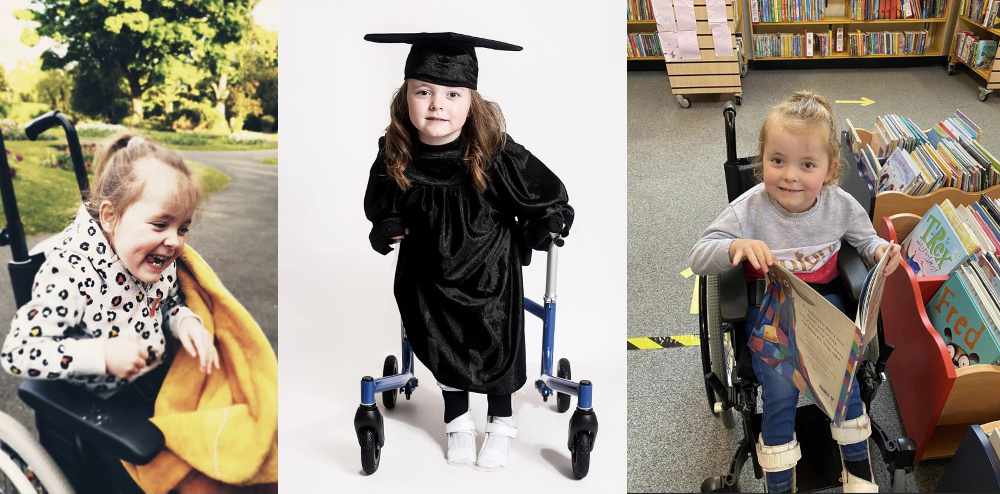 A little girl is looking for the kindness of strangers to help fund an adaptable bike that would let her join in activities with her classmates.
Four-year-old Layla Kinder lives in Stalybridge and has just started school at Silver Springs Academy.
The youngster suffers from a form of cerebral palsy called Periventricular leukomalacia, but doesn't let it hold her back.
She is just like any of her classmates - loving school and being independent - but isn't able to take part in cycling club without specialised equipment.
To help her join in with the other children, her guardians Gemma Butler and partner Emma, are looking to raise more than £3,000 to purchase an adaptable bike that will let her join in with her friends.
Gemma explained: "She's very happy and she's very outgoing, she's absolutely loving school and she's such a clever little girl. She's very independent and wants to do things for herself. She just loves life and there's no stopping her.
"Obviously with the cerebral palsy she can't walk, but she does find her way around, so she'll crawl around or use her standing equipment and walking frame.
"We had Layla's first parents' evening and I was asking how she was getting on with all the activities, and she's pretty much able to join in with anything apart from cycling club. Because it's not something that she desperately needs we can't get that bike funded.
"Emma and I thought we had to do something about this because she wants to join in. It's not fair that she has to sit in a classroom on her own with a teacher, when her friends are outside enjoying an outdoor activity. So we set a GoFundMe page up and found a bike that we think would be suitable for Layla."
The fundraiser has captured the imagination of the local community, with donations pouring in both online and in person.
"We've had lots of donations," said Gemma. "We had people knocking on the door with cash. We've done football cards and raffles, so we are getting there but with it being lockdown and coming up to Christmas, it's really slowing down. We just want her to get this bike so she can do everything at school with her friends, like a normal four-year-old.
"A lady gave us £100 in cash and I've never met her before in my life. The admin of the community Facebook page messaged me and said they'd got an envelope from an anonymous gentleman with a small donation. When I went to pick it up there was £100 in it.
"I went to pick her up yesterday and they were all outside cycling and I just thought 'in a few months you'll be out there doing that with all your friends'."
The specialist bike adapts to Layla's wheelchair, meaning that she can use part of her existing equipment to join in with cycling club.
Between online and in-person donations, the pair have raised more than £2,000 towards the cost, meaning they'll hopefully soon be at their goal. They're aiming to be able to present the bike to Layla before Christmas, to give her time to prepare for going back to school.
Gemma explained: "She can start getting used to it for when she gets back to school. She can just get on her bike and off she pops doing cycling."
Layla has already made plenty of progress in the past few years, proving doctors who said she may never be able to walk wrong in the process.
"From when we first got the diagnosis of her cerebral palsy, she was like a baby on the physical side," said Gemma.
"They said she wouldn't even be able to crawl - now she's like a whippet, running around the floor.
"She's proved them wrong a few times. They said she'd probably never crawl or stand up and wouldn't be able to use the toilet. But she's completely toilet trained and can crawl, she's even started to climb up the stairs but now she's got a stairlift for that."
If you would like to help fulfil Layla's cycling dream, you can donate online at https://www.gofundme.com/f/layla039s-new-adventure-on-wheels