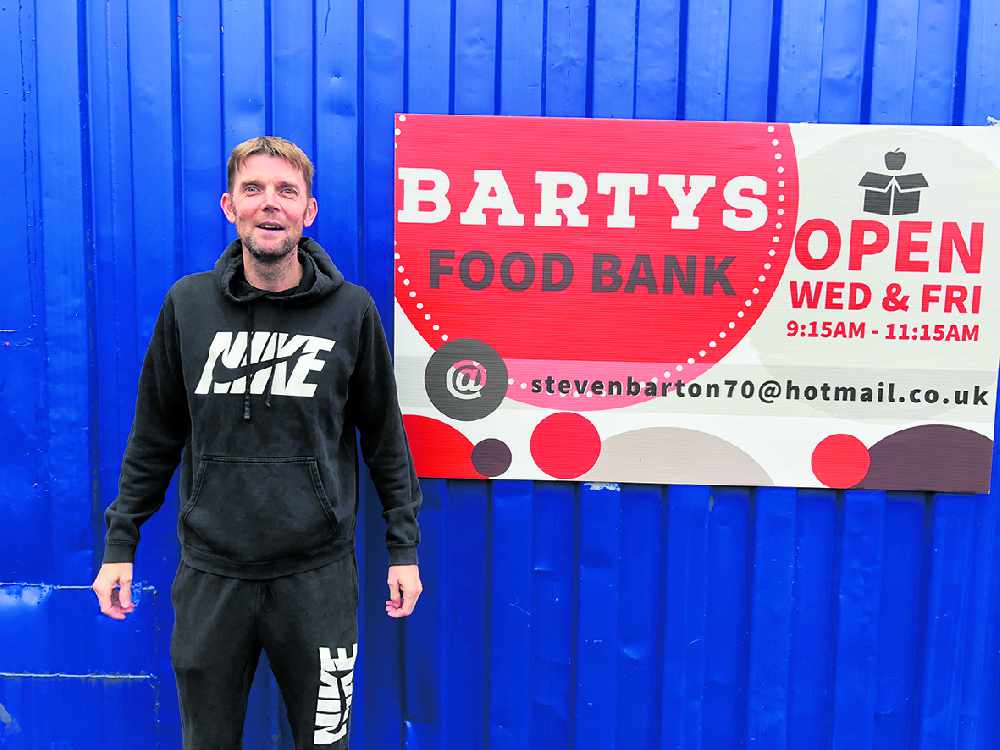 VITAL SERVICE: Steve Barton BEM.
Since founding Barty's Food Bank, Steve Barton BEM - honoured in 2019 for his amazing community work - has relied on the generous donations of Tamesiders. 
The food bank, located alongside Stalybridge Labour Club in a repurposed metal container, is constantly in need of supplies due to the incredible demand which has only increased throughout the pandemic.
But thanks to the continued and generous support of local businesses and the community, Steve has been able to provide food to families, schools and more, while his Christmas toy appeal has once again been a remarkable success.
Steve has been driven for more than a decade to help those in need and living in poverty.
As a gardener he met people short of essentials and started to help out, while he was also moved to help the homeless.
"Seeing people freezing on the streets, I struggled to accept I was nice and warm at night and people were cold sleeping outside," he said.
From humble beginnings the food bank idea has grown into a vital service.
Steve explains: "I had always had a crazy idea to get a container somewhere and give people a chance to come here without having to go to schools and get pink tickets. If people see you going for these tickets it can be a bit embarrassing or humiliating for some and they don't like the regimented way it is done.
"Here it is very easy going – you get it free or pay £4 for delivery. We also advise people on getting support for mental health or domestic abuse etc if they have no idea what to do.
"I get to know a lot of the people I support and try to understand why they are using a food bank and ways to make them more self dependent. Where we are located is also quite discreet and private which people like, they don't carry any stigma from coming getting food from here."
Steve says demand for the service has increased 80 per cent since the start of the pandemic and so any donations are always welcome.
"For donations, even if it's just one tin, I'm grateful for any help they can give. Things like juice, pasta, tinned fruit, tinned potatoes will all be useful," said Steve.
He has nothing but praise though for those who help him so generously.
"The people of Tameside are amazing. Morrisons have helped and Tesco's Stalybridge have gone to a new level to help. I have a donation point in there which really helps things tick over, but I still appreciate any other help. I have a goal and it's all about helping children and that's important."
Barty's Food Bank is open Wednesday, Thursday and Friday 9am until noon, but Steve himself is accessible most days and you can message him on his Facebook page.
Hyde Fundraisers recently donated £150 in Tesco vouchers to support Steve in his work and last month he benefited from food bank collections done by Ashton Town Team.
Read more from the Tameside Reporter
Click here for more of the latest news
Click here to read the latest edition of the paper online
Click here to find out where you can pick up a copy of the paper